March 4, 2019
Lee scraps Post-Dispatch's copy desk
A reflection
And then there were none.
The executives at Lee Enterprises, which bought the Post-Dispatch in 2005, have been sloughing off accomplished journalists, writers and copy editors, helter-skelter, like a pine tree shedding cones in a hurricane.
And they're still at it.
Lee announced, on Feb. 16, that the few, the proud, the survivors of the design staff and the copy desk would be jettisoned, as of May 1.
The list: Jennie Crabbe, June Heath, Lacey Burnette, Evan Hill, Colleen Schrappen, Cara DeMichele, Scott Andera, Amy Verkamp and Mike Reilly.  Lisa Eisenhauer, the assistant metro editor/nights, and Frank Reust, letters editor, also are leaving. 
Eisenhauer – who has tirelessly chronicled the layoffs,  buyouts, resignations and deaths of P-D staffers wrote in an email, "I couldn't bear to stay after seeing the way the copy desk was rounded up and told their jobs were going to a design/copy editing mill."
(Random thought: If this is Lee's flagship newspaper, why do they keep striking her sails and keelhauling her crew?)
Copy editing for the St. Louis Post-Dispatch — checking on spelling, accuracy, punctuation, flow, paragraphing, while also creating snappy, accurate headlines — will, henceforth, be performed in Munster, Ind., a town of 22,000, 291 miles from  900 N. Tucker.
Without maligning the copy editors of Munster — who may, indeed, have a firm grip on both an AP Stylebook and a dictionary — most devoted readers' reaction would, or should, be: WHAT!?
Back in the day, through the '80s and early '90s, Harry Levins was the P-D's CCE (chief copy editor). He presided over a desk of  approximately 20 copy editors, give or take, sprinkled about the fifth floor: news (12), sports (3) features (3) editorial (2). That number has been whittled down to eight, pretty much since Lee took the helm.
For more than a decade, eight stalwarts have been cranking out  the work of 20. And Lee decided that an appropriate reward for such devotion and industry is: Don't let the door hit you in the butt? (And the primary motive cited by Lee, the threat of hedge-fund takeovers, smacks of abstraction, anti-unionism and definitive weaseling.)
Levins' assessment: "A newspaper without a local copy desk is like a football team without linebackers: Mistakes break through the line and gallop toward the goalposts, while the local fans – the readers — groan in dismay."
Indeed.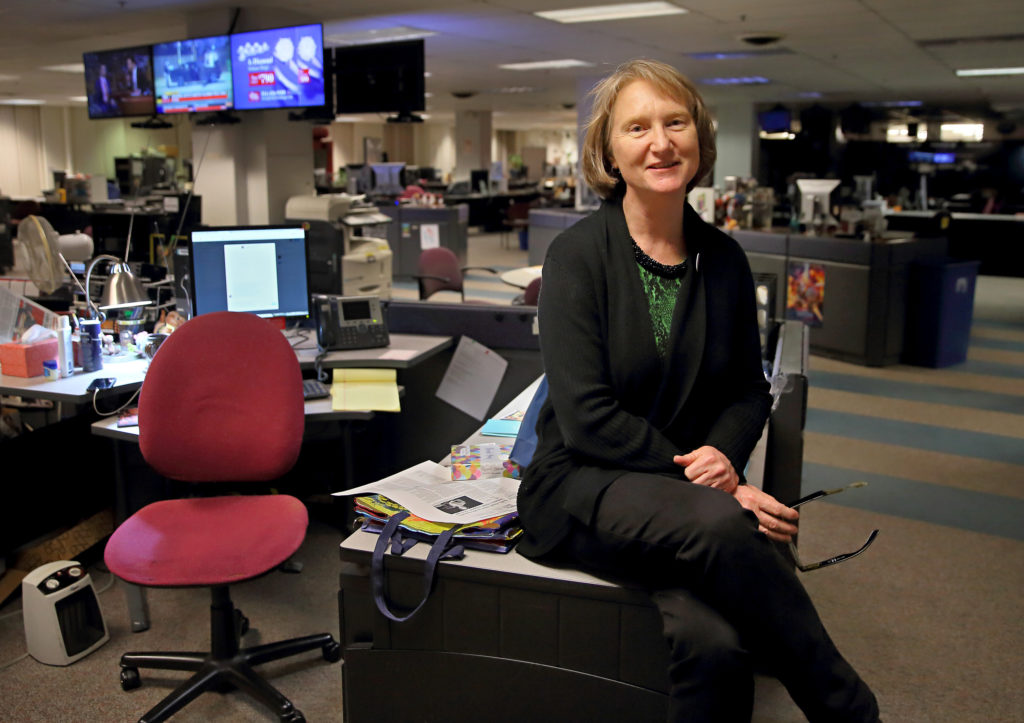 And, as banal as it may sound, most journalists I know think of their newspaper job as part mission, part calling, devoted to  making a difference, in the sunbeam of the First Amendment — which doesn't shine anywhere else on earth. No one becomes a reporter or a copy editor to make money.
(Full disclosure: Your reporter worked on the copy desk for more than 20 years. Eight of the folks affected by this decision are friends; three are also former students in my journalism classes at Saint Louis University.)
United Media Guild President Jeff Gordon criticized Lee's move, in the Post's 2-16-19 story: "Such outsourcing inevitably weakens the newspaper, since editors with little knowledge of the St. Louis region will be editing copy, writing headlines and designing pages of the Post-Dispatch."
And copy editor Colleen Schrappen observed: "I can't imagine an out-of-towner will get all the nuances of post-Ferguson fallout  or the intricacies of the Better Together proposition. Our town's beloved and beleaguered celebrities, athletes and politicians. The identities and histories of our 88 municipalities and innumerable neighborhoods. The inside jokes. The local flavor."
To illustrate and buttress her concerns, consider the following examples of St. Louisisms and local lore, all of which contribute to making St. Louis, St. Louis: The Inner Belt; CWE; Ted Drewes; The Checkerdome; UMSL; Scruggs, Vandervoort and Barney; JB Bridge; The Veiled Prophet; The Loop; the Jewel Box; the Vandeventer Overpass; World's Fair; Falstaff; Pruitt-Igoe;  Football Cardinals; Donut Drive-In; Famous-Barr; Easton Avenue; Crown Candy Kitchen; The Magic House; Phil the Gorilla; Stix Baer and Fuller; Mavrakos.
Most P-D readers might pause and crinkle their brows if they had to identify or spell all or, even, some of these. But don't worry, the P-D's copy editors can, and have, and do – or did.
And copy editor Jennie Crabbe's keen eye and wit adds a local spelling quiz to the mix, at the end of this article. (Even bona fide locals might be stymied; and "spell check" won't cut it. Good luck.)
The degree to which readers and, especially, reporters rely on copy editors is common knowledge, in the business.
Longtime, indefatigable reporter Tim O'Neil, speaking for legions of his fellow "ink-stained wretches," sent the following note to the copy desk, when he heard about Lee's decision: "Over the years, I relied upon you to put your seasoned eyes to my stories to check for errors, sloppy words and phrases, and all the other shortcomings that rise from the rush of our work and the limits of my talent."
And here's a tidbit that might arouse some interest, or hackles: On page 32 of Lee Enterprises 2019 Shareholders Report, the following names and figures appear, under what might be tagged as total executive compensation, for 2018:
Mary Junck, executive chairman, $1,455,728;
Kevin Mowbray, president, CEO, $1,351,475;
Tim Millage, V-P, $360,597;
John Humenik, V-P, $554,820;
Nathan Bekke, V-P, $458,277;
Ronald Mayo, V-P, $841,976.
And that's the news — from Iowa.
Meanwhile, back in St. Louis, copy editors Schrappen and Crabbe offer closing comments, about the meaning of their job/calling/mission:
Jennie C. "In the newspaper business, I always felt I was a part of something important. Serving the community, serving the reader. The feeling that I won't be part of that anymore is kind of like mourning."
Colleen S. " I am sorry to leave it, even though it often treats me  badly. I love it; and it is dying in front of me."
Avis Meyer was  mentor to a generation of copy desk editors, working alongside them on the desk and teaching at Saint Louis University.
Jennie's ST. LOUIS SPELLING QUIZ
See how close you can come to spelling these "St. Louis" names.
1. The road that's west of Lindbergh and east of I-270 is
a. Spayde
b. Spode
c. Spoede
d. Spaede
2. The St. Louis mayor after Jim Conway and before Freeman Bosley Jr. was Vincent:
a. Schoemehl
b. Schaymuhl
c. Schaemehl
d. Schoemel
3. The road just north of Forest Park that intersects Lindell near the History Museum is: a. Deboliver
b. DeBalviere
c. DeVoliviere
d. DeBaliviere
4. The town in Southern Illinois where the school is falling into an old coal mine is:
a. Beneld
b. Benld
c. Benyld
d. Benneld
5. The park along the Missouri River in north St. Louis County:
a. Fort Bellfountain Park
b. Fort Bellafontain Park
c. Fort Bellefountain Park
d. Fort Belle Fontaine Park
6. The avenue that runs right by the headquarters of Nestle Purina is (Hint — it shares the name of one of Our Town's founders):
a. Chouteau
b. Showtow
c. Choteau
d. Chateau
7. The street a few blocks north of No. 6, where there was a famous Union prison during the Civil War, is:
a. Grashut
b. Gratiot
c. Gratiott
d. Grasshet
8. Ol' No. 2, Hall of Famer and owner of "the greatest pair of hands" Stan Musial had ever seen, is Red:
a. Shanedeenst
b. Shanedienst
c. Schoendienst
d. Schaendienst
9. It's a great creek for floating near Leasburg, Mo., but oh-so-hard to spell:
a. Courtaway
b. Coataway
c. Cortoy
d. Courtois
10. OK, the name of this river isn't German or French, but it's so often misspelled that it makes a great end to our quiz. No. 9 flows into it. It's the:
a. Meramec
b. Merrimac
c. Meramac
d. Maramec
BONUS: Name the river that meanders through much of northeast Missouri and has a state park named after it. (And spell it correctly!) Cuivre River
ANSWERS
1.c //  2.a// 3.d//  4.b// 5.d// 6.a//  7.b// 8.c// 9.d// 10.a//