The scene was peaceful–as many of the protests have been. As the sun set in the city of Carbondale in southern Illinois on Sunday night, hundreds of people, many wearing masks because of the ongoing threat of the coronavirus pandemic, locked arms in support of systematic change and an end to police violence.

Community members of different races gathered for a candlelight vigil and a march, chanting "I can't breathe," "Whose streets? Our streets." and "George Floyd – say his name," for the African-American man who died last week after a Minnesota police officer kneeled on his neck.

Leaders implored demonstrators to protest Floyd's killing in a non-violent way. "We're going to do this right because it will make more sense to keep on going without being too destructive. We are kings and queens and that is what they will remember us by." Police stayed on the fringes, stopping traffic to allow the march to advance.

As a reporter on assignment for the Southern Illinoisan, I was on alert, even though this is my community, even though I have reported here for years. I know from experience that things can turn quickly. But I was lucky that night; our community gathered peacefully to shine light on racial injustices and police brutality. Many of my colleagues across the country haven't had the same experience. 

Journalists from Los Angeles to New York have been attacked covering the unrest that has followed Floyd's killing.  They have been attacked by protestors, when demonstrations have turned violent, and also by law enforcement.

The night before I covered the peaceful rally, Chicago Tribune photographer Erin Hooley was covering looting downtown when she was shoved to the ground and had her cameras stolen. A video journalist for ABC 7 in Denver was shot with paintballs – breaking his camera, and photojournalists in Oakland say they were robbed at gun-point, hit with a flying hammer, and had laptops stolen. These are only a few out of the 100 plus incidents of journalists being attacked this last week.

Bruce Brown, executive director of the Reporters Committee for Freedom of the Press, called on police and demonstrators to cease the attacks on journalists.

"We also condemn all attacks on reporters by protesters. Media coverage of the demonstrations is indispensable to helping our nation bear witness. Assaults on journalists from protesters are unlawful and make it harder for reporters to keep the country informed during this period of civil unrest," Brown said in a statement.

It's unclear why the public–and law enforcement–seemed to be targeting journalists in a way that many have not experienced outside of a war zone overseas. Some have pointed to President Trump's dangerous rhetoric against journalists, which did not abate over the weekend when violence erupted across the country.

Activists have encouraged photographers to delete images that show a protestor's likeness or simply "blur them out."

While I understand the frustrations and concerns of the community, navigating this kind of landscape is a complicated one and doesn't come with a perfect solution. But one thing is certain – as a journalist, you do not alter or digitally manipulate the content of your images.

Doing so would be opening a pandora's box into stripping the ability for journalists to create unbiased visual documentation of our history. This would also be a complete violation of the National Press Photographers Association's Code of Ethics.

Al Tompkins, a senior faculty member for broadcast and online at The Poynter Institute for Media Studies, said codes of ethics are "a balancing act" but in the end, the truth comes first.

Journalists are "there for a purpose – you're there because you need to know who is saying this, who is there. It brings with it, a certain amount of civic responsibility," he said. "If you are going to be in the streets protesting, the public has a reason to know who you are and why […] you say that."

Journalists cannot choose to report one truth while obscuring another. If you obscure the faces of protestors based on personal requests – you have to hide the faces of the armed demonstrators at the steps of state capitols and, simply, the faces of those who disagree with the truth you are reporting.

News organizations have a responsibility to report on who demonstrators are – whether peaceful protestors or agitators who are there to take advantage of the situation. Activists must remember there is no expectation of privacy when you are protesting in a public space and should not rely on the press to obscure their identity.

Patricia Gallagher Newberry, Society of Professional Journalists national president, said the ethics of journalism are a topic of conversation with the rise of social media and the "instantaneous aspect" of it all but adds "with every new wave of civil unrest you bring new people into the movement, into the activity, walking in the streets – protesting in the streets."

She said they have varying degrees of knowledge on how journalism works, including journalist's goals and their motivations. While demonstrators have consumed media all of their lives, they may have never been photographed by a working journalist.

"Maybe they don't understand when you are in public and you are doing something in public and a journalist takes your picture – that is an implicit contract unless you put up your hand, turn your head, walk away or say don't take my picture," Gallagher Newberry said. "You are in the public venue. I'm a journalist in the public venue. You are doing something in public that has news value, you are surrounded by journalists on all sides – you get it right? We're here to take pictures that we are going to release – that is our job."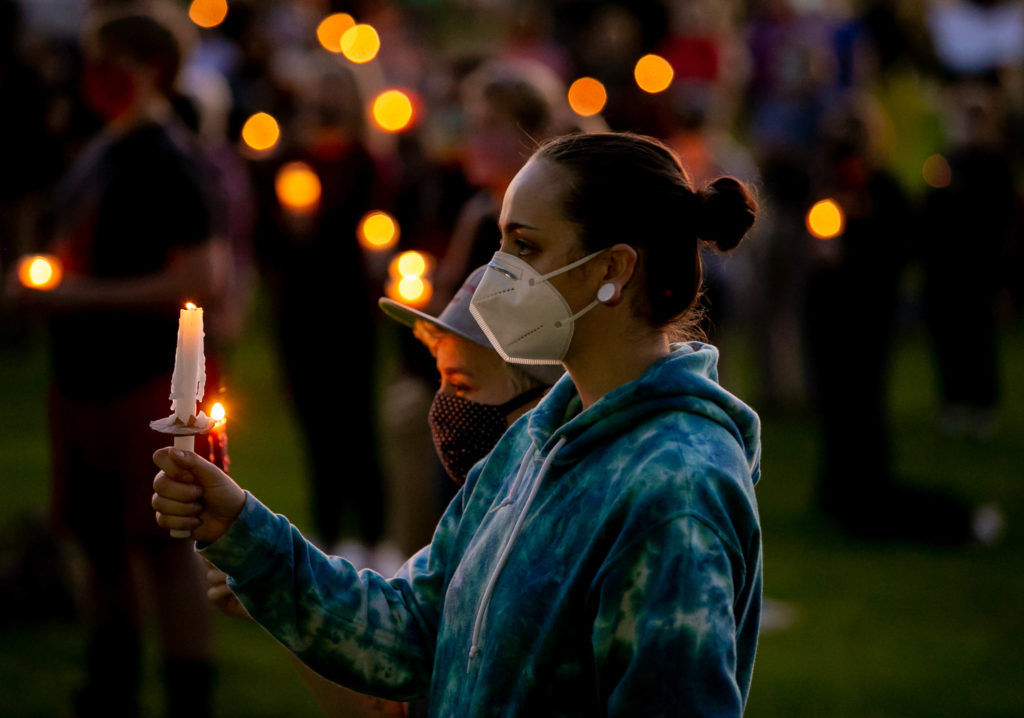 Tompkins said the reason for demonstrations is to be seen and heard.

"The reason for demonstration is to be seen and heard and that's what it's all about," Tompkins said. "If you don't want to be seen then you can do it online, you can do it by mail, you can do it by phone call but for goodness sakes, if you walk down the street protesting – the reason you're doing that is to be seen and heard."

This isn't to say there shouldn't be consideration taken and conversations had into how journalists report on marginalized and vulnerable communities. As an industry, we must keep in mind how we report on people of color and must be open to engaging in constructive dialogue on best practices. In order to do so, the harassment and violence against journalists while covering these scenarios needs to end.

Brent Lewis, a photography editor at The New York Times, said the idea of journalists blurring faces or photographing demonstrators in a way that doesn't make them identifiable can become a slippery slope very quickly.

"We are in a deeply divided moment in history […] and the free press is being attacked on merits of credibility, so any loss of this bond that we have created with the public is skating on thin ice right now," Lewis said. "The last thing we need to do is open that box because […] we won't be able to get back in."

He adds, as journalists, you can't pick and choose when it comes to reporting high emotion situations and that "at the end of the day, it's not up to us to touch history."

"It's not the jobs or the role of the press to do anything other than reporting the facts of what is going on," Lewis said. "We are just the first draft of history and the proof of what actually happened.

Additionally, there must be a heightened priority placed on teaching media literacy and how journalism functions within our society. Journalism is part of the fabric of our democracy, yet the media's role has been twisted and disavowed by politicians and television pundits.

Gallagher Newberry said it is, in part, the responsibility of working journalists to be able to have conversations and explain the editorial process to those who may not be familiar. As an organization, she said they are constantly trying to think about how to spread media literacy to other places.

"There are many ways to educate the public on how the media works but it's a constant task. I think that sometimes, we in the world of journalism, forget that we need to continue to share information about best practices and why we do the things we do because there's always a new generation coming up," she said. "If that topic has never been in front of that person, then that's one more person we need to educate."

Gallagher Newberry said media literacy and education should continue beyond school and moments like these give those in press advocacy opportunities to explain how journalists do what they do. She added working journalists can also explain the process and "normalize the process" while reminding demonstrators "you're not trying to bring any harm to a person by taking their photograph."

I'm tired of the senseless killings of innocent people of color in our country. I can empathize with the grief a community is facing – George Floyd was a brother, a son, a friend. As a journalist and a person of color, I see the challenges our country is facing and hope we can work towards proactive conversations on how to help change systemic failures in our minority communities.

I challenge colleagues to look beyond the protests and dedicate some time to dig into the multi-faceted issues our minority communities face. Demonstrations are a culmination of deeper-seeded issues that ultimately come to a head.

Lewis said he believes it is important for journalists to cover events such as demonstrations in order to have a record of the events and in order to allow the public to reflect on the situation. He adds "the real pictures are the ones that allow us to understand how we got here and why we are here and that isn't fully understandable in the culmination of those things reaching their boiling point."

"For me it's retracing those steps and getting to understand the Black experience in these places because that is how we got here," Lewis said. "Those are the stories that honestly help and humanize this experience and provide that meaning to the folks wondering why this is going on."

Journalists will continue to put informing the public before their own safety to shine a light on critical issues within our society. We are your neighbors. We eat at the same restaurants you do. We live in the communities we cover. Retaliation against those who are our community's documentarians is not the answer.

The Reporters Committee for Freedom of the Press has volunteer attorneys on call for journalists who need legal help covering demonstrations. You can reach them at 800-336-4243 or through email at hotline@rcfp.org.


Brian Munoz is a freelance multimedia journalist based in Southern Illinois. He can be reached by email at info@brianmmunoz.com and on Twitter at @brianmmunoz.