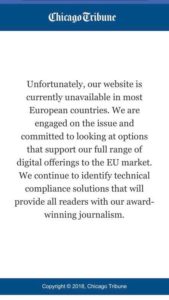 When stricter data protection and online privacy regulations went into effect in the European Union earlier this year, American news organizations had to adapt their websites or risk hefty fines if they wanted to share their content overseas. Many media organizations, including the Washington Post, New York Times and NPR, made the necessary changes to keep readers (and potential advertising dollars) from the European Union. But months after the General Protection Data Regulation became enforceable, the Chicago Tribune and St. Louis Post-Dispatch are still blocked to readers in 28 European Union countries.
In an email, Marisa Kollias, a spokeswoman for Tribune Publishing, said the company, which also owns the Baltimore Sun, Orlando Sentinel and others, continues to investigate technical solutions to enable European Union residents to access the content.
Lee Enterprises, the parent company of the Post-Dispatch, is currently updating its privacy policy with all of its 300 daily, weekly and specialty publications and digital products, said Tracy Rouch, director of public relations for the St. Louis paper. "This temporary measure allows Lee to learn more about the technical and legal implications with all their products." Until the updated policy is in place, Lee Enterprises will block European Economic Area traffic, she added.  
A recent review of which regional publications could be accessed from Madrid, Spain, showed that the Tribune and Post-Dispatch websites were still unavailable six months after the rules went into effect, but online versions of the the Belleville (Illinois) News-Democrat, owned by McClatchy, and the tiny Pinckneyville (Illinois) Press could be viewed.
The Los Angeles Times also is still not available to EU readers even as it moves to reopen its Western Europe bureau, along with bureaus in Beijing, Seoul and South Asia.
Under its new ownership, the Times, which Tribune Publishing sold to Patrick Soon-Shiong in 2018, will soon be accessible in EU countries, said spokeswoman Hillary Manning. "Our technology team has been working on this and we expect to have a solution rolled out soon, hopefully within the next few weeks," Manning told GJR in late November.
Robert Chiarito, a Chicago-based freelance reporter for Reuters, tried to access the Chicago Tribune website from France during the murder trial of police officer Jason Van Dyke, a story he had been covering and knew he'd return to after he came home.
Chiarito said he was able to follow local news about the trial in the Chicago Sun-Times and on WBEZ, the public radio affiliate. "At Reuters, we were only concerned about the huge events in the trial so missing a few days in the middle wasn't a huge issue, but of course I wanted to keep tabs," he said. "I found it kinda funny that I could read the Sun-Times but not the Tribune, which historically looks down on the Sun-Times as not as worldly. But can you really cover the world when a large portion has no access to your paper?"
Some news organizations like NPR have addressed the new regulations by creating a second, streamlined website only for EU residents. Others put up disclaimers. The Washington Post created a special subscription for EU users to access an ad-free site.
GDPR has been tricky for US media companies because the regulations are new and largely untested yet in the courts, said Chris Pedigo, senior vice president of government affairs for Digital Content Next, an industry trade group.
He said publications are looking at this like a "risk-reward equation." If they don't have a lot of EU readers, why go to the expense and trouble to craft a technical, legal solution to comply?
"The short is maybe not right now," he said. "I don't think these papers in the long-term are going to block EU readers. I think they are waiting for the dust to settle."
Publications already have pushed back against Google's attempt to shift legal responsibility to them through a new advertising policy in the European Union. Under that policy, Google requested that publishers get consent from readers and viewers to collect data, but the tech company would have control over the data and is not disclosing how it would use it. In a letter to Google, signed by the leaders of four international news trade groups, the publishers accused the tech company of acting in its own interests. "Your proposal severely falls short on many levels and seems to lay out a framework more concerned with protecting your existing business model in a manner that would undermine the fundamental purposes of the GDPR and the efforts of publishers to comply with the letter and spirit of the law," the letter stated.
Susan McGregor, assistant director of the Tow Center for Digital Journalism at Columbia University, which released a report earlier this year on the impact of GDPR, said it's not clear what exposure US media companies may have under the new regulations.
"At the moment it's not obvious," she said "Because of the structure of the GDPR, someone has to file a complaint for you to feel it. Many American media companies don't need to do a huge overhaul. It's a very small percentage of your readership that would be EU residents. The chance you are going to face exposure is not huge."
She said the bigger question is whether the US also ends up with tougher data regulations. "Data collection practices such as those used by advertisers are widely unpopular," she said. "Regulation is going to happen."
Rob Pegoraro, a freelance tech journalist who writes for Yahoo Finance, USA Today and other publications, said he gets the that the GDPR's consent requirements can be a chore. The entire regulation runs some 55,000 words. "You can make a fair argument that its compliance costs effectively entrench the position of a Facebook or a Google,"he said. "I also strongly suspect that most EU citizens click the 'okay' button or its equivalent and allow the same amount of tracking as before.
But Pegoraro said the rules didn't sneak  up on anybody. " We've known they were coming since 2016, and most American publishers were able to get their sites into compliance with them by May 25," the GDPR became effective, he said. "Sites that still geoblock the entire European Union now, more than six months after the GDPR's entry into force, are just flaunting their incompetence. They're also encouraging me to link to stories published by more clueful organizations instead of their own work: Why do I want to point readers in the EU to articles they can't read without firing up a VPN client?"
For Prashant Rao, London-based global editor at The Atlantic, the issue for news organizations is not just one of data protection or even answering to regulators.
He said he worries about news organizations that write off the European Union, leaving publishers from the media power centers to tell the sole story of what is happening in America.  
For example, when federal agents raided a powerful Chicago alderman's office in late November, the story played far differently in national news outlets than it did in the Chicago Tribune and other city outlets, as local political reporter Paris Schultz noted in a Tweet. "The national media narrative is interesting," Schultz, a reporter with public TV-affiliate WTTW, wrote about the raid on Alderman Ed Burke, a tax attorney who worked on Donald Trump's Chicago real estate projects. "We have it on multiple sources that today's FBI raid is not related to the work Burke did for Trump. Purely focused on his role as alderman and chair of City Council's Finance Committee."
In 2016, the national media missed the story of how well Trump was doing in the Midwest and in rural communities outside of the big coastal population centers. Anyone who was tuned in to local journalism in the center of the country knew that Trump was resonating there.
"For people like me, who are interested in the news or follow it for work, it matters to be able to read about a different part of the United States, and to see the US from the point of view of a news organisation that sees the country from a different perspective," Rao said. "In much the same way as I want to read the Indian Express and the Hindustan Times as well as a South Indian paper like the Deccan Herald, it matters to be able to see and read a paper that is away from the main power centers. As a non-American, it matters even more."
Jackie Spinner is the Midwest Editor of Gateway Journalism Review.