March 23, 2021
Rockford Register Star executive reflects on 40-year career in journalism
Back when misinformation was a slow burn, as opposed to the raging inferno journalists are currently fighting, Mark Baldwin was already enlisting help to douse the flames.

About 10 years ago, the recently retired executive editor of the Rockford Register Star began bringing Alan Miller of the News Literacy Project to Associated Press Media Editors and American Society of News Editors events.

"You have to be very intentional about [media literacy] and make it a priority," said Baldwin, who retired at the end of 2020 after an eight-year run in Rockford and about 40 years in journalism. "The First Amendment assumes a news-literate public, and we need to build better news consumers. Democracy doesn't work unless we agree that facts are facts. The industry has a big role in helping to build that more discerning news consumer."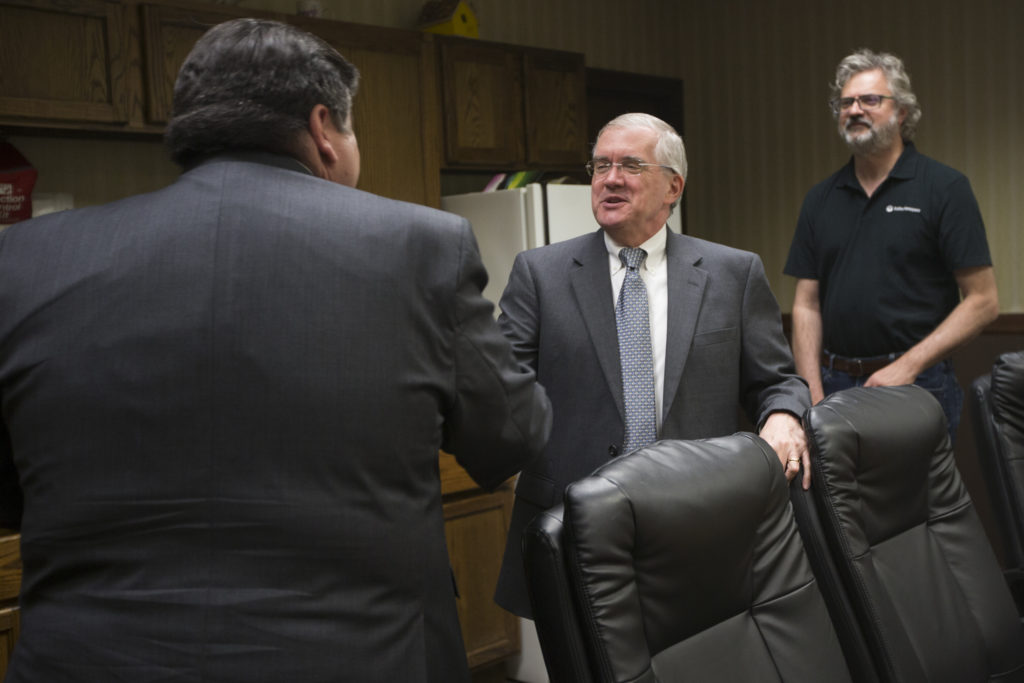 Teri Hayt, former executive director of ASNE and former interim executive director of News Leaders Association, which formed after APME and ASNE merged in 2019, said Miller appeared at many events over the past 10 years.

"That was all Mark," she said. "He was relentless. There wasn't a board meeting that went by that he didn't bring up news literacy. Mark's conversations kept this front-of-brain, particularly with our board, but also with membership."

It's become troublingly common for not just blatantly biased journalists, but also traditional, down-the-middle ones to share and retweet misinformation that, if properly vetted, would easily be proven untrue.

"Some of the outrageously false falsehoods are pretty easily debunked by individuals who take the time to read horizontally, as they say in the news literacy movement," Baldwin said. "Check sources to confirm what you're reading."

The News Literacy Project's website is chock full of tips on how to shore up news literacy and stop the spread of misinformation. Baldwin urged that newsrooms re-evaluate how they build in safeguards, and he said News Literacy Project is constantly seeking new partners.

Baldwin, who is deeply embedded in Rockford and said he's eager to work with local groups in retirement, said he's introduced the Miller's group to educators in the area.

Stepping down from the tower

About five years ago, Baldwin and now-retired Opinion Page Editor Wally Haas began taking the Editorial Board on the road, meeting with the community in various neighborhoods, at library branches and other community centers.

"It's very important to reach the corners of the community that oftentimes don't see upper-middle-class professionals," Baldwin said. "It was important to meet with diverse people in the community, and not necessarily people who subscribe to the newspaper. We shape the news environment more than any other news organization."
And they do it from a literal tower, he pointed out.

"We work in a downtown tower next to the Rock River," he said. "It's kind of a fortress, and it can be intimidating. If anybody's going to get out of their comfort zone, it ought to be us. We have to wield our influence with some level of humility."

Baldwin has been outspoken on diversity, equity and inclusion. He wasted no time weighing in on a tragically common incident that unfolded in August at the city's popular downtown market.

On Aug. 21, Register Star reporter Shaquil Manigault, who is Black, was denied access to the market by a security guard, until photographer Scott Yates confirmed he was, in fact, a reporter.

Baldwin zeroed in on the security guard's language.

"I don't believe you," Baldwin's editorial response reads, using italics for emphasis.

"That comment may be the most infuriating part of the incident because of the way it denied one man the benefit of the doubt for one reason only, the color of his skin. And that's wrong," it continues. "Yet encounters like that are all-too-routine for people of color, whether they're professionals like Shaquil or students, teenagers or old folks. And it shouldn't take a white colleague, classmate or friend to make things right."

Urban planner Michael Smith and dietician Jody Perrecone are two community members who, along with Baldwin, round out Register Star's editorial board.

Smith marveled at Baldwin's rapid, thoughtful responses to what's happening in the community, with which Baldwin has established a deep connection.

"That editorial was quick," Smith said, laughing a little with appreciation. "He can turn on a dime to make sure the organization and the content therein reflect the times we're living in."

Baldwin has always insisted his team cover its community holistically – which means not just covering festivals and events centered around People of Color's traditions and history.

"There's an awful lot of coverage of communities of color that's been the bread and circuses variety," Baldwin said. "You cover festivals, or Cinco de Mayo or Juneteenth. That's not journalism for the community. That's journalism done by nice white people."

What lies ahead

Katrice Hardy, executive editor of the Indianapolis Star and regional editor of the Midwest, is charged with the task of finding Baldwin's replacement.

"Right up until his last week in the office, we were talking about his staff, and that's who Mark is," Hardy said. "He was always talking about his staff and trying to get them recognition for work they'd done. The best top leaders have that quality. Only so many ascend to the top, and they don't embody that the way Mark does."

She said Baldwin developed many invaluable, trustworthy sources in the city, "and that's because he cares."

During his time in Rockford Baldwin has been involved with many groups, including 815 Choose Civility, a project through which the media, public and private sectors address civility and civic dysfunction. The project was born from Transform Rockford, a nonprofit creating and executing a strategic plan addressing the city's socio-economic shortfalls.

He will have to give up at least one of his crusades in retirement, including his seat on the board for News Leaders Association, which is working to help newspapers align the diversity of their newsrooms with the communities they cover.

After a career in journalism and consulting that's taken him throughout the Midwest and New York, Baldwin and his wife Sydney dropped anchor in Rockford in 2012.

"I'm looking forward to getting reacquainted with my long-suffering wife," he said. "The only reason this has worked is because of her."

When they arrived in Rockford, the Register Star's former owner, GateHouse, was making massive cuts in reaction to financial decline.

Whereas Baldwin retired on his own terms, at least one other top editor hasn't been so fortunate. Tom English was abruptly terminated as executive editor of The Southern Illinoisan, owned by Lee Enterprises.

In May 2019, Angie Muhs resigned from the then-GateHouse-owned State Journal-Register in Springfield. As she was walked out of the building, her editorial colleagues left with her "as a show of respect and support," staff writer Dean Olsen told The Associated Press.

Dennis Anderson, who was named GateHouse's state editor in June 2019, resigned as executive editor of the Peoria Journal Star in May 2020. After starting and briefly running his media consulting firm DennisEdit Strategists LLC over the summer of 2020, he became Shaw Media's vice president of news and content development in September.

Hayt, the former ASNE director who is now the corps excellence regional manager in the West for Report for America, said the massive turnover in leadership in the industry is harrowing.

"You don't cut your way to success," she said. "We've lost a tremendous number of editors, a number of journalists, period, who have so much knowledge and understanding. You don't replace a Mark Baldwin, or people on your copy desk, people who have worked for years, and how many mistakes have they caught … we've cut ourselves into this situation."

Nonetheless, Baldwin persevered.

"I had to deliver a lot of bad news, and he had to absorb the news and deliver the news," said Paul Gaier, then the publisher of the Register Star. "Whereas others have gotten jaded, Mark was able to sit back and say, 'OK we have to make these changes, because the business is changing, but you know what? These aren't easy decisions, but they're the right decisions.' He always does the right thing, regardless of what that means."

Baldwin said the tallest hurdles going forward aren't in the budget sheet.

"The greatest challenges aren't going to be economic. They're cultural," he said. "You've spent years now being battered by accusations of fake news. People often misunderstand our role, people whose world view is not amenable to our role. Our role is not to confirm your comfortable view of the world."

Christopher Heimerman is a former editor of the Daily Chronicle in DeKalb, Illinois, and freelance journalist covering media practices in the Midwest. He wrote the memoir "40,000 Steps" which details his war with alcoholism and the marathon he ran after rehab. He lives in DeKalb. Follow him on Twitter @RunTopherRun.