Ohio newspaper opts not to cover misstatements of US Senate candidate, joining growing list of newsrooms favoring 'truth sandwiches'
When Josh Mandel called on the Ohio governor to curb COVID-19 restrictions and end the statewide mask mandate, journalists at The Plain Dealer in Cleveland ignored the Republican Senate candidate.
Rather than reporting on Mandel's statement, posted on Twitter, the newspaper decided the former Ohio treasurer, who repeated false claims that the election was stolen from former President Donald Trump, was not going to grab headlines simply because he had jumped into the state's open Senate race to replace retiring Sen. Rob Portman.
"Mandel is pretty much a nobody right now, a nobody begging for people to notice his tweets a year before the Senate primary," The Plain Dealer editor Chris Quinn wrote in an opinion piece, "Just because he makes outrageous, dangerous statements doesn't mean it's news."
Kathleen Bartzen Culver, director of the Center for Journalism Ethics at the University of Wisconsin at Madison, said there are a lot more conversations like these happening within newsrooms around the country.
"There's just a lot of thought about, how do we handle this? At what point are we giving a platform to content that will damage the public interest?" said Culver, who supported the Plain Dealer's decision. "The question is how you approach it, and what reasoning you bring to the decisions you make in each case."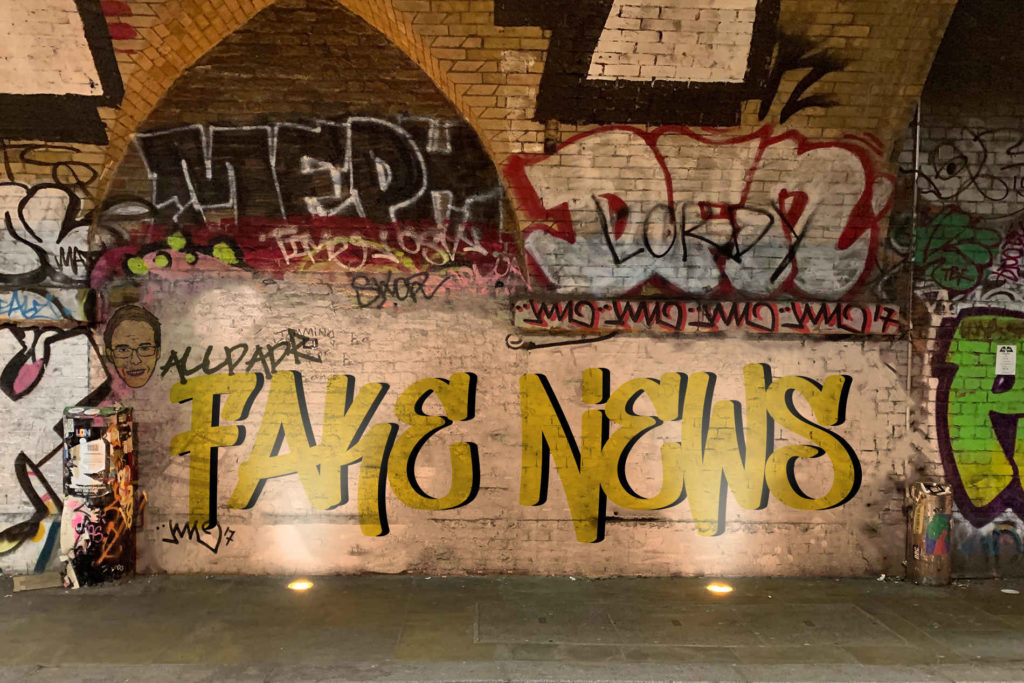 Truth sandwich
Media for Democracy, a group Culver was a part of in the fall of 2020, aimed to help people deal with election misinformation, and provide recommendations to journalists covering the pre- and post- inauguration period.
"One of the things we were recommending for journalists is presenting mis- and disinformation as part of what we termed a 'truth sandwich'," Culver said.
This so-called truth sandwich consists of two true statements surrounding a newsworthy statement by a politician that contradicts those statements.
Culver doesn't think the solution to covering misinformation is black and white, and journalists should assess newsworthiness and their coverage on a case-by-case basis.
Newsrooms all over the United States have all had to make these assessments, particularly when it came to the misleading claims of former-president Trump. Journalists were forced to weigh the newsworthiness of these statements with the damage they could cause.
In reference to Trump, MSNBC's Rachel Maddow said on her nightly-show in 2018 that she doesn't go out of my way to play tape of the former president speaking. "The president frequently says things that aren't true. He admits that he says things that aren't true."
Trump's misinformative claims often dominated the news cycle, especially during the 2020 presidential election. False claims of voter fraud being pushed by the former president divided the nation, and led many to question the transparency of the election, even though it was secure.
Journalists are now tasked with finding the best way to cover politicians like Mandel and Trump. Do they vigorously fact-check their claims, or simply decline to give them a platform? The decision is an important one because readers depend on accurate information.
Carol Marin, director of the Center for Journalism Integrity and Excellence at Depaul University and longtime political reporter, said journalists can't ignore a politician's false claims.
"It's a statement of his or her character that the voter needs to think about," Marin said. She said a journalist needs to explain what is being said and tell readers why it is verifiably untrue.
"I think that analysis belongs within the story, and the headline cannot be the false information," Marin said. When the misleading information is in the headline, it can be harder for readers to discern what is the truth, and the politician's goal has ultimately been achieved, she added.
It's also the responsibility of the reader to take a closer look at what they're reading. To Marin, media literacy is an extremely important skill that should be emphasized more in school.
"We need to start teaching children what is news, what's a civic responsibility, what does government do," Marin said. Media literacy is not a skill taught in school, and that is inhibiting the reader's ability to make the distinction between falsities and the truth.
According to a survey from PBS NewsHour, Marist Poll and NPR, more than half of U.S. adults said discerning these fake or deceptive stories has become increasingly difficult over the last four years. The same survey found that 39 percent of Americans say the news media is responsible for vetting misleading information.
Marin said that fake news hasn't radically changed in the recent years. The term replaced what was known as yellow journalism, and individuals spreading false claims for their own gain isn't a new occurrence.
"The fact is, there have always been people who have thrown out untruths to gain whatever advantage they think those untruths get them. And it's not just politicians, its business, it's corporations," Marin said. Even with the journalism industry, opinion and factual reporting can be confused by readers.
"A greater effort I think right now is going into having better labeling, so that an opinion doesn't look like a news story," she added
As journalists continue to seek the truth, they need to make clear to their readers what that truth is, through better analysis, through better labeling, and through being transparent.
One way to provide that transparency and to build trust with readers is to be accessible to them.
The Cincinnati Enquirer did just that, by holding a Facebook Live titled "Ask The Enquirer: How do you cover government and politics?" where viewers could do exactly that.
Editor Beryl Love, government and politics editor Carl Weiser and Statehouse bureau chief Jackie Borchardt discussed how they cover local politicians and emphasized newsworthiness as the deciding factor.
"When a politician says something outrageous or provocative that's usually newsworthy, because that tells us a lot about who we've elected to represent us," Love said.
Its coverage does not end with simply quoting politicians, when Love was asked if The Enquirer fact checks these statements his response was a resounding yes.
"When an elected leader says something provocative, the point of us doing the story is to put some truth against the statement," Love said, adding that The Enquirer excels in this area.
"During the campaigns leading up to the last election, we fact checked a lot of statements that were made in political advertising and campaign speeches," said Love, "the last thing we want to do is just be accomplices in spreading mistruths and falsities out there."
Brianna Connock is an Ohio-based correspondent double-majoring in Journalism and Political Science at the University of Cincinnati (UC). Along with her work at Gateway Journalism Review, she is a Life & Arts reporter for The News Record.