'Hyperlocal' news written from afar
By Nathaniel Dean Fortmeyer, William Recktenwald and William H. Freivogel
---
This report is the work of an investigative reporting class in the School of Journalism at Southern Illinois University Carbondale. The project analyzed public records about an interlocking network of conservative news organizations connected to the free market, anti-tax, anti-union Illinois Policy Institute. The SIU reporting project examined documents obtained under the Freedom of Information Act. In addition, reporters tracked down freelancers who wrote local Illinois stories from thousands of miles away. Nathaniel Dean Fortmeyer was the student who took the lead in the investigation. William Recktenwald taught the class and reported from Harrisburg. Recktenwald was an investigative reporter at the Chicago Tribune. William H. Freivogel is publisher of GJR.
---
A group of free-market billionaires and conservatives allied with Illinois Gov. Bruce Rauner controls a network of newspapers, radio stations, news sites and policy institutes promoting the governor's agenda while presenting themselves as independent and free from bias.
When people in Carbondale, DuPage, Chicago, Kankakee, Rock Island, Will County and other Illinois communities pick up the local newspaper or click on a website, they are promised traditional journalistic values — the "highest standards of truth and accuracy…and independence" — "Just the Facts" — "nonpartisan, nonprofit…dedicated to the principles of transparency, accountability and fiscal responsibility."
What readers get is a strong pro-Republican, pro-Rauner, anti-Michael Madigan slant manufactured by the interlocking group of media organizations revolving around the free-market, anti-tax, anti-union Illinois Policy Institute (IPI).
Readers also get "local" stories often written by freelancers thousands of miles away who never set foot in Illinois. And, even though the conservative network promises transparency, some funding is shrouded in dark, unreported money.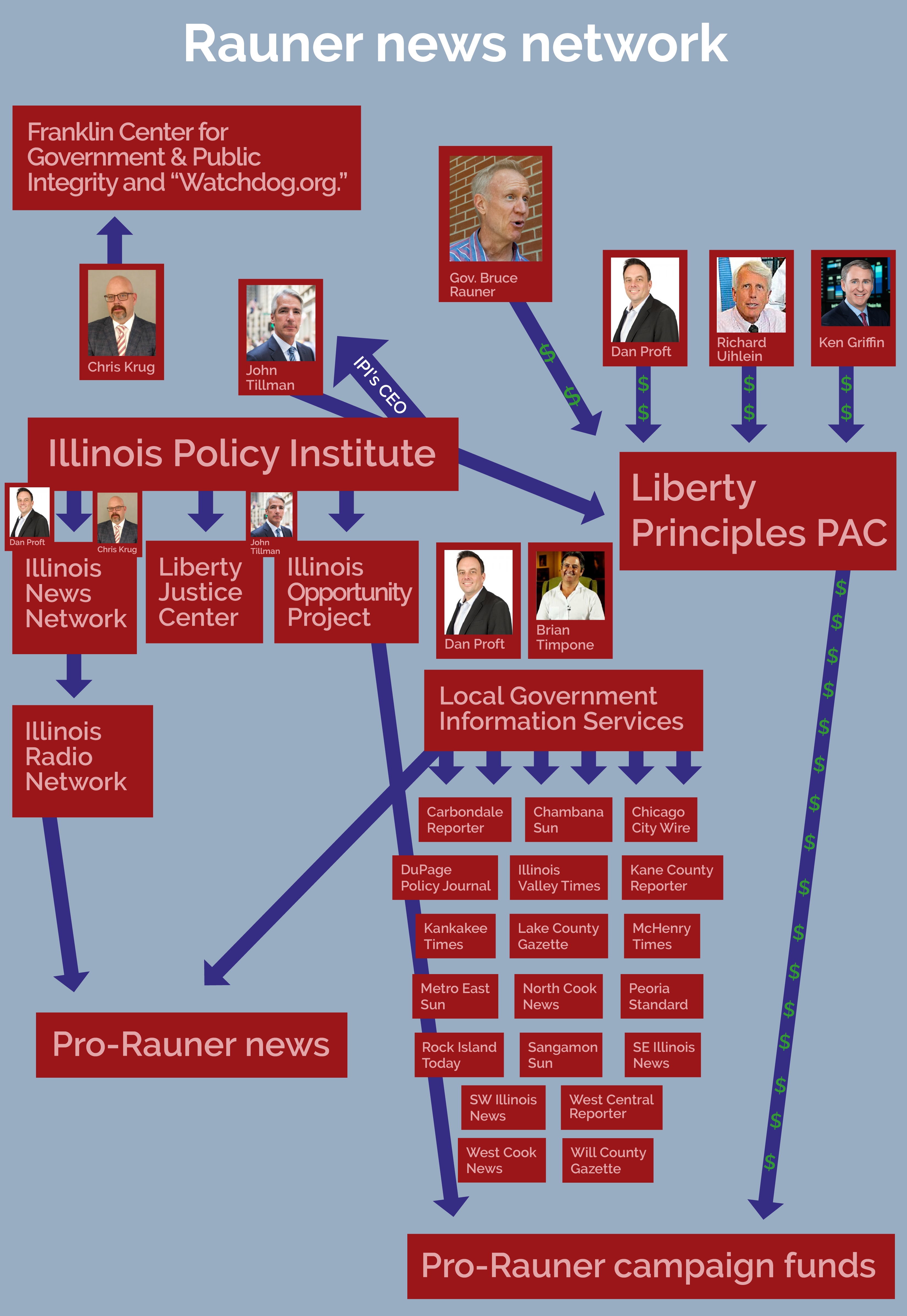 The interlocking network of conservative media organizations has newspapers, radio stations and websites reaching all corners of the state. Here is how it is organized:
The conservative Illinois Policy Institute (IPI) created the Illinois News Network (INN) in 2012 and INN acquired the Illinois Radio Network in 2016 extending its reach to 60 print, digital and broadcast news outlets across the state.
A sister organization run by IPI senior fellow Dan Proft — Local Government Information Services — publishes 11 newspapers and 20 websites around the state.
IPI also has a political advocacy arm, a legal advocacy arm and a close connection with a super PAC. The political advocacy arm is the Illinois Opportunity Project. The legal arm, the Liberty Justice Center, leads the national the fight against public employee unions. The super PAC, the Liberty Principles Political Action Committee, funds pro-Rauner candidates.
Nationally, IPI has links to the Republican Koch brothers. The IPI is one of a network of conservative advocacy groups connected to the State Policy Network, funded by the Kochs. Recently, the CEO of the Illinois News Network, Chris Krug, became president of the Franklin Center for Government & Public Integrity and its journalism project Watchdog.org, which promotes similar right-wing media operations in other states.
Altogether, the interlocking organizations entwined with the IPI, compose a formidable conservative force in Illinois politics and serve as a model for similar networks across the country.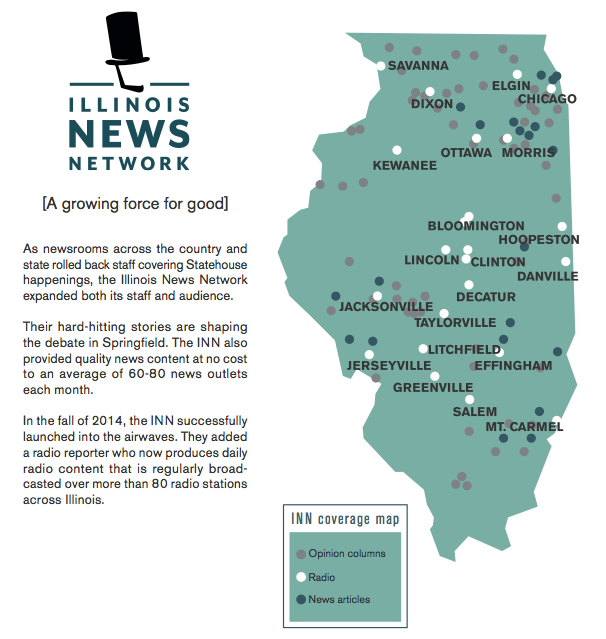 Proft at the center
At the center of the conservative news network is Proft, a hard-edged talk show host on AM560 in Chicago and former unsuccessful Republican gubernatorial candidate.  Proft is a senior fellow at IPI, which operates the Illinois News Network. INN's radio network substituted Proft's radio show for its public affairs program last year.  And Proft is a principal in the Local Government Information Services, which publishes 11 newspapers and 20 websites around the state.
Proft also is chair and treasurer of Liberty Principles Political PAC, which has received more than $10 million from Rauner and two wealthy friends, using it to fund for-Rauner candidates.
Proft hosts the "Illinois Rising" Sunday afternoon talk show that blasts everything liberal, from last summer's budget law to last winter's all-school seminar on civil rights at New Trier High School. Proft thought that historical look at racism and injustice was "indoctrination."
Proft did not respond to repeated requests for an interview.  Krug, the INN CEO, also did not agree to an interview before publication.  Since publication he has sent emails emphasizing Proft does not run INN and INN is not affiliated with Proft's newspapers.  Krug described INN as an "independent project of the Illinois Policy Institute." Krug declined to be interviewed further on connections with Proft, whose "Illinois Rising" program is broadcast on INN stations.  INN news stories quoting Proft contain this tagline: "Disclosure: Among his other roles, Dan Proft is a senior fellow at the Illinois Policy Institute, the Illinois News Network's parent organization."
Proft's partner at the Local Government Information Services, Brian Timpone, told a reporter, "You don't understand what a free press is. You have no concept of the history of media in this country. How much of a departure the last thirty years has been."
Asked why his reporters often don't live in Illinois, he responded, "Do you think it is any different than the Chicago Tribune using reporters in Chicago to call local people downstate? All they do is use the telephone."
Timpone said, "The governor has nothing to do with the paper. I have never met him. I did donate to him. I gave the governor the maximum contribution — $2,500, I think."
"We are not beholden to anybody…. With other papers, the reporters listen to government agents. They are biased toward government. We give voice to people who have never been heard."
Rauner has downplayed his connections to the Proft-Timpone papers. Last spring he told WCIA3 news he didn't have any knowledge of the Proft news organization, despite having given $600,000 to IPI before becoming governor and $2.5 million more recently to the Liberty Principles PAC.
Last July, after losing a big legislative fight on taxes and the budget, Rauner fired 20 moderate staffers and brought in IPI officials as chief of staff and communications director. The closer embrace of IPI blew up in Rauner's face when IPI ran a cartoon widely seen as racist and his new staffers from IPI mishandled the response.
Are they newspapers?
The IPI states on its website that it is "an independent nonprofit consisting of more than 20 writers and policy experts. Our mission is to create and promote public policy solutions that promote personal freedom and prosperity in Illinois…to continue unbiased reporting and promote principled policy solutions we need your support."
That promise of unbiased reporting recently appeared just below an anti-Madigan editorial and cartoon showing Democratic House Speaker wearing a crown and sitting on a throne with skulls scattered all around. The IPI also funded a documentary highly critical of the long-time House speaker and promoted it throughout its network of media sites.
Officials who accredit statehouse reporters and The Illinois Press Association, the state's official press group, have challenged whether the Proft papers are legitimate news organizations.
In 2014 the Senate told an INN reporter he was "ineligible at this time to obtain a Senate media credential because you are employed by the Illinois News Network, which is part of and an assumed name for, the Illinois Policy Institute. As such, the Illinois News Network is not per the guidelines 'owned and operated independently of any industry, institution, association or lobbying organization." The reporter lost a court challenge.
During the 2016 elections, the Illinois Press Association received a flood of complaints about papers affiliated with the pro-Rauner network, with some Democrats branding the newspapers "fake news" — political advertising packaged to look like news. Most of these complaints were directed at Proft's LGIS papers that circulate in communities as if they were traditional local papers.
"We had more than ten people call to see if they were Illinois Press Association members," said Josh Sharp, the CEO of the Press Association. "They are not."
"A lot of these papers were disguised as newspapers, but typically they skewed all the stories to one side," said Sharp. "To my understanding, the papers are funded by a political action committee, Liberty Principles PAC. I would suggest that the average newspaper reader look at how a paper presents news. Newspapers not funded by a PAC will have news from both sides. Representatives from the Republican and Democratic Party will be represented. PAC-funded newspapers do not and usually represent only one side of the story and only quote one side," said Sharp.
None of the newspapers belonging to the Illinois Press Association is operated by political action committees, said Sharp.   "The First Amendment protects the right for Dan Proft to say whatever he wants. But perhaps Mr. Proft should be more up front about the funding of his papers," Sharp said.
At the same time that Proft publications were promoting pro-Rauner candidates on their pages, Proft political committees were contributing money to them.
For example, in one of the tightest races in the 2016 primaries, pro-Rauner forces failed to unseat Sen. Sam McCann of Plainview. Proft's Liberty Principles PAC contributed $3 million to beat McCann, while the Illinois Opportunity Project gave $1.3 million.
Timpone, who runs LGIS, said he was not surprised the Illinois Press Association had not recognized his news organization. "Do you think that the members of the IPA want competition? They are a membership organization. They try to suggest that they are holier than thou.
"They represent old newspapers bent on protecting their monopolies. It is more blocking start-up content."
A national model
Sharp from the Illinois Press Association said he wouldn't be surprised "if Illinois is a test ground for this sort of thing. If it works in Illinois, it will likely be deployed in other states."
He's right. The official IPI bio for John Tillman, the IPI CEO, praises his founding role in IPI, Liberty Justice and Illinois Opportunity. "John's success has become a model for liberty-based organizations across the country."
The national role played by the INN and IPI deepened as a result of the appointment of Chris Krug, INN's CEO, to run the national Franklin Center for Government & Public Integrity and its journalism project "Watchdog.org."
The Franklin Center says it is dedicated to "principles of transparency, accountability and fiscal responsibility (and)…shines the bright light of transparency into government's darkest corners, and exposes the facts about government mismanagement and overreach…. We are committed to creating non-partisan journalism…in a distinctive voice deeply skeptical of the entire political process. Our stories aim to disrupt the prevailing political narrative…."
Watchdog.org links to about 30 conservative "news" sites around the country, with its Illinois site linking directly to INN. The Center for Media and Democracy lamented in 2013 that the right-wing reporters supported by the Franklin Center were moving into state capital pressrooms even as mainstream media were cutting statehouse staffs. Even though the Franklin Center's Watchdog.org trumpets "transparency," the "donor advised" funds listed as its contributors cloak the original source of the funding.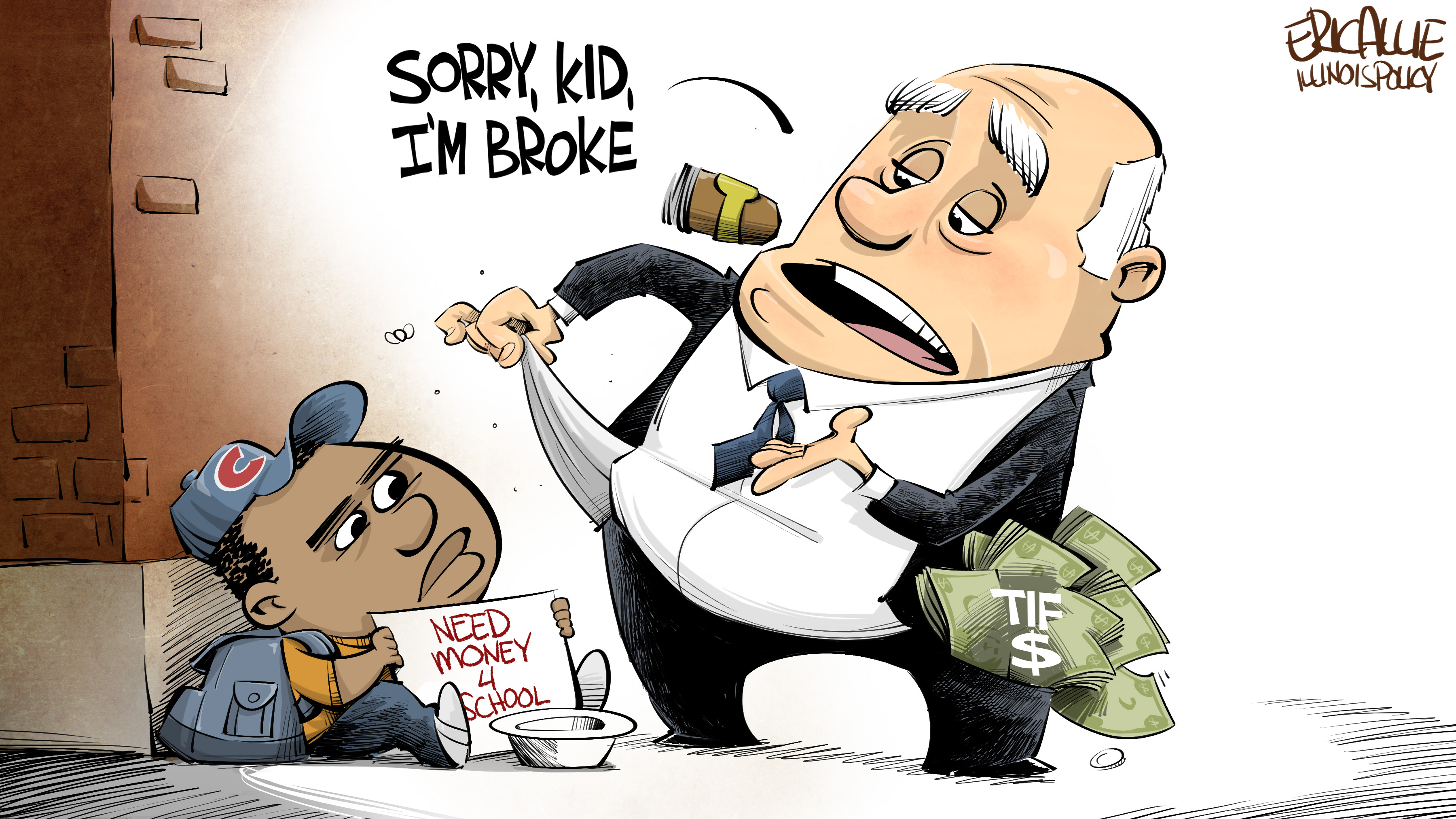 Are readers deceived?
David Yepsen, a former national political reporter and former director of the Paul Simon Public Policy Institute, sees nothing wrong with the Proft-affiliated news organizations, although he isn't impressed by their journalistic quality.
"It's pretty obvious to anyone looking at these papers they have a point of view." he said in email.  "The ones I've seen weren't too well done — gray, boring layouts.  Bad art, tombstone layouts. Any reasonable person looking at them is going to see them for what they are: a lot of canned, right-of-center stuff.  Looks like a rather bad shopper.  And who is 'shocked, shocked' these groups have a pro-Rauner agenda?  Didn't we already know that?
"IPI and Co. have every right to do their thing and if the IPA and the Legislature don't want to grant them credentials, so what? That's their right too…. The IPI has just as much right to do what they are doing as the labor movement has in investing in the Chicago Sun-Times.  It's called free speech.  Let a thousand flowers bloom. Buyer beware."
Mike Lawrence, Yepsen's predecessor as director of the Simon Institute and a former press secretary for Republican Gov. Jim Edgar, is "concerned that many readers of the Proft press do not make the distinctions between their propaganda and reports from the mainstream media.  This is especially concerning when coverage of the State House by the mainstream media has substantially diminished…. There were six wire service reporters when I went to Springfield in '74 and there were six until the mid-80s and there is one now."
The "evisceration of the once-potent State House press corps…enhances the influence of the masked propaganda by Proft, the IPI and their crowd," he said. "To use a term, it's fake news. It's not like a political flier; they are trying to mask it and I think that is worth exposing."
Lawrence noted Timpone and Proft have had problems in the past. Timpone was "involved in some questionable journalistic practices," Lawrence said. "For one, Timpone's (organization), which once went by the name Journatic, was rebranded after accusations of plagiarism." Timpone's firm also used fake bylines on Illinois content originating from contributors in the Philippines.
Proft, Timpone's partner, is one "of those guys who talks about too much government and we don't need to raise taxes and all that," said Lawrence, "but here is a guy who had a PR contract with Cicero." The Chicago Tribune reported in 2008 Proft received no-bid contracts worth more than $500,000 a year to represent Cicero and local school districts.
Rauner's alliance with IPI
Rauner's insistence that the General Assembly pass his "turnaround agenda" of pro-business changes led to a two-year budget impasse with Speaker Madigan and the Democratically controlled legislature. This past July, enough Republican moderates joined Madigan to pass a budget to fund the government. The law, enacted over Rauner's veto, included a tax increase.
The LGIS news outlets' story on passage quoted five Republican legislators criticizing the override and no Democrats or moderate Republicans supporting it.
The network followed up by hammering the tax increase that was part of the deal. The West Central Reporter, for example, contained story after story on the impact of the tax hike on each the approximately 40 communities in its area:
Income tax hike will cost Nashville residents $1,556,774.57 more this year, ranked 1st in Washington County
Income tax hike will cost Oakdale residents $212,723.15 more this year….
Income tax hike will cost Richview residents $132,556.54 this year….
Rauner reacted to the budget override by firing long-time aides, many of whom were moderates he had borrowed from former Sen. Mark Kirk's staff. About 20 aides were either fired or resigned in protest.
Rauner and his wife, Diana, came to believe that the biggest problem they faced was a failure of messaging. That led to replacing the moderates with hard right staffers from IPI.
Summer's missteps
When Rauner hired the IPI policy executives last July, the LGIS news service sent a story headlined, "Policy institute exec joins Rauner in crusade to save taxpayers."
But immediately there were problems. A newly hired "body man" who traveled with Rauner had to be fired after reports he had posted racially insensitive and homophobic statements on Twitter before joining the governor.
Then, a new public relations aide had to go because he had written a post that compared abortion to Nazi eugenics, commenting abortion was to "rid the world of disabled and other 'unwanted' persons."
The new communications team — Diana Rickert, Laurel Patrick, Meghan Keenan and Brittany Carl — turned out to be a bad fit, Rauner conceded later. Rickert and Keenan were from IPI and Patrick previously had worked for Wisconsin GOP Gov. Scott Walker.
The biggest blowup was an IPI cartoon showing a black child with stereotypical features panhandling for money from a white man in a suit smoking a cigar.
The man says, "Sorry, kid, I'm broke" even though he has a pocket stuffed with "TIF $" – short for tax-increment financing. The cartoon suggested Chicago's use of tax-increment financing had reduced funding for public schools. But members of both parties immediately called the cartoon racist and tax experts said TIFs often ended up helping Chicago school funding.
Rauner at first refused to take a position on the cartoon, saying he hadn't seen it. Then Rickert poured gasoline on the fire by putting out a statement saying, "the governor — as a white male — does not have anything more to add to the discussion." The statement subjected Rauner to national attention and ridicule during the post-Charlottesville debate about race.
Rauner soon disavowed the statement. A new statement said the governor opposed racism but still did not comment on the cartoon. Eventually, after further pressure, Rauner said, "We in Illinois, we in America, we stay united against racism, against prejudice, against bigotry, against hate speech in all its forms and we've got to stand strong together."
Rickert, author of the "white male" statement left Rauner's team. Reports said she was fired; she claims she left because she realized government was "dysfunctional." She joined the IPI affiliated Liberty Justice Center.
The departure of former IPI staffers left two top IPI alums in top jobs — his new chief of staff, Kristina Rasmussen, and deputy chief of staff for policy, Michael Lucci.   But not for long.
Tensions between Rauner and IPI
Rauner's late September decision to sign HB40, providing public money for abortions for poor women, created tension between the governor and the Republican right, including John Tillman, CEO of IPI.
Tillman, long a strong backer, slammed Rauner on Facebook writing, "Benedict Rauner going back on his word and signing HB40. Whether you are pro life or pro choice, a politician loses when he gives his word to many people and goes back on it, including to Cardinal Cupich. Further, if you care only about economic issues, he has put that entire agenda at risk by betraying those to whom he gave his word."
Cardinal Blase Cupich of Chicago, confirmed that Rauner's decision to sign the abortion bill had violated a pledge the governor had made to him.
In the days after Rauner signed HB40, Proft papers turned against him.
The North Cook New headlined: "Critics say HB40 likely to increase number of abortions over 22,892 on record for Cook County in 2015."
The Sangamon Sun headlined: "Critics say HB40 likely to increase abortions over 310 on record for Sangamon County in 2015."
The Metro East Sun reported HB40 "critics say will increase the number of abortions from the reported 389 in Madison County and 591 in St. Clair County in 2015."
The stories quoted Right to Life groups but no abortion rights groups.
Finally, Rasmussen, who disagreed with the abortion law, left as chief of staff in early October after only 88 days on the job — a period Rauner described as "wild times." Rauner said Rasumussen was leaving "to pursue her dream" by joining the legal challenge to public employee unions that is before the U.S. Supreme Court.
That case, Janus v AFSCME, is viewed by public unions as an existential threat. The IPI affiliated Liberty Justice Center represents Mark Janus, a state child support specialist who objects to paying union dues to compensate for the cost of contract bargaining. The Justice Center says it is fighting for Janus' First Amendment rights, not against unions.
Complaints about improprieties
Critics have filed legal complaints against the IPI news network without much effect.
In 2014 an anonymous complaint to the Internal Revenue Service accused the "The Coordinated Political Enterprise of John Tillman, Inc." of improperly using the non-profit IPI to "provide tax‐exempt support to assist candidates, PACs, and party organizations." Donations to IPI are tax deductible because it is an 501(c)(3) organization under the IRS tax code. To qualify as a 501(c)(3), an organization cannot engage in political advocacy for a candidate. The complaint does not appear to have resulted in any action against IPI.
In 2016 State Sen. Jennifer Bertino-Tarrant criticized the Will County Gazette, one of the Proft papers, as "an unsolicited political mailing disguised as a weekly paper and part of the network of 13 similar publications across Illinois funded by Dan Proft and Governor Rauner."
Her factsheet added, "unbeknownst to readers, the network of papers…are not recognized as real newspapers by…the Illinois Press Association, and are run by a publisher" previously accused of plagiarism and using fake bylines outsourced to foreign workers.
The complaint continued: "The network of fake papers is funded by conservative former radio show host and millionaire Dan Proft and Governor Bruce Rauner through the Liberty Principles PAC. The network of papers exists to send political mailings under the guise of real reporting in targeted House and Senate Districts."
The State Board of Elections found that the papers were required to print a "paid for" disclosure. LGIS websites currently state: "Funding for this news site is provided, in part, by advocacy groups who share our beliefs in limited government."
Sarah Brune, Executive Director of the Illinois Campaign for Political Reform, said state law needs to be changed to address political organizations that use dark money to deliver a political message in the form of a journalistic product.
"There are basic tenets and standards of journalism that require objectivity, and setting aside individual bias. If these publications are political in nature, political advertising, they should be delivered in that format, clearly labeled and marked, so as not to confuse potential voters," Brune said in a telephone interview.
"Groups that are not registered as political actors should not behave as political actors. If a group is going to act as a political committee, they should be registered as a political committee. This requires a change in the law.
Brune emphasized voters have a right to know who is attempting to influence their elections.
"It should be transparent." Brune said. "There should be reporting mechanisms. Dark money obscures citizens knowledge. Citizens have a right to know who is funding who.
"In the case of Liberty Principles PAC, they are registered. However, because of groups like the (affiliated) Illinois Opportunity Project, money can be funneled in and we do not know the original source," she said.
Brune warned of nonprofit organizations designated as 501(c)(6) and 501(c)(4) (organizations) represent significant dark money dangers. Illinois Opportunity Project is a 501(c)(4).
"The Illinois Opportunity Project is able to raise any amount of money and spend just under half of that on political activity," Brune added.
Brune's Illinois Campaign for Political Reform proposed a way to close dark money loopholes — SB 2089, introduced last spring. The amendment did not get far.
One of the opponents: The Illinois Policy Institute.
Clarification: An early version of this story stated Dan Proft operates INN. INN says he does not. Records show Proft is senior fellow of the Illinois Policy Institute, which founded INN, and INN radio outlets broadcast Proft's radio show.