Publisher's note:  Margaret W. Freivogel wrote this appreciation of Dudman on his retirement from the Bangor Daily News in 2012.  The piece appeared in the St. Louis Beacon, which merged later with St. Louis Public Radio where Freivogel was editor.  (She is the wife of GJR publisher William H. Freivogel.)
by Margaret Wolf Freivogel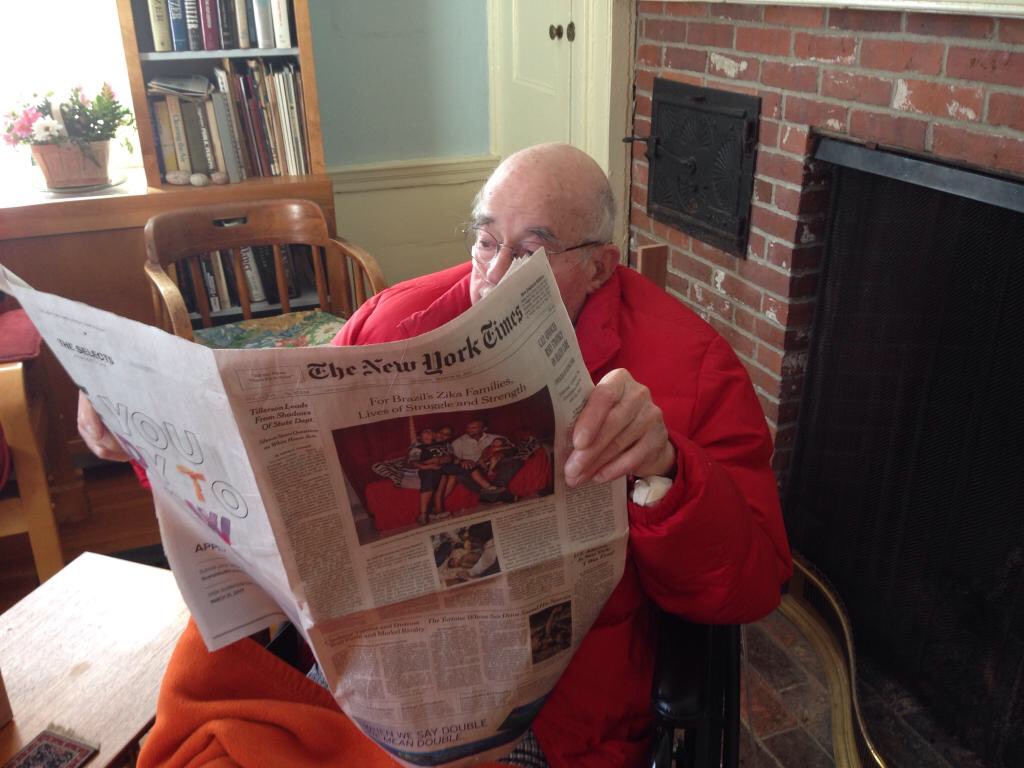 It's appropriate that Richard Dudman, the quintessential intrepid journalist, retired this week of July 4. For him, journalism has always been a patriotic act.
Of course, Dick has claimed to retire before. He retired as Washington bureau chief for the Post-Dispatch in 1981 after a career that included ground-breaking coverage of the Vietnam War, 40 days in captivity in Cambodia and numerous other scoops. He moved to Maine, only to resurface as an editor for a university-based international news service. He retired from that but emerged 12 years ago as an editorial writer for the Bangor Daily News.
His last of more than a thousand editorials urged Maine's senate candidates to forgo funding from Super PACs. Characteristically, he argued against secrecy in government. "The high court has held that money is a form of speech and that corporations have the same First Amendment right of free speech as individuals," Dick wrote. "But the anonymous donations restrict the public's ability to track which special interests are influencing which campaigns and candidates."
At 94, Dick may be serious about retiring this time, though I hope he'll find a new way to continue sharing his signature pithy insights. One I recall well was reserved for slow reporters. "He who sits on hot story gets ass burned," Dick advised. He always kept a bag packed in his Washington office so he could be out the door before editors had time for second thoughts about sending him on assignment.
With the media world battered by cross currents of economic and technological change, Dick's work and life shine as a guidestar. His devotion to traditional journalistic principles and zest for trying something new are just the example we need to navigate the shoals of uncertainty.
As Dick learned, charting a new course can be much harder in real time than it looks in retrospect. The love-it-or-leave-it crowd did not cotton to his reporting on the Vietnam War. They didn't want to hear that reality on the ground was not nearly so sunny as the view from the official briefing in Saigon. The Globe-Democrat once denounced Dick's work in a front page editorial headlined, if memory serves, "For America or for Hanoi."
In contrast, Dick believes the most valuable service that journalists can perform for their country is to provide a clear-eyed challenge to conventional wisdom. Years ago, when some critics of the war were burning flags, he built a flag pole at his Maine house and called neighbors together to raise the colors. "Some of our liberal summer friends had questioned why would want to put up a flag pole and suggested that I sounded like a superpatriot," he recalled this week. Dick told them, "It's patriotic to question authority."
Shortly before he left the Post-Dispatch, Dick found himself in uncharted waters. Two eager reporters proposed the crazy idea of sharing a job in the Washington bureau, where 24-7 dedication to work was the prevailing ethic. Would these reporters be sufficiently committed to the calling, he wondered? Dick sought advice from a friend, the feminist author Betty Friedan. "Do it," she advised. And, with a nudge from publisher Joseph Pulitzer Jr., he did.
The unconventional arrangement was a life-saver for my husband, Bill, and me as we struggled with the logistics of raising our young family. And it turned out to be a good deal for the paper, which could deploy us as a sort of perpetual motion reporting machine.
On Dick's last day in the office, President Ronald Reagan was shot. Dick ran up Connecticut Avenue to the scene. I rushed to George Washington hospital, where a shanty town of reporters and equipment instantly materialized to keep watch. That evening, Bill arrived in a taxi. I handed him my notes and he handed me the kids, ensuring seamless 24-hour coverage without interruption for sleep.
Then as now, tradition plus innovation works.