October 5, 2023
Black-owned podcast in Ohio provides a place for men to heal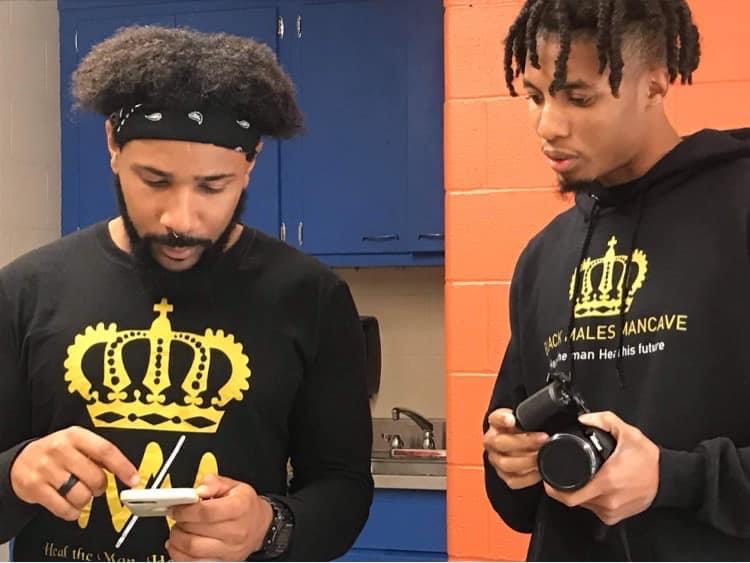 Devoe Sherman, an entrepreneur who grew up in a low-income neighborhood in Cincinnati, wanted to create safe space for Black men like himself. A place for men to heal.
Three years ago he founded "The Black Males Mancave" in Cincinnati, a Black-owned podcast with 100 listens per episode, a modest number but one that resonates with an audience searching for a place for a form that reflects their life experience as Black men.
A new report from the Pew Research Center last week found that Black Americans see a range of problems with how Black people are covered in the news. Of the nearly 5,000 Black people surveyed, most said that Black people are covered more negatively than people in other racial and ethnic groups.
It helps explain the popularity of podcasts like "The Black Males Mancave."
Many Black Americans said Black journalists are better at understanding them and covering issues related to race, according to the survey.
Laura Partain, an assistant professor in Communication at the Ohio State University, said podcasts represent a democratization of information and entertainment with low barriers to production and even lower barriers to access.
"Some of what we know about digital divides when it comes to the internet or other technology does not necessarily apply to podcasts," she said. "Arguably, podcasts share many similar community functions to that of the radio, an historically important medium that has facilitated community building and civic action."
"The Black Males Mancave" podcast goes live once a month around 6:30 p.m. and lasts for about 30 minutes to an hour. During each podcast, a different topic is discussed such as wealth, health, finances, relationships and entrepreneurship. It also streams video content on Facebook and YouTube.
For the last three years, the Cincinnati podcast has transformed and presented raw, unedited content to its listeners. Each of the podcast segments varies, from shoutouts to Black businesses such as the William Francis Theatre to what someone can do to heal emotionally and mentally.
"In short we're all about empowering Black men and women. We commit ourselves to guiding our people to a better and brighter future," said Junior Ivenso, a member of "The Black Males Mancave." "The best part about our podcast is the educational piece that you can take with you for a lifetime."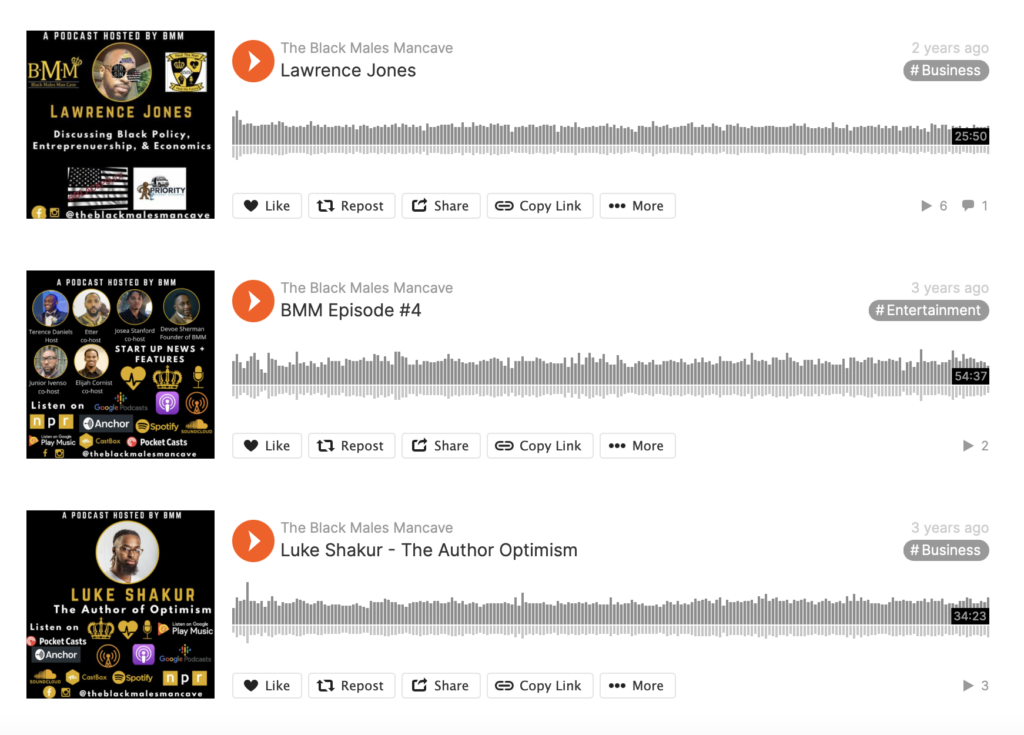 "Black Males Mancave" uses free spaces to hold its podcast segments, including libraries, office rooms, and homes. The equipment they use to record film and audio for the podcast is provided to them for free. The members of the podcast used to only use mobile phones to broadcast the podcast. With upgraded equipment, they have been able to have better audio and visuals. Members do not get paid.
When it comes to acquiring guests to speak and be interviewed, they choose a topic for the next podcast and use social media platforms to do call-outs and reach out to individuals. They also like to have guests already lined up and selected. Some individuals also call in and request to be interviewed. Not only do they schedule the time for the podcast session but they also spend time with the guests outside of the podcast.
"We went towards getting people's skills out there," said Antonio Etter, a member of the "Black Males Mancave."
The podcast marketing continues to grow, spurred both by original content creators like Sherman and listeners who find them among the vast offerings. In 2022, 41 percent of Americans aged 12 listened to a podcast within the last month, according to a Pew Research report released this summer. Asked about their podcast listening habits, 28 percent reported that they had listened to a podcast in the last week. That was up from 2021.
"It holds a lot of weight. There is power in being able to record and get it out to people," said Sherman.
Briana Barner, an assistant professor of communication at the University of Maryland, recently talked to The 19th, a journalism non-profit, about how Black-hosted podcasts played a pivotal role in conversations around allegations against R. Kelly and the "Surviving R. Kelly" documentary. In an interview, she told The 19th that podcasts played a role in elevating racial and gender justice.
The "Black Males Mancave" is built around brotherhood and the relationships that have come from it. The members are dedicated to giving out information and strengthening their community.
"The biggest thing for me is the fellowship," Etter said. "It is documentaries for my kids and those around me. It stands out because it is about our experiences."
The "Black Males Mancave" podcast has come a long way since its inception. But the members want to get their own space and be more consistent with producing more visually compelling content for viewers.
"The mission is to continue to create a safe space where people can come and express themselves. To tell others about what they have to offer the world," Etter said.
Added Sherman, "We want to be untraditional with the podcast."
Angel Lasha Godfrey is a student in journalism and international affairs at the Ohio State University.