April 15, 2019
Chicago media outlets ignored R. Kelly story for decades. We try to understand why.
Singer-songwriter R. Kelly is currently facing 10 counts of aggravated criminal sexual abuse against four different victims, three of whom were underage when the alleged crimes took place, but allegations about him and underage girls have persisted for two decades.

During that time, Chicago Sun-Times music critic Jim DeRogatis, reporter Abdon Pallasch and columnist Mary Mitchell were the only ones reporting on Kelly's alleged behavior.

"I'm just profoundly sad that Chicago failed in every aspect," DeRogatis said. "In journalism, in the music industry, in the courts, in the cops. It's horrifying to me."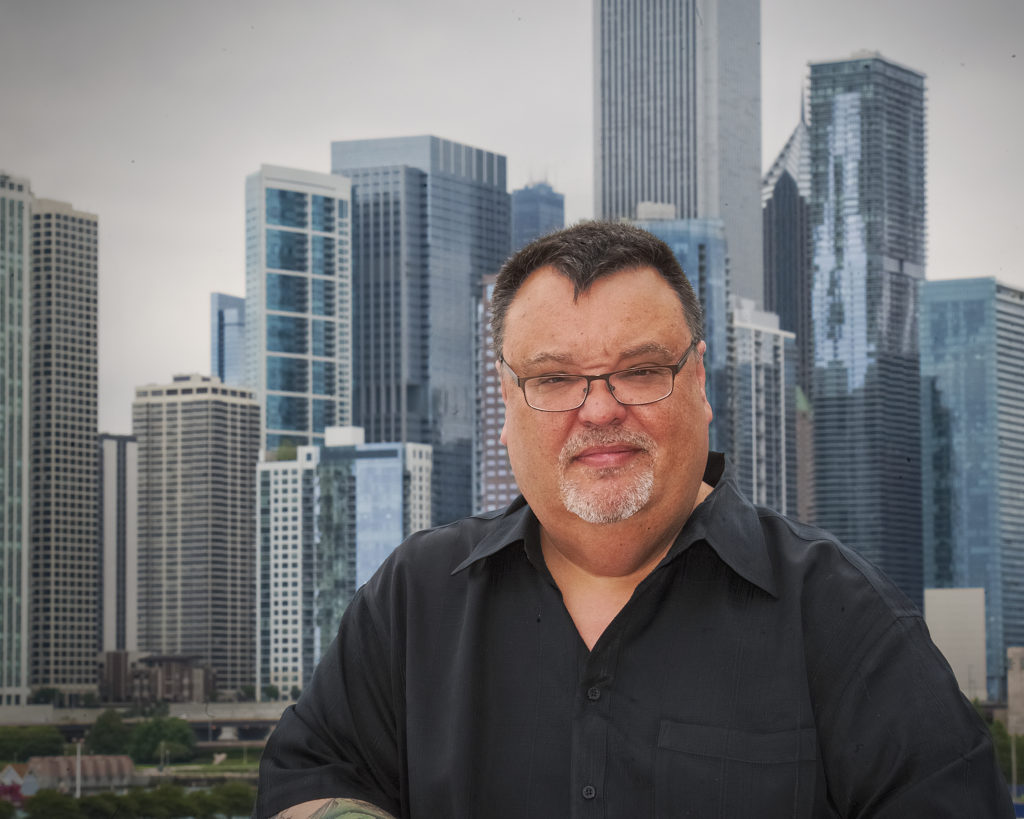 Kelly would be indicted in 2002 on child pornography charges and acquitted in a 2008 trial. Since then DeRogatis has continued to cover Kelly, for Buzzfeed and most recently for The New Yorker. He also has a book set to be released June 4 on the failure of journalism, the courts, and the police in the Kelly saga. Mitchell has continued writing her column for the Sun-Times and Pallasch, who left reporting in 2012, now works as director of communications for Illinois Comptroller Susana Mendoza who recently lost a bid for Chicago mayor.

Journalism wasn't the only institution that failed, according to DeRogatis, but it is one that we reached out to several reporters and editors about, many of whom would only talk on background or refused to talk altogether.

"The first story ran December 21, 2000, and it dropped like a bomb, DeRogatis told Gateway Journalism Review in February. "Nobody paid a damn bit of attention to it. No follow-ups in the Chicago Tribune, no follow-ups anywhere."

Now, nearly 20 years after their first story hit and because he's back in court, media from around the world are covering R. Kelly. But back in 2000, media outside of the Sun-Times sat pat, including its biggest rival — the Chicago Tribune.

Mitchell, along with Pallasch and DeRogatis believe there were many reasons why all other reporters left the story with them for so long, including race.

"There's no way around it — South and West Side victims," DeRogatis said. "The girls are all black except for one."

National media also were mesmerized by Kelly as Bill Wyman, former arts editor for Salon and NPR, wrote in a January piece for Buzzfeed that called out the New York Times. "A parallel story unfolded in journalism over the last two decades," Wyman wrote. "In this one, a reporter from Chicago breaks the Kelly child sex allegations and pursues them relentlessly — even as an influential critic, from his perch in the cultural section of the nation's most powerful newspaper, in his own relentless fashion lauds Kelly over and over again as a pop genius, and downplays the reports coming out of Chicago."

Pallasch said the Sun-Times laid out the roadmap for other journalists. "Why don't the rest of you follow?" he said. "Everyone sort of shrugged it off. If some of these girls had been white girl victims, would it have been different? Is part of it that he was only sexually abusing black teenage girls, is that part of the reason why they let him get away with it for so long and didn't take it seriously and didn't invest the resources to investigating it? I don't think you can dismiss that."

Mitchell said in 2000 the Tribune wasn't very concerned about African American readers.

"They weren't reporting…crimes committed against black women were almost all ignored. Missing black women were ignored," Mitchell said. "The Tribune was not writing or marketing itself to the African American community, so it wasn't telling our story. Not the way the Sun-Times was telling our story."

WHERE WAS THE TRIBUNE?

The music voice of the Chicago Tribune then and now was Greg Kot, who told Gateway Journalism Review that he urged his editors to cover what he believed was an important story.

"I actually was telling my paper that we should write about it. I don't think they took it as seriously as they should have. My feeling was that this was a story that should have been reported out," Kot said.

Kot added that at the time he was publishing about 250 bylines a year, and that his editors wanted him to continue at that pace.

"It was kind of a stay in your lane thing with me…I said, 'I can't continue at this pace and investigate this story. It's a full-time job and I think Jim [DeRogatis] will be the first to tell you, he spent a lot of time on this story obviously," Kot said. "We had investigative reporters at the Tribune that certainly could have been assigned to cover that story. I felt that it was an important story. Jim had a tape, we didn't have a tape. But there certainly should have been follow-up from us. I didn't feel like we jumped on it to the degree that we should have. There were guys with reporting chops that I didn't have in terms of investigative reporting that should have been on that story."

Mark Jacob, who worked at the Sun-Times from the mid 1980s until 1999 when he joined the Chicago Tribune, said while he wasn't specifically involved in the R. Kelly discussion, editors at the Tribune may have not wanted to chase DeRogatis' and Pallasch's story.

"Here's the difficult situation for any editor assigning it at any organization in Chicago," said Jacob, who is currently editor of Northwestern University's Local News Initiative at its Medill School of Journalism, Media and Integrated Marketing Communications.

"Do you want to spend almost all your time chasing other peoples stories or do you want to find stories of your own?" Jacob asked rhetorically. "It's always a difficult situation because if another news organization breaks something big, you have an obligation to your readers to figure it out and explain it to them. But, on the other hand, you can't spend all your time chasing other people's stories. If you do you won't have any of your own. I think this is a case of all news organizations."

Jacob, who was Metro Editor at the Tribune when he left in 2018, added that he does believe the Tribune dropped the ball, but said the Sun-Times has missed out on other stories that the Tribune broke.

"Yes, it doesn't appear that the Tribune aggressively went after the R. Kelly story after the Sun-Times broke it but you can say the same for numerous Tribune stories that the Sun-Times did not go after either," Jacob told GJR. "For example, the red light camera story was pretty much owned by the Tribune. and the Sun-Times I think recognized that, and understandably didn't want to be second-best and second to it. It's not a matter of arrogance or trying to pretend it's not a good story just because it was published in another news organization. I think it's more of a matter of trying to stay focused on what you can bring that nobody else has brought yet."

(The 2014 red light camera investigation by the Chicago Tribune highlighted corruption and undeserved ticketing in Chicago's red light camera system.)

Many of editors of Chicago's papers in 2000 were predominantly white and may not have been familiar with who Robert Sylvester Kelly was. According to the American Society of News Editors, people of color that year made up 11.85 percent of daily newspaper staff and women made up 37 percent nationwide. In 2018, those numbers had risen to 22.6 percent for people of color and 41.7 percent for women. The lack of diversity is something that DeRogatis blamed, along with a lack of cultural awareness, for the fact that even the Sun-Times missed a civil lawsuit filed by the earliest known victim of Kelly four years before his and Pallasch's first story ran.

"We were on the story late. Girl No. 1's relationship took place from 1991 to 1993 and she filed a civil lawsuit in 1996 that was settled in 1998," DeRogatis said. She was fifteen at the time she began a relationship with Kelly, DeRogatis said.

Kot said a lack of awareness by white editors probably contributed to the Tribune not pursuing the story.

"Talk about a white-bread paper at the time. R. Kelly's fans weren't Tribune readers, that would have been the cliche back then. I don't think there were a lot of people on the reporting staff who that name meant anything to," Kot said.

He added that the ultimate decision came from the top echelon of the Tribune, where there also was no awareness of who Kelly was.

"I'm not sure the name R. Kelly really resonated in the upper reaches of the Tribune and I think that's ultimately where the decision came from," Kot said. "I know that for a fact, it was above my editors. The decision of how much manpower to dedicate to this story. The ultimate decision was kinda like, 'Isn't this what all these rock stars do' It was kind of along those lines. It was kind of like, 'Why are we so interested in this?' The culture was very different back then."

"I said to them, 'I'm not the person that should be doing this story'. I gave them the reasons why they should find someone to do it. I said, 'If I'm going to do this it's going to chew up 80 percent of my time. I'm not going to three shows a week and writing feature stories about the latest band,'" Kot said. "It was a full-time reporter's job. I knew the story was complicated and would take a lot of time. And they had reporters that were eminently qualified to cover it. It was a matter of prioritizing what they thought was important and they didn't see this as an important story. Certainly not important enough to dedicate that type of manpower. It wasn't seen as a story that the music critic should be covering, we want the music critic covering music. We want him covering x, y and z, not this. It was laid out then and frankly the story kind of sat there for years. There was stuff trickling out, but when the trial finally came up, they devoted resources to that, but prior to that it was sort of like, 'What's the upshot?' I don't think the very high level editors ever saw the real value of chasing that story."

The Managing Editor of the Chicago Tribune in 2000, when the first story about Kelly was published in the Sun-Times, was Anne Marie Lipinski, who left the paper as editor a decade ago and is currently curator of the Nieman Foundation for Journalism at Harvard University.

Reached by phone, Lipinski said she had no recollection of any discussions about R. Kelly at the time.

"I have no memory of that, I really don't," Lipinski said. She added that Kot's contention that it came from the upper reaches of the Tribune is something that's often said by reporters.

"'Came up from or came down from top levels' is a thing that is said in newsrooms but I literally do not remember a conversation about it," Lipinski said. "I never remember talking to Greg about it. I don't think he ever had a conversation with me about it. ..I don't even remember the year that that story broke, I've been gone a long time."

Another issue that may have Pallasch and Mitchell believe scared the Tribune and other news organizations away at the time was fear of legal retribution–along with a dash of arrogance.

"There were two things going on at that time," Mitchell said. "This was before news organizations started aggregating stories. So, if you broke a story it was your story and it was sort of hands off for everyone else. If you look at the Hired Truck Scandal, that became a Sun-Times story. The Tribune really didn't get into until after they had to get into it. When it came to R. Kelly, you had the added issue of — when that videotape came to the Sun-Times we took a very big risk looking at it. Reporters, editors, all of them could have been charged with looking at child pornography," she said. "So I think that was an element in the decision by editors not to tell the story. The other thing was R.Kelly was in his heyday making a lot of money and suing a lot of people and threatening suits to a lot of people. Why take that risk. I could see editors sit back and let the Sun-Times do all the work, which is what we did. It definitely became our story."

Pallasch agreed, saying "there was all sorts of touchy, legal risks to reporting on that story. R. Kelly had the best lawyers money could buy and they would threaten anybody. They threatened us but we didn't care anyway. But other publications that were threatened were not going to put in the kind of man-hours that Jim and I had put in doing the research and going out knocking on doors."

DeRogatis believes it was arrogance more than legal fears.

"There's this asinine, out of date rivalry that was old by the time of 'The Front Page' of 'A Tribune's story is a Tribune story and a Sun-Times story is a Sun-Times story.' The Sun-Times never had that attitude because we didn't have the bodies," DeRogatis said."It was all hands on deck, everyone's in the lifeboat bailing and that included Roger Ebert all the way to the copy clerk. But if the Sun-Times had something interesting, the Tribune acted like the Sun-Times just didn't exist."

WHAT HAS CHANGED

Since 2008, when Kelly was acquitted for child pornography charges, both newsrooms and society in general has changed quite a bit, making it impossible for any news organization to ignore a story like Kelly's again.
"We've also had such a change with the #MeToo movement, it's much different than what we had in 2008," Pallasch said. "I think a whole lot of us are much more educated now after Harvey Weinstein and Bill Cosby, about how men in positions of power or celebrity can manipulate women to make them feel like they have no choice but to stay in a bad situation."

Kot echoed Pallasch, saying "The culture was very different back then. In the era of #MeToo that looks like a very dumb decision but back then it was a question of 'Well, where is this going to lead?' And let's face it, Jim put in a lot of hours on that story before it started to bear fruit in terms of wider recognition and understanding of the full implications of it. Hats off to him for doing that."

For Mitchell, the wake-up comes down to economics.

"I've seen competition. I've seen them [The Tribune] step up their game," Mitchell said. "You look at their front page now and it's not unusual to see a story about an African American issue or something that primarily affects African-Americans and I think that's because how are they going to survive in this market if they don't do it. So, they have kind of changed their strategy to go after the African-American consumer in a way that they weren't doing 20 ago."

The Tribune's Lolly Bowean writes about the city's African-American community, a niche she carved out for herself as a general assignment reporter at the Tribune. Phil Thompson, the paper's sports pop culture reporter, is a vice president for the city's chapter of the National Association of Black Journalists.

Brenda Butler, a prominent African-American journalist in Chicago and the Tribune's managing editor for features in the 1990s, declined to comment. "Unfortunately, since I no longer work [at] the Tribune, I will not be able to shed any light on how the paper covers African-American issues," she told GJR in an email.

Because of the lack of resources these days, many news organizations are collaborating better, Jacob said, which means stories like R. Kelly would likely be picked up by others now.

"I worked for a long time at the Sun-Times and a long time at the Trib and for much of that time, people at the Sun-Times thought that the people at the Trib were their only real competition and the people at the Trib thought the Sun-Times was their only formidable competition," Jacob said. "That's just simply not the case anymore. You've got ProPublica Illinois, The Better Government Association, WBEZ is doing terrific work, you've got Block Club Chicago, City Bureau, The Chicago Reporter. It's really spread out now and that's a good thing. Back in the day they'd talk about a newspaper war in Chicago. That was oversimplified even then but it certainly isn't the case now."

In what he described as a "very hazardous time for daily journalism" a lot of news organizations want to stick together and stay on-mission and deliver on their mission to the public, Jacob said. "That sometimes means that they are going to collaborate rather than compete. News desks, especially in rural areas are in danger. But in Chicago, it's played out a lot differently. You see staff reductions at some big places but on the other hand you do have these new startups…. I don't think it's a situation in Chicago that journalism is dire. It's certainly changed. The big legacy newspapers may have less of a dominance over the marketplace, but the overall picture where you have these startups and nonprofit organizations doing such great work is actually encouraging."

Bob Chiarito is a freelance journalist based in Chicago who has reported on the R. Kelly story for The New York Times.