In the backyard of the Hazelwood Supreme Court decision, I am organizing efforts for year seven of trying to get New Voices legislation passed in Missouri. The only thing that has passed in the last seven years are the states passing Missouri in adding this law that basically overrides Hazelwood and grants First Amendment rights to students and advisers. We are surrounded. Illinois, Iowa, Arkansas and, yep, even Kansas have passed New Voices along with nine other states. Another 20 have introduced legislation.
So what's the hold up MO? Why aren't you telling students "I trust you" and "I believe in you"?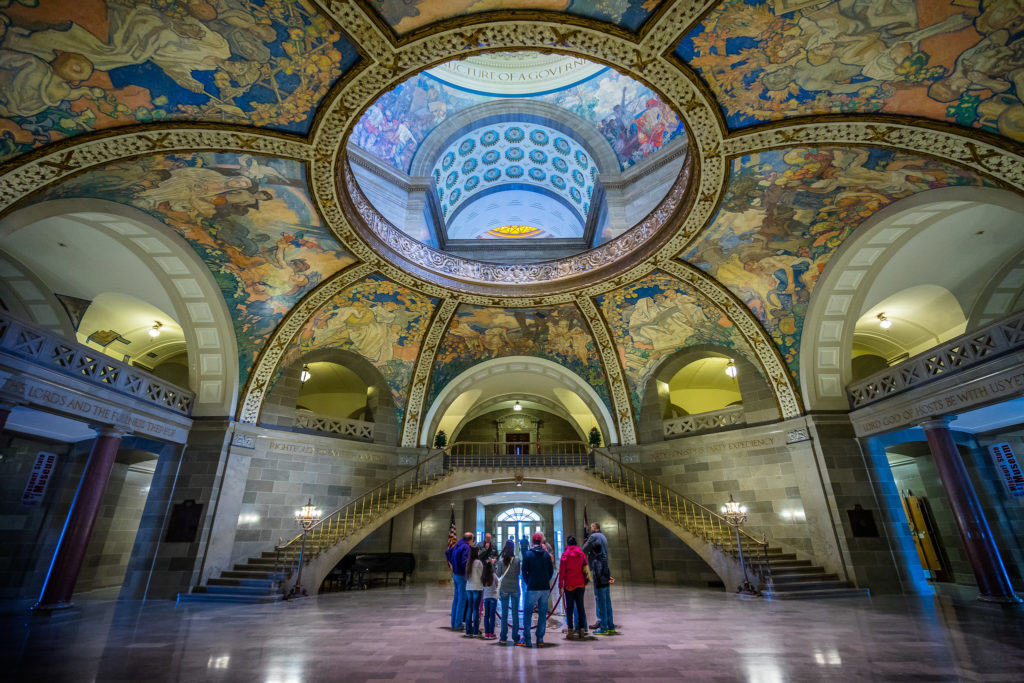 As Claire McCaskill responded in a recent GJR First Amendment event about the possibility of New Voices being passed in Missouri, "Have you seen Jeff City, lately?"
Why, yes, Claire, yes I have. For the last six years, I have made the trek from Kirkwood to the Capitol with some amazing high school journalists to testify before the House and Senate Education Committees. The results? Nothing but this legislation being shoved in the back. Behind charter schools and vouchers. Behind testing and teacher pensions. No one seems to want to fight for kids these days. No one seems to care about this bill at all. Politics be damned.
The New Voices bill really should not be a partisan bill — it's freedom of speech. "Fake news" is a hot topic, and this is a way we can combat that. If we're worried about a climate of misinformation, the way we can combat this is by educating students to be media literate and able to create media that's genuine and well thought out. It's awesome because it supports freedom of expression for student journalists and allows civically minded students to engage. I'd much rather have students in an environment with a teacher than doing it on their own, untrained on social media.
So I am asking for support of the Cronkite New Voices legislation. You'd be supporting the freedom the First Amendment of the Constitution should stand for and, more importantly, kids. They need someone to say, "I trust you" and "I believe you" now more than ever because they are not just the future.–they are the present. And that's why we're fighting for student journalists' free speech and press rights.
I asked former top editors to send in notes about what that trust meant to them.
Maddie Meyers
I am a current sophomore at the University of Missouri majoring in journalism, and I was an Editor-in-Chief of The Kirkwood Call newspaper at Kirkwood High School. My experience on The Kirkwood Call showed me what it means to be a journalist, and that means using our voices freely to raise awareness about serious topics.
With the trust of my school administration, I had the opportunity to connect with many different people and lead a staff of 80 individuals. I urge you to support the Cronkite New Voices Act because it is crucial to helping student journalists build their confidence and lead as professionals.
As a student journalist, I covered a wide range of issues, including recycling concerns, intruder drills, inequality in sports, and racial equity. Regardless of the topic, one of the most important lessons I learned is how to connect with people who are different from me.
One source who stands out in particular was a man who goes by "Nuggetz." He had lived on the street for 13 years and crossed the country 17 times. He shared that people assume he is a druggie and dirty, but he said he does not judge others. Talking with him made me realize how sometimes the people who are ignored and looked down upon, have some of the most interesting stories. Without my journalism experience, I would not have had the confidence to go up to a stranger and ask him about his life.
My time on staff has taught me how to connect with anyone and uncover the truth. By not having my voice censored, I have been able to give a voice to the voiceless and shed light on important issues. I am thankful I have never been held back or limited from sharing valuable stories.
As an Editor-in-Chief of a student-run publication, I developed leadership skills because I worked with an editorial board to make executive decisions about content and staff management. On staff, I learned professionalism and responsibility like no other experience has ever taught me. When controversial issues arose, I met with my fellow editors and thoroughly discussed problem-solving options to keep our publication running successfully and keep our staffers motivated. We were able to have civilized discussions like adults do because we were given the same freedoms as professional journalists.
This experience has prepared me not only for my college journalism courses, but for my future career. The New Voices Act has already passed in 14 states, including four that border Missouri, so it is time that Missouri joins the others in protecting students' press freedoms.
Press freedom is part of the First Amendment, and it should apply to everyone, especially students. This is a formative time in students' lives and they should be encouraged to share the difficult stories instead of being limited by the people who are supposed to guide them. I am thankful I worked in a motivating environment where my administrators trusted me and the other students to be responsible journalists. I hope that soon all students will be able to say the same. And you have the ability to make this possible.
Mimi Wright
In January 2016, almost six years ago, I wrote a statement in support of the New Voices bill as a then-senior and editor-in-chief of The Kirkwood Call, a critically acclaimed newsmagazine from Kirkwood High School. We've won countless awards for our journalism, and continue to do so, covering topics from opioid and alcohol abuse to eating disorders and sexual assault. I shared this statement in front of the Senate Education Committee and defended my right of free speech not just as a student journalist, but as an American. How, as an American, are student journalists not guaranteed their right of free speech which is guaranteed by the Constitution? It baffles me to this day.
In 2016, I wrote this: "There are problems in our society, and if we can discuss them at a younger age, we are eliminating ignorance that is causing a lot of these issues." I wholeheartedly stand by this statement and think it is at the core of solving the issues that plague our society daily. By discussing topics like race, sex, violence and politics, we are educating the future leaders of our society. They are NOT too young to know about these topics when many of these issues impact students daily. Assuming that students are not mature enough to handle these topics only infantilizes and demeans the emerging thinkers of our time.
In 2016, I wrote this: "I plan to major in journalism, a dream I would never have had if it were not for the support of our administration. My dreams are coming true because I am free to speak my mind." In 2020 at the height of the pandemic, I graduated summa cum laude from the Journalism School at the University of Missouri, the first and most respected journalism school in the country. I reported for The Pulitzer Center on Crisis Reporting as a college student, and I now work in New York City at one of the premiere travel media companies in the world. I am an extremely confident young professional who benefited directly from having my thoughts heard. Strip the voices of student journalists now, and you strip their futures.
Now, more than ever, I emphatically support the need for the protection of student voices. Now, more than ever, students must be heard. I urge you to support the New Voices bill.
Kennady Wade
It's been 33 years since the ruling of Hazelwood v. Kuhlmeier, seven years since the first time a New Voices Act was introduced in Missouri, and nearly five years since I testified on behalf of the bill. Year after year, it gets shut down in some capacity. Please, let this be the year it gets passed into law. The ruling in Hazelwood v. Kuhlmeier is archaic and outdated. As a high schooler, I was fortunate enough to practice journalism at a school that chose to safe-guard my First Amendment rights. Because of that, I was able to take risks and learn without fear that what I was saying would be censored along with my fellow students.
The skills and values I learned as a student journalist I still carry with me today – accountability, integrity, and ability to trust my instincts. When I was interviewing for my current job in the legal field, half of my time was spent discussing my experiences as an editor at my newspaper because it still mattered that many years later. I was able to grow because my school trusted me, and my adviser, with taking risks. You now have the opportunity to prove those same experiences to scholastic journalists in Missouri.
The passing of the New Voices act cements the right to free speech in school. What this literally looks like is students having a safe forum to discuss real-world events – both local and national – under the guidance of an adviser. The technological landscape has changed so much in the past 33 years – social networking services like Twitter and Instagram have completely changed the way that news is both communicated and consumed. Restricting students' freedom of speech in school does not equate to silencing them. It just offers more incentive to share that information in a forum that does not care about their well-being.
Scholastic journalism can give so much to students – but, that's only if you are willing to give them the opportunity to learn by choosing to safe-guard their First Amendment rights. Please, make the right choice.
Camille Baker
Four years ago, when I sat in the same chair as (Megan, Hayden or Kate), was the third consecutive year the Cronkite New Voices Act passed in the House without receiving a hearing from the Senate. Now in 2021, we've reached year six. I'm angry. Angry that editors-in-chief who I've never met because we're that many years apart in school, are making the same drive from Kirkwood to Jeff City to argue the same point I argued 4 years ago, the same point my editor argued the year before me, and the same point her editor argued the year before her.
I wanted to reflect on my own experiences and opportunities as a student journalist, but given that that was four years ago, and I've acquired almost an entire college education since then, I thought it'd be helpful to take a glance at the strides high school journalists have taken more recently, leaning on their First Amendment rights.
So, here are just a few examples of what encouraging students to cover sensitive subjects has led to:
In 2020, students all over the U.S. covered the summer's racial justice protests, providing insight to their communities on why they were happening.
Students provided vital public health information to their student bodies regarding COVID-19, backing their stories with data and examining and exposing school policies that lacked proper quarantining and inadequately protected school environments from the virus.
Coast to coast, in North Carolina and Washington state, students won years-long battles to access college sexual assault records.
Students published research-backed stories on discriminatory redlining policies, inequities in water quality in historically Black neighborhoods and Nazi propaganda in police training.
Is student journalism really disreputable? Maybe you're still deciding. While you're thinking on it, here are some specific examples of student journalists using their First Amendment rights to publish insightful and essential information.
El Estoque: A newspaper from Monta Vista High School in Cupertino, California:
Students published a series of stories with insight on the spread of COVID-19 disinformation, xenophobic backlash against Asian students as a result of the pandemic, an editorial from a student whose family lives in China and a comprehensive pandemic timeline.
The Shield: McCallum High School, Austin, Texas:
During their summer break, high school journalists covered a Black Lives Matter protest in Austin, Texas, keeping their ground and their faces down to get the full story, amid rubber bullets and tear gas used by the police.
Manual RedEye: duPont Manual High School, Kentucky:
High school reporters broke the story that local police were using a training presentation that quoted Hitler multiple times and advocated for the use of extreme violence.
The Kirkwood Call: Sound familiar?
Six staffers wrote and published a series inspired by the New York Times' 1619 project, aiming to reframe our country's history by centering it around the consequences of slavery and contributions of Black Americans. Within the Kirkwood community, Kirkwood students exposed racism, from personal experiences to redlining and redistricting policies.
In the words of Amy Chen, editor-in-chief of The Beachcomber, a student news site in Ohio: "While I respect the administration's desire to protect students, I often wonder who their decision protected: those marginalized or those in power?"
Mitch Eden is the adviser to the Kirkwood Call and on the National Scholastic Press Association Board of Directors. He was chosen journalism teacher of the year in 2019 by the Missouri Journalism Education Association