For the past 39 years, Wednesday Journal, Inc. has served up weekly community newspapers, starting with its home base in the Chicago suburb of Oak Park, Illinois, and expanding to cover neighboring River Forest, Forest Park, Riverside, Brookfield and the Austin neighborhood on Chicago's west side. But for the past 10 of those years, advertising revenue has steadily declined, even while demand for the papers in print and online has grown.
By 2019, the company was no longer financially sustainable on the basis of advertising revenue and subscriptions to the paper editions alone. But instead of laying off reporters or shuttering its least profitable papers, Wednesday Journal chose to go a different route: The for-profit media company is going nonprofit, seeking to expand its coverage and convince local communities to invest in the news they need.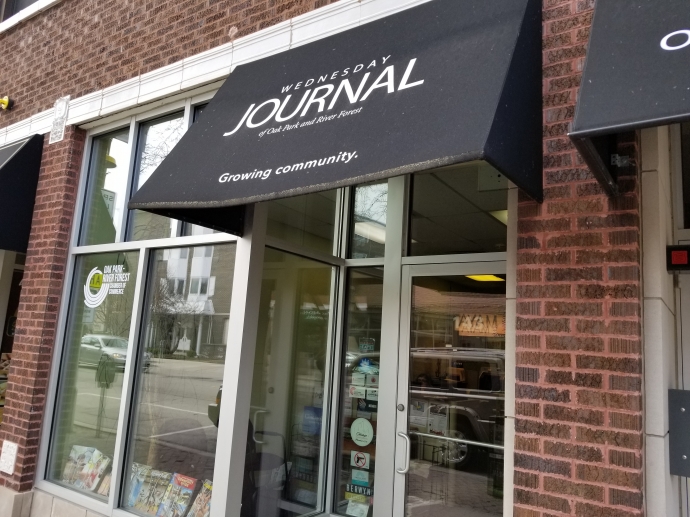 "We don't have a God-given right to keep publishing and you don't have a right to expect a Breaking News Update in your e-mail or a print copy in your mailbox — not if we all just sit back and think of better days," wrote Dan Haley, publisher and editor, in a Sept. 11 editorial announcing the new nonprofit, Growing Community Media. That salvo was followed by further steps toward becoming a media organization that responds to what the community is wrestling with, including a facilitated discussion at a local café about what reporting on equity looks like, and what equity in reporting looks like.
"It's a mind shifting thing on our part," Haley explained at an October event called "Drinks and Dialogue: The Importance of Local Media," hosted by the League of Women Voters of Oak Park and River Forest. "It's no longer, 'We're the newspaper and we'll tell you what the news is,' but rather listening to what matters to the community."
Approximately 50 people showed up for "Drinks and Dialog," packing the back room of a Forest Park restaurant and passing platters of loaded nachos as Haley and five other members of the Wednesday Journal staff talked about the coming transformation and the work they do to cover the local communities.
"My view is that good community newspaper is an essential way for a community to create its identity, to argue with itself, to define itself, to celebrate itself. There is no replacement for it," Haley said. He noted that with 13,000 subscribers to the free email list, "We know the interest is out there."

There are plenty of nonprofit news organizations around the nation; the Institute for Nonprofit News has 211 members — eight of them in Illinois. But it's rare for a for-profit news organization to transition to nonprofit status. In this, Wednesday Journal, Inc. may be a harbinger of things to come; just two weeks ago, the IRS approved The Salt Lake Tribune's application to become a nonprofit after 148 years in business.

"What happened in Salt Lake is extremely important in that now you have a former metro newspaper saying to the community, 'If you want this newspaper to continue to exist, then the community as a whole has to support it,'" said Jay Rosen, media critic and associate professor of journalism at New York University. And although Rosen applauds experimentation, including the turn to nonprofit status, he adds a caution: "I don't think that just continuing to do exactly what you did when you were a commercial newspaper and now saying, 'We're a community newspaper,' is going to be quite enough because if you are turning the newspaper into something that's closer to a museum, a zoo, an orchestra, a library, than to a real business, then you have to show that you are operating primarily for the public good as opposed to, 'We want to keep doing what we've always been doing and the community is going to pay for it.'"

That's exactly what Growing Community Media is seeking to address with its facilitated conversations: transforming itself more explicitly into an institution that is dedicated to the public good, and persuading the community that it has done so. "The tricky part about that is that a lot of people operating under the professional model of commercial journalism define themselves as public service from the beginning," Rosen said. "So from their point of view, there's nothing to change. That's going to be the murky territory that we're going to have to navigate."
By the end of 2019, the remaining shares of Wednesday Journal stock held by the 14 shareholders will go into Growing Community Media along with all the company assets. The goal is to raise $400,000 a year from donations and foundation support and use it to hire reporters and to invest in two new beats: equity and sustainability.
Haley also intends to invest more in the Austin Weekly on Chicago's west side–a community with a reputation for poverty and violence. "Mostly what it gets is shock and horror news," Haley said. "That's not the Austin I know, or the Austin the weekly has covered all these years. We want to cover normalcy—the reality of the community."
That kind of ear-to-the-ground reporting on the experience of each community was a theme of the evening. Michael Romain, staff reporter for several of the weeklies and publisher of the Village Free Press in Maywood, talked about "being deferential to the people in the community because you guys are the experts about the place where you live." When one attendee asked why the arts at one of the struggling local high schools don't get much coverage, Haley replied, "That really goes to the normalcy."
Like other media organizations, Growing Community Media also plans to "up our game digitally," offering more news on social media platforms, more video and podcasts. "We are not going out of print. We love print," Haley said, "But we will be expanding what we do."
Attendees shared their appreciation for their local papers. One thanked the Haley and the reporters for informing her about what was going on in town. Several promised to support the new nonprofit.

That will be important, Rosen said, because "we're on about year ten or 11 of the business model crisis in journalism" and as news organizations around the country shrink, shutter or are bled dry by mergers and acquisitions, "the people who care about their communities, including community foundations, are going to realize that something they used to take for granted as being taken care of by the private economy–which is local news–just won't be produced by the market."

A new Gallup/Knight Foundation study found that nearly half of Americans surveyed agreed that local newspapers are important, and that when informed about the financial challenges facing local news organizations, then were more willing to support them.
Haley made that connection clear to those at the gathering. "Community journalism is at high risk, here and everywhere," he said. "The future of community journalism is in the hands of people who live in these communities."
Sharon Bloyd-Peshkin is an associate professor of journalism in the Communication Department at Columbia College Chicago.