When Cincinnati Reds broadcaster Thom Brennaman got caught on a hot mic in August using an anti-gay slur, Megan Mitchell, an openly lesbian reporter and anchor at WLWT in Cincinnati, hoped her colleagues in the media would realize why it was an important story to cover.
It wasn't just about the slur, she told GJR.
"I think there needs to be more understanding about how words can dehumanize groups of people." she said. "The more we dehumanize someone, the more likely we are to commit acts of violence against them. So while it may only be words, it contributes to a system that can really hurt people for being who they are."
Brennaman apologized in the Aug. 19 broadcast, but the Cincinnati Reds suspended him anyway. He resigned from the team on Friday. (It's not clear who the slur was directed at or what the context was).
Major outlets in Cincinnati, including the Cincinnati Enquirer, WCPO, WLWT, WKRC (Local 12), WXIX (Fox 19), and WVXU radio, all covered the Brennaman story in the weeks after it broke, but Mitchell said her station's coverage was unique because she was able to contribute to it as a member of the LGBTQ community.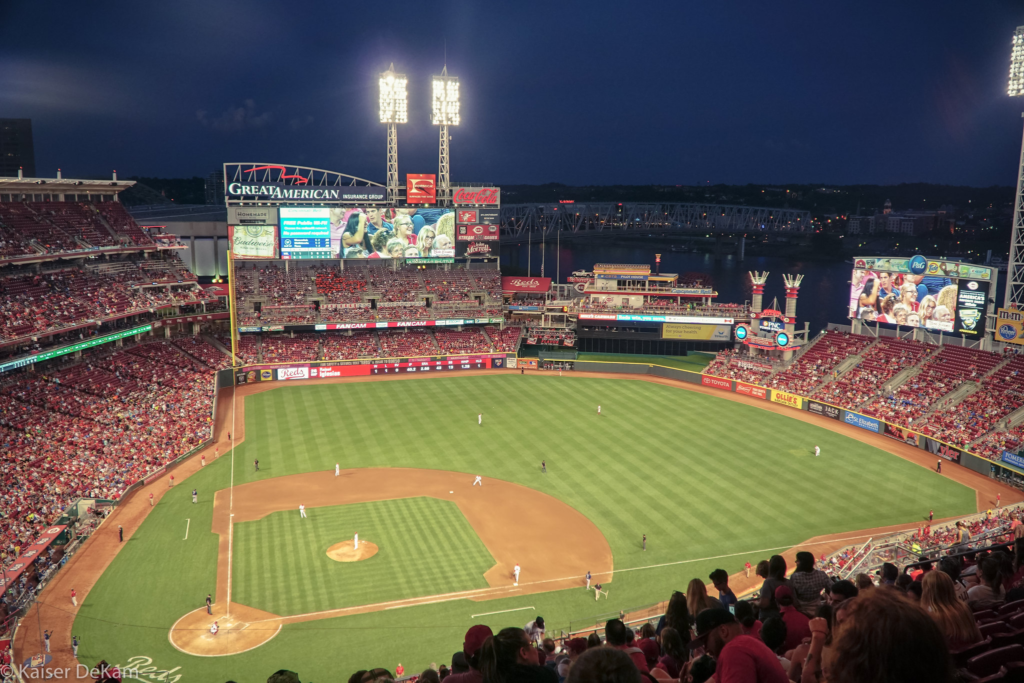 "I was able to utilize my voice best within my own newsroom," Mitchell said. "When reporters or managers had questions they didn't hesitate to run then by me, and it was a collaborative effort to put out something accurate while making sure it was inclusive."
Reporters need to make sure they're telling these kinds of stories through the lens of LGBTQ people "who are actually affected by it," she said.
Mitchell said fellow WLWT reporter, Brian Hamrick, the lead reporter on the Brennaman incident, reached out to her to get a positive perspective. She appreciated the opportunity to weigh in.
"The last thing you want to do is, just, take some random person off of the street and say, 'hey what are your random…thoughts?'"
The Cincinnati Enquirer led local coverage with more than 20 stories on the incident. Its opinion section focused on whether Brennman would be fired, said Kevin Aldridge, Enquirer opinion editor.
The Enquirer's opinion writers maintained that he should not keep his job because of a "zero-tolerance policy" for hate speech, Aldridge said.
Jeff Blevins, chair of the journalism department at the University of Cincinnati, said journalists should have gone beyond that.
"By focusing just on Thom — should he be fired, should [he] be forgiven — treats the incident like an individual problem and not a more systemic one," he said
He contends they should be asking questions like: "How regularly did Thom say things like that (off air) and is Fox Sports Ohio only dealing with this because Thom got caught when it inadvertently went out over the air?" Or what is "the culture at Fox Sports Ohio?"
Cincinnati's local coverage also included an apology letter from Brennaman himself, published by both the Enquirer and WCPO.
"Regardless of what my future holds in broadcasting," wrote Brennaman. "My actions have forced me to reflect on who I am and how I want to be seen and thought of."
WCPO added a column written by their reporter Evan Millward, who is openly gay.
"I wrote the column because of the reaction to the reaction to what happened," said Millward. He didn't want to have everyone "fire in," and then "just have it go away."
Millward believes "cancel culture," a word he hates using, plays a large role in stories that "go away," saying, "it signals we are not ready to have a difficult dialog with someone."
Canan said news media, not just WCPO, should ask the question, "are we still finding new ways to tell that story?" The answer right now: "no," he said.
News media need "to make sure the issues aren't swept under the rug until the next time there's an incident," Canan said.
WVXU, the NPR affiliate of Cincinnati, also included multiple perspectives in their reporting, including an article written by John Kiesewetter, reporter, that listed questions that have been left unanswered. Who heard it? Why did the Reds wait so long to take him off the air? And Who decided Brennaman should make his apology on air?
Both Fox 19 and Local 12 also provided extensive coverage in the days following the incident. Including reporting on their website and segments on air.
"Overall [Cincinnati news media] covered the story," Canan said. "And covered it with a level of sensitivity throughout the reporting process."
Gauging how the community itself felt about the incident was "tough because we all have our bubbles," said Mike Canan, senior director of local news at WCPO.
"In a COVID world where we're not communicating and talking to as many people, in real life, as we are used to, the primary place where you see the way people react to things is social media," said Canan. "And I don't know that's always 100 percent accurate."
Zachary Jarrell is an Ohio-based correspondent who is majoring in journalism at the University of Cincinnati (UC). Along with his work at Gateway Journalism Review, he is a contributor at The News Record, an independent student newspaper at UC, the editor and lead writer of The Blazing Chronicle newsletter and a freelance music writer. He is originally from western Maryland.