Democracy is under threat, and that's where news reporting must be focused at the moment, said Margaret Sullivan, former media columnist for The Washington Post and public editor at The New York Times.
"People recognize that there are election deniers out there. Of course, a bunch of them just got elected," Sullivan said. "But this is a threat to democracy, so I think that's the place where I would put a lot of emphasis right now, because if we don't have a democracy, we're not going to have a free press, and vice versa. They do work hand in hand."
Sullivan was speaking as part of a fundraising campaign for the Evanston RoundTable, a nonprofit nninewsroom covering the suburb just north of Chicago.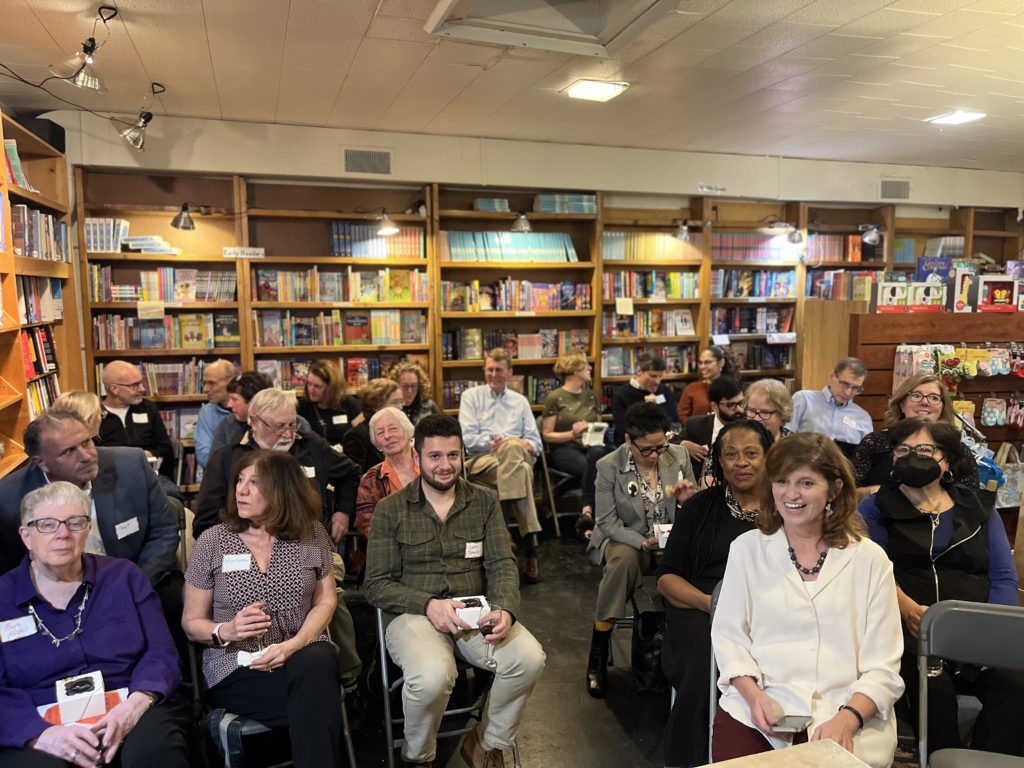 Though she finished her long career at two legacy newspapers, Sullivan worked for more than 30 years at her hometown newspaper, The Buffalo News in New York. She started as a summer intern and eventually became the first woman editor there. She also was the first woman to hold the job of public editor at The New York Times.
Facing election deniers and widespread misinformation online, Americans rely on local news outlets and reporters more than ever for accurate and fair information they can trust, Sullivan said. Developing face-to-face relationships with the community is one of the strongest ways to combat a growing distrust of media, she told the audience at the RoundTable event.
After four years at the Times, she signed on to become the media critic for The Washington Post, a job she retired from in August. She is now a visiting professor at Duke University's Sanford School of Public Policy. Sullivan has written two books: Ghosting the News: Local Journalism and the Crisis of American Democracy and Newsroom Confidential: Lessons (and Worries) from an Ink-Stained Life.
In their discussion, featuring questions from the virtual audience and the RoundTable staff, Schultz and Sullivan tackled the local news crisis in the United States, Donald Trump's impact on journalism and Elon Musk's hostile takeover of Twitter.
Another serious issue, as Sullivan pointed out and several audience members mentioned, is the rapid decline of U.S. newspapers and reporters at a level not seen in the past.
A stunning 70 million Americans live in counties with zero or only one local news source, and the country has lost more than a quarter of its newspapers since 2005, according to Northwestern University's Local News Initiative. Two American newspapers, primarily weekly community papers, are going out of business every single week, Sullivan said.
Since 2006, employment at newspapers in the U.S. has dropped by 70%, the Local News Initiative has found. In 2005, overall American newspaper revenue was $50 billion. Today, annual newspaper revenue is $20 billion.
Sullivan's own Buffalo News used to have somer 200 staff members, which shrunk to around 145 after the 2008 recession. Now, the paper has far fewer than 100 journalists, she pointed out.
"It was hard to see the newsroom that you grew up in, and I really did grow up there, having to shrink so much and change so much," she said. "So I thought it was a good idea to go do something else."
But the news industry's evolution over the last two decades is not entirely negative. The mass shuttering of local print newspapers has made way for the development of nonprofit, digital-only sites doing hyperlocal reporting like the RoundTable. Well over 500 digital-first state and local newsrooms have opened in just the last several years alone, though the majority of those organizations have six or fewer full-time reporters, according to studies from the Local News Initiative.
Caught in the middle of such a rapidly changing news environment, journalists need the support of the public, Sullivan said. She floated the idea of a national advertising campaign to teach people how reporters do their jobs and why journalism is important and necessary for a democracy.
"The old model of advertising is essentially gone, and it worked really, really well for a long time. But then, it stopped working well," Sullivan said. "So we need the public to step forward and help us so that we can do the job for the public."
The event featured RoundTable Editor Susy Schultz in conversation with Sullivan. Schultz is a longtime journalist, nonprofit leader and journalism professor in the Chicago area, and she agreed with Sullivan that the fundraising landscape for news organizations has fundamentally changed. Nowadays, some of the most financially stable media outlets around the country are digital-only nonprofits that raise money through a combination of donors, grants, sponsorships, events and advertising.
But each local news outlet has its own unique challenges with fundraising, Schultz added.
"In reality, we're hyperlocal news," she said while comparing the RoundTable to Sullivan's experience in Buffalo. "Buffalo is a pretty big paper, so there's a difference between a place like us that covers one community and larger, regional papers, which I would probably call The Buffalo News."
Another challenge: in today's news landscape, journalists are facing an avalanche of misinformation on social media and a world where the richest person on the planet, Elon Musk, just took over the primary outlet used by reporters to share their stories.
An alternative platform may eventually come out, but for now, journalists and teachers need to help people learn how to differentiate between what's real and what isn't, Sullivan said. During the runup to the midterm elections in the Chicago area, for example, radio host and longtime Republican operative and donor Dan Proft used one of his companies to distribute print newspapers full of misinformation about the removal of cash bail in Illinois and attacks on LGBTQ-inclusive school curricula.
"We're beginning to see this epidemic of these fake newspapers moving in to fill the void from the loss of legitimate legacy, local news organizations," said Tim Franklin, a journalism professor and the John M. Mutz Chair in Local News at Northwestern. "It's happening with partisans on both sides, although primarily, these tend to be conservative-leaning publications. And we're also beginning to see it happening with companies that are creating what appear to be newspapers, but are, in fact, PR organs for a company."
Considering this use of newspapers as propaganda and the proliferation of misinformation on social media, news literacy training has become more important than ever, especially for young people in elementary, middle and high school. Ultimately, Sullivan encouraged the audience at the RoundTable conversation to not lose faith and not give up on quality local news.
"Know what good journalism is, and support it and vote," she said. "Stay tuned in. Don't get into this mentality of 'Oh, it's all so negative. I'm going to turn away from it,' which you hear a lot about. As American citizens, we need to do our part by staying involved and staying engaged."
Duncan Agnew is a local news reporter for the Evanston RoundTable. He covers public schools, affordable housing, city hall and more. You can reach him at duncan@evanstonroundtable.com.