"Nowadays it's all about linear storytelling," notes Mario R. García. That's how readers consume news, scrolling down, connecting the headline to the story to the caption to the images. "Readers are too impatient in a world of constant interruptions."
With over a million annual frequent flyer miles, 731 editorial projects in 121 countries during the past 46 years, García, 72, doesn't stop observing, analyzing, consulting, producing and teaching.
He is, without any doubt, the most active, productive and well-known news designer in the world.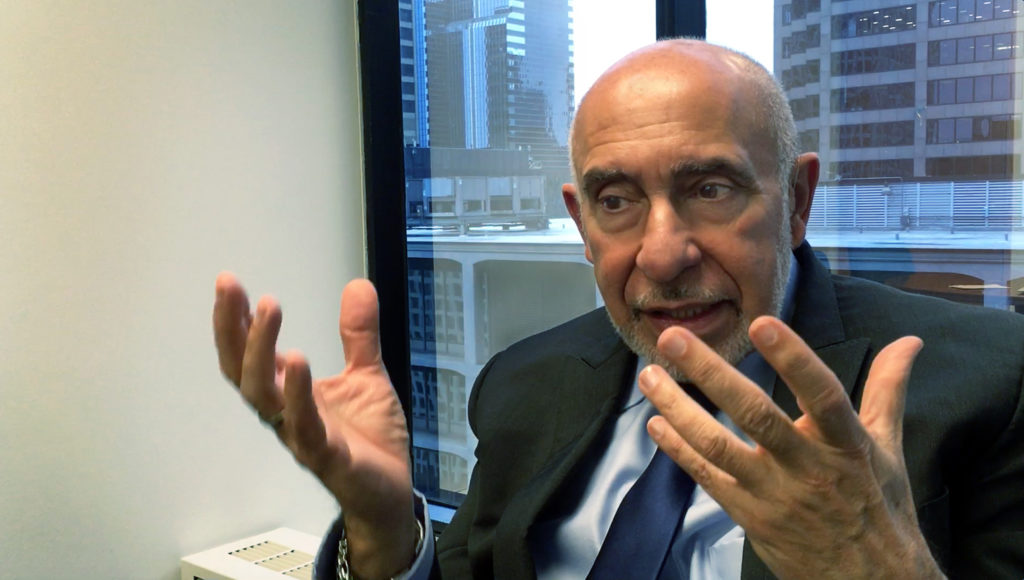 His latest venture is "The Story," his 14th book. Designed to be read only on mobile devices, this publication does not contain pages but screens. To be released this coming September by Thane & Prose, García's content will be delivered in 1,000 screens of linear storytelling.
"It has been divided into three sections: 'Transformation, Storytelling, and Design,'" García explains in English at a recent workshop in Chicago. He found it challenging to convince the publisher that it needed to be a mobile book and not a printed one. "I cannot be preaching in my seminars that you need to conceptualize for the small screen and then come out with a book in print."
García presents eloquently both in English and Spanish. His workshops are equally engaging in either language. From his early years in journalism at The Miami News—when he discovered his passion for news design—to chairman of the graphic arts department at Syracuse University's Newhouse School of Public Communications, to leading the graphics program at the Poynter Institute for Media Studies to García-Media, his own international consulting firm, García has been acutely studying human behavior, technology and media evolution, building the story that he is turning over in this book.
He has spent his professional life learning from practice and observation. García says there have been four main changes in the news communications industry: Hot type to cold press, color, Internet, and now mobile, which he calls the most disruptive of all. "It has profoundly affected the way journalism works: you have to write differently, you cannot write, edit, and design the way you did," he says.
"I spent part of the past two years riding on the New York subway, travelling from one end to the other, observing how people connect to their phones," he says. All that is currently shared in his "Multiplatform Design and Storytelling" course he has been teaching for the past six years in the graduate journalism program at Columbia University in New York, where he resides. Students learn how to write, edit and design for mobile media.
"You start with a push-up notification. Then you write for mobile. Then for the print edition," García says, adding that journalists need to promote the stories before they write them. "We need to sell our content. These are not the times when a reporter would write a story, go home and the next day his mom and wife will say they loved it. Now we have data that tells us what was read, how many times and what was not." And he shares his daily stories and predictions on his blog that started in 2009. "I have published 3028 postings so far. That's the first thing I do after I go for my daily morning run."

When giving a workshop, García is a man who supports his statements with data and figures.
"Sixty-five percent of news people still come to a newsroom to prepare an edition for tomorrow's newspaper in print, however 80% of the people read it on the phone."
"People stay an average of four seconds on a screen."

"The average person checks out the phone 114 times a day. The news follows you. You don't follow the news."

"People in their 50s and 60s use the phone 85, 90 times a day."
"On the phone you only need one idea per screen."
"Sixty-eight percent of the people who read an online edition, do it on a phone, not on a computer."
But that information is not enough for publishers, journalists and corporate chief executives to request his help in these turbulent times. His outstanding redesigns of The Wall Street Journal, The San Francisco Examiner, Liberation in France, The Gulf News in Dubai, El Mercurio in Chile or Die Zeit in Germany, to name a very few, speak for themselves. "I haven't been so busy since the 80s," García says. "You could not believe what my agenda looks like." Evidently the smartphone information revolution keeps García extremely busy.
He compares the current way to consume information on the phone with Winnie the Pooh. "Remember that a child would read a title, then part of the story followed by an illustration? That's very similar to when we look at our phones."
A firm believer that content drives design, García observes that print will not disappear but daily editions will. Also an eternal optimist, he predicts that the newspaper will still have a space on the weekends. "Readers still value good information," and with fewer interruptions the paper will be enjoyed when people have more free time.
García is clearly aware that change has to be quick. "Newspapers have always been too conservative, and there is a lot of learning that needs to happen." In a world where journalists still insist in their old ways, change scares them. The same happens with universities. "Too many processes and time to update courses. The world changes faster that the educational systems do."

And what's the future? "Besides augmented reality, audio! Check out Alexa," he says. Ask her, "Alexa, give me the news when I wake up."
"Transformation," the first installment of "The Story," arrives on Sept. 15. It will be available at Thane & Prose and digital book retailers.
Elio Leturia is an associate professor at Columbia College Chicago where he teaches publication design and multimedia journalism. Leturia worked with García in the 1994 redesign of El Comercio, the main Peruvian newspaper, and in the 2014 redesign of Extension magazine in Chicago.