News Analysis
JEFFERSON CITY — The special Missouri House committee considering whether Gov. Eric Greitens should be impeached proceeds at times like a court of law and sometimes like a political floor debate complete with shouting matches.
But the 10-member panel has yet to hear anything from a star witness, the man who is the central focus of its investigation.
On Thursday, Chairman Jay Barnes noted that the committee had been in existence for 87 days and had yet to hear from Greitens. Directing his attention to Edward Dowd Jr., one of Greitens' lawyers, Barnes asked, "Your client was in the basement that day, when is he going to testify, Mr. Dowd?"
"That has not been determined," Dowd replied.
"We're on the 87th day and it takes you 87 days to make such a decision?"
Barnes said Friday, as the first week of hearings was nearing a close, that the committee had subpoenaed Greitens to appear June 4.
"We need Mr. Greitens to appear and testify under oath before this committee," Barnes said. "There have been reports that he's been talking to members of the House about various events. And, if he is capable of doing that, he is capable of coming to this committee and testifying under oath."
Up until now the committee has focused on a fat binder containing hundreds of pages of transcripts, mostly the deposition testimony given by a woman who said Greitens had stripped off her clothes and photographed her during a sexual encounter in the basement of his St. Louis home on March 21, 2015, while his wife, Sheena, was out of town, The woman told the committee in testimony the committee found credible, that Greitens had threatened to release the photo if she ever disclosed their relationship.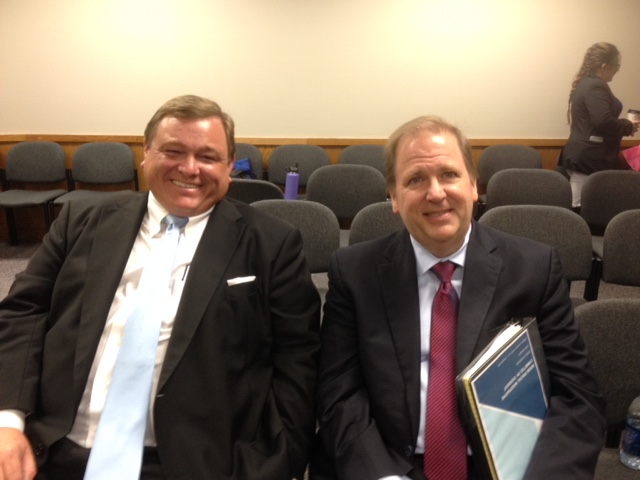 Missouri Times publisher Scott Faughn (left) and his attorney Chuck Hatfield (right) before they appeared this week before the House special investigations committee.
Dowd said that if the Greitens' legal team would be allowed to cross-examine the woman in the presence of the committee "there wouldn't be a single person in this entire House who would not agree that the relationship was consensual." While Greitens has yet to testify, the woman, who has been identified only as K.S. or "witness number one," has been questioned under oath several times–before a grand jury, by Greitens' lawyers and by the House committee.
The Republican-controlled Missouri Legislature, in a historic and extraordinary decision, has called itself into a special session to determine whether Greitens should be disciplined or removed from office because of his conduct. That decision was based on two findings by the special House investigations committee. In one, Greitens is accused of restraining, photographing and slapping K.S. In the other, he is accused of taking a charity donor list from a veterans organization he founded and using names from the list to raise money in his campaign.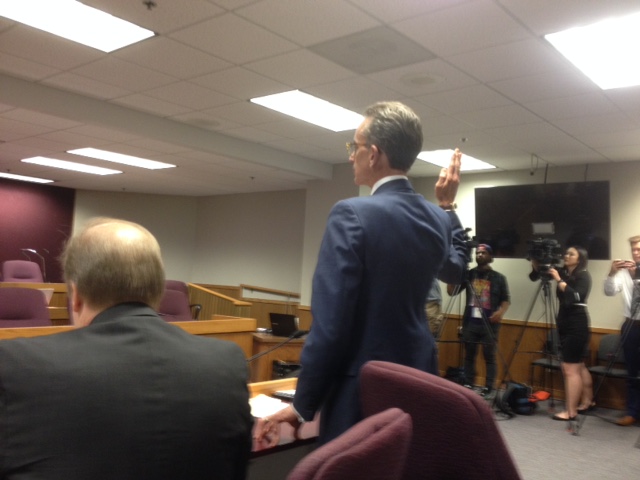 St. Louis Attorney Albert Watkins takes an oath to tell the truth before a special House committee that is investigating whether Gov. Eric Greitens should be impeached.
The special legislative session began May 21, but only the special investigating committee has been working in the capital. For the past few days, the panel members have been taking turns reading into the record the sometimes x-rated testimony taken of witnesses in preparation for Greitens' criminal trial on charges of invasion of privacy in St. Louis Circuit Court. Those charges have been dropped, but a special prosecutor has been appointed, and they could be refilled.
A former Navy SEAL who had never held public office, Greitens, a Republican, won election as a "conservative outsider" with no demonstrable understanding of how state government worked. He has stumbled in performing official functions, at least one state agency has been unable to conduct business because of problems with his appointments, and the General Assembly virtually ignored his legislative agenda during the recently concluded session. Legislative leaders have called for his resignation.
FBI INVOLVEMENT
Remarks and testimony during Thursday's committee session indicated federal authorities have been made aware of elements of the Greitens' cases. Barnes, a Republican from Jefferson City, said he had shared with the FBI information that had been given to the committee by Michael Hafner, a former Greitens' campaign staffer. Hafner had testified about campaign contributions "and foreign donors," and Barnes said he turned the information over to the FBI. "They didn't say there was an investigation but said 'we will take your information,'" Barnes said. "That was it. That was the first time I ever met with the FBI."
Albert S. Watkins, a St. Louis attorney who represented the former husband of the woman with whom Greitens was having the affair, told the committee he had given the FBI a copy of an audio recording the husband had made of his wife's confession about it. The man, who has only been identified as P.S., made the recording without his wife's knowledge in 2015.
Watkins said he gave the audio recordings to the FBI in February, 2017, "pursuant to their request." That was almost a year before they were also shared with news organizations, including KMOV-TV, which first disclosed the involvement of Greitens and K.S. in a story Jan. 10.
"The governor knew my client had recordings," Watkins said in sworn testimony. "My client was in abject fear." At first, Watkins said, P.S. wanted to keep the recordings confidential. Roy Temple, a former chairman of the Democratic State Committee, had learned of the story and attempted to break it loose before the November, 2016 election when Greitens defeated the Democratic candidate, Attorney General Chris Koster.
But Watkins said P.S. was worried that if the story got out then, his children would forever be embarrassed by the scandal of their mother's involvement with Greitens. "To his (Temple's) credit, he did not run with the story," Watkins said.
A year later, in December, 2017, after K.S. and P.S. divorced, Watkins said the former husband wanted the story to come out. Watkins said the former husband had changed his mind because he came to believe he could not protect the children from the information becoming public. At one point, Watkins said, a minor, a step-daughter of P.S., received a telephone call on a cell telephone from a reporter.
Watkins said his client was motivated by "vengeance, hate and disdain" for Greitens, and wanted the story about what he had done to have the widest possible circulation. "We had a sense of urgency," he said.
The problem with the use of the recordings was that news organizations could not rely on them without corroboration. On the night of Jan. 10, when Greitens was to give the annual "state of the state" speech in Jefferson City, the governor himself admitted the affair after Watkins spoke to the governor's attorney, Lucinda Luetkemeyer.
"My client has made a statement," Watkins said he told her. "Get an umbrella up because the shit's about to hit the fan."
A $100,000 CASH PAYMENT
Although it has no direct bearing on what happened in the basement of Greitens' home, much of the committee's attention was focused two unusual cash payments–$50,000 on Jan. 8 and $50,000 Jan. 9–to Watkins. The payments were made by Scott Faughn, the publisher of the Missouri Times and the Clayton Times and the owner of a television show, "This Week in Missouri Politics."
Greitens' defense team has attempted to tie the timing of the $100,000 payment to Watkins to the disclosure of the story by KMOV-TV. But Watkins has said the recordings had been shared at no charge with Lauren Trager, KMOV's reporter, and other news organizations, before he had received any money from Faughn.
Watkins' testimony on Thursday contradicted some of what Faughn had told the committee the day before. Faughn said the $100,000 was all of his money, but how he got it was a business matter that he would not discuss. Watkins testified that when Faughn gave him the cash, Faughn said it came from a wealthy Republican, out-of-state donor who had a personal reason for going after Greitens.
Faughn said he wanted the audio recordings to be part of a book he planned to write about the 2016 election. Watkins said the $100,000 was to provide a "soft landing" for his client. Watkins said the money has been used up in legal fees and that P.S. owes him more.
In 2007, Faughn was convicted by a Cape Girardeau County jury of three counts of felony forgery. Faughn's publications have been in financial troubles in recent years, although he told the committee that all of his debts had been made good. One member of the committee called Faughn's story "fishy."
"No one believes this was your own money," Barnes said. "Did someone give you a large amount of money and it became yours?"
Faughn said that on the advice of his attorney, Chuck Hatfield of Jefferson City, he wasn't going to discuss the inner workings of his company.
"Just as the governor refuses to disclose his tax returns and the sources of money for A New Missouri, my client should not have to answer questions about internal business workings," said Hatfield, who is also the attorney for Watkins. A New Missouri, Inc., is a non profit that has received money for use in projects supporting Greitens' political agenda without disclosing its sources.
A MEDIA BLITZ
The impeachment matchup that pits young Rep. Jason Barnes and the nine members of his committee against Eric Greitens and his platoon of high-paid, experienced lawyers is a David vs. Goliath confrontation. Barnes has the help of former Supreme Court Judge Edward D. "Chip" Robertson.
In addition to Dowd, a former U.S. attorney, Greitens has had the representation of other lawyers from the Dowd Bennett firm including James F. Bennett and James G. Martin, who is also a former U.S. attorney. Former U.S. Sen. John C. Danforth and former Gov. Jay Nixon are also part of Dowd Bennett.
Scott Rosenblum, an experienced St. Louis criminal defense lawyer, has also been on Greitens' team, as well as Catherine Hanaway, a former U.S. attorney and former speaker of the Missouri House. These lawyers have been able to insert "mini news releases" in the words of Watkins, into court motions that give them the authority to reach the public in the form of news stories.
Thus, untruths like the claim that Temple supplied the money to Watkins have made it into print because lawyers for Greitens filed a motion wanting to depose Temple to ask him about it.
"The caution for journalists is to not aid and abet either side in their political arguments without seeking out independent viewpoints about whether claims are substantive and legitimate," Temple said in an interview. "Readers don't have an independent way of evaluating whether something is made in bad faith, is frivolous, or is substantive."
One of Greitens' other committees, Greitens for Missouri, is paying for a television ad that's showing in several media markets into June, claiming "liberals" have orchestrated the charges against him. It's doubtful that television ads alone would influence people enough to call their state representative to ask them to vote against impeaching Greitens.
"We don't know all the elements of all the campaign being waged," said John Hancock, former chairman of the Missouri Republican Party. "Direct mail, live or robo calling into different peoples' districts, targeting specific members, and there's a digital component; if you assume all those elements are present, then you are having a much larger ability to affect public opinion.
"It seems to me that the legislature at the leadership level appears to have the resolve that he should be removed," Hancock added. "How that translates into an impeachment vote, who knows?"
Hancock said he was saddest for two groups of young people. "These 20-year-old kids who got involved in their first campaign and thought they had a charismatic leader they could believe in. This is their first taste of politics and I feel sorry for them.
"And then there are his kids. Someday, they're going to read all this about their dad. I can't imagine."
(Terry Ganey formerly covered state government and politics for the Associated Press, the St. Louis Post-Dispatch and the Columbia Daily Tribune.)