At its 2018 Living Legends event late last year, the Greater St. Louis Association of Black Journalists (GSLABJ) honored two long-time members and important role models and leaders in St. Louis journalism: Art Holliday, anchor and reporter for KSDK 5 On Your Side, and Wiley Price, photographer for the St. Louis American newspaper.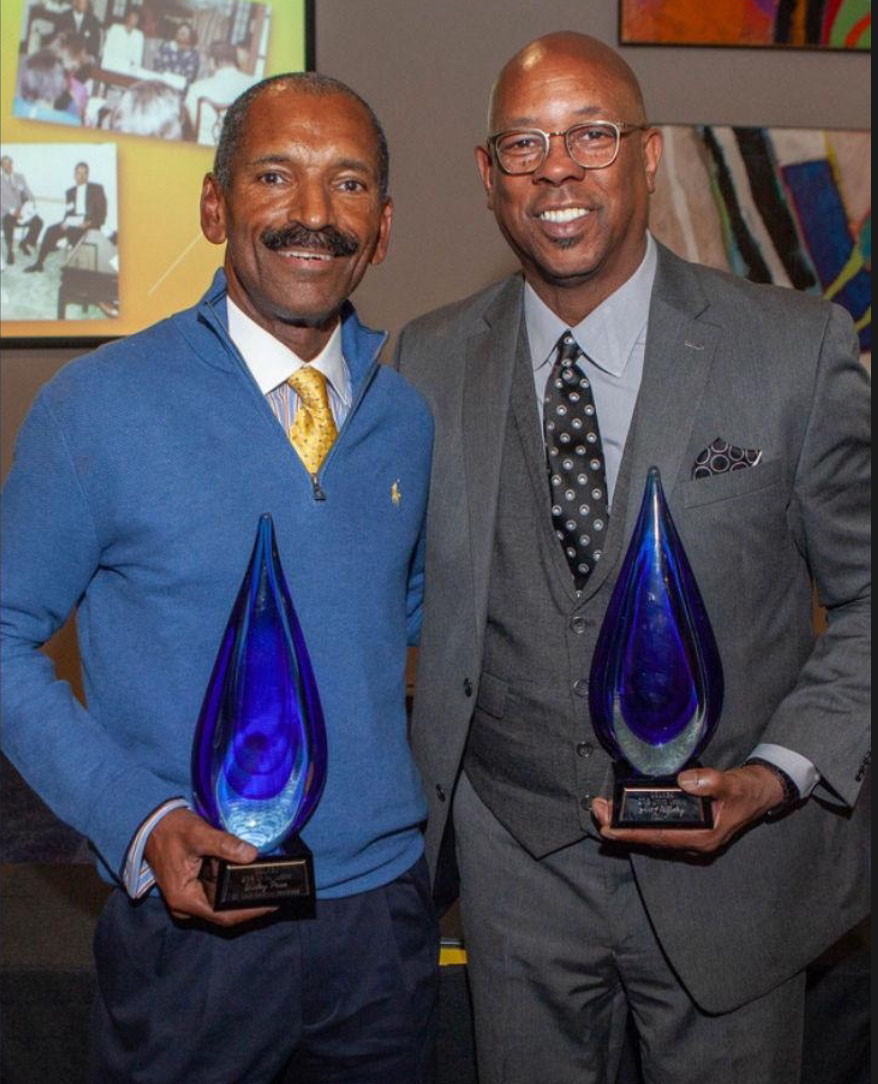 The GSLABJ Living Legend event celebrates colleagues who have committed themselves to furthering the GSLABJ and building the next generation of journalists. Created in 2014, the event has recognized the contributions and careers of several long-term members of the organization. This year's honorees were the first two males to be added to these ranks.
Price told the audience of colleagues, friends and family that he has committed his 45-year career to showing all aspects of St. Louis's black community through his photography — something he sees as a privilege and would do even if not paid for it. His photo of African Methodist Episcopal bishops in St. Louis laying hands on then-presidential candidate Barack Obama in prayer is on display in the National Museum of African American History and Culture of the Smithsonian Institution (Washington, DC). He also published a book of his work in 1999, Lift Every Voice and Sing: St. Louis African Americans in the Twentieth Century.
"We try our best to keep the African-American community afloat and energized for the next day," Price said of the American. "I have always tried to do well at my job and bring respect to myself, to the profession and to my paper."
Holliday will see his 40th year at KSDK Channel 5 in 2019. He started in sports and moved to news and anchor, a role he has filled for the past 22 years. "I had the good fortune to find a career that matched my skill set, and a job that teaches me something every single day," he said.
In addition to his local on-air work, Holliday has made a documentary film, "Before They Fall off the Cliff: The Ripple Effect of Schizophrenia," and is working on two more, "Johnnie Be Good" and "Brother Boogie."
Chapter vice president Reggie Riddle-Young, who chaired the planning committee, called the honorees "consummate professionals and an inspiration to many in the field of journalism." Rosalind Guy and Bradley J. Rayford contributed their photography skills to the event.
"We respect you, we admire you, and we hope tonight to show you how valued you are by our profession, to our community and indeed to all the young people and the gray hairs – the old folk who watch you, look at your work, and are inspired by what you do and by who you are, because that shines through in the work that you do," said GSLABJ president Carol Daniel, news anchor and reporter at KMOX-AM.  
Sponsors of the event, which was held at Il Monastero on the St. Louis University campus, included Ameren Missouri, Enterprise Holdings Inc., Fox2Now,  KSDK News, Saint Louis University, the St. Louis American, St. Louis Community College, the St. Louis Press Club and Wells Fargo Advisors.
Previous Living Legends honorees, some of whom are retired, are Sharon Stevens, education reporter at KSDK-Channel 5; Bonita Cornute, general assignment reporter and Contact 2 consumer reporter for FOX 2 News; Linda Lockhart, outreach specialist and copy editor for St. Louis Public Radio; and Bonita Tillman, manager and corporate communications at Nestlé Purina PetCare Company and past newspaper reporter.
For images from the event, see the GSLABJ website (www.gslabj.org) or Facebook page. For a video of Holliday's remarks and other coverage of the event, go to: https://www.msn.com/en-us/news/us/art-holliday-wiley-price-honored-as-living-legends-in-st-louis/ar-BBPk4Fp.