COLUMBIA, Mo. — Eighteen months after GateHouse Media bought the family-owned Columbia Daily Tribune, the staff has been slashed, readers are frustrated and circulation has plunged.
No doubt daily newspapers have retrenched within the last 10 years in the face of market challenges. But the Tribune has been bled dry to achieve financial results. As of mid-February, layoffs and departures had left the newspaper with one fulltime reporter in a city of more than 100,000.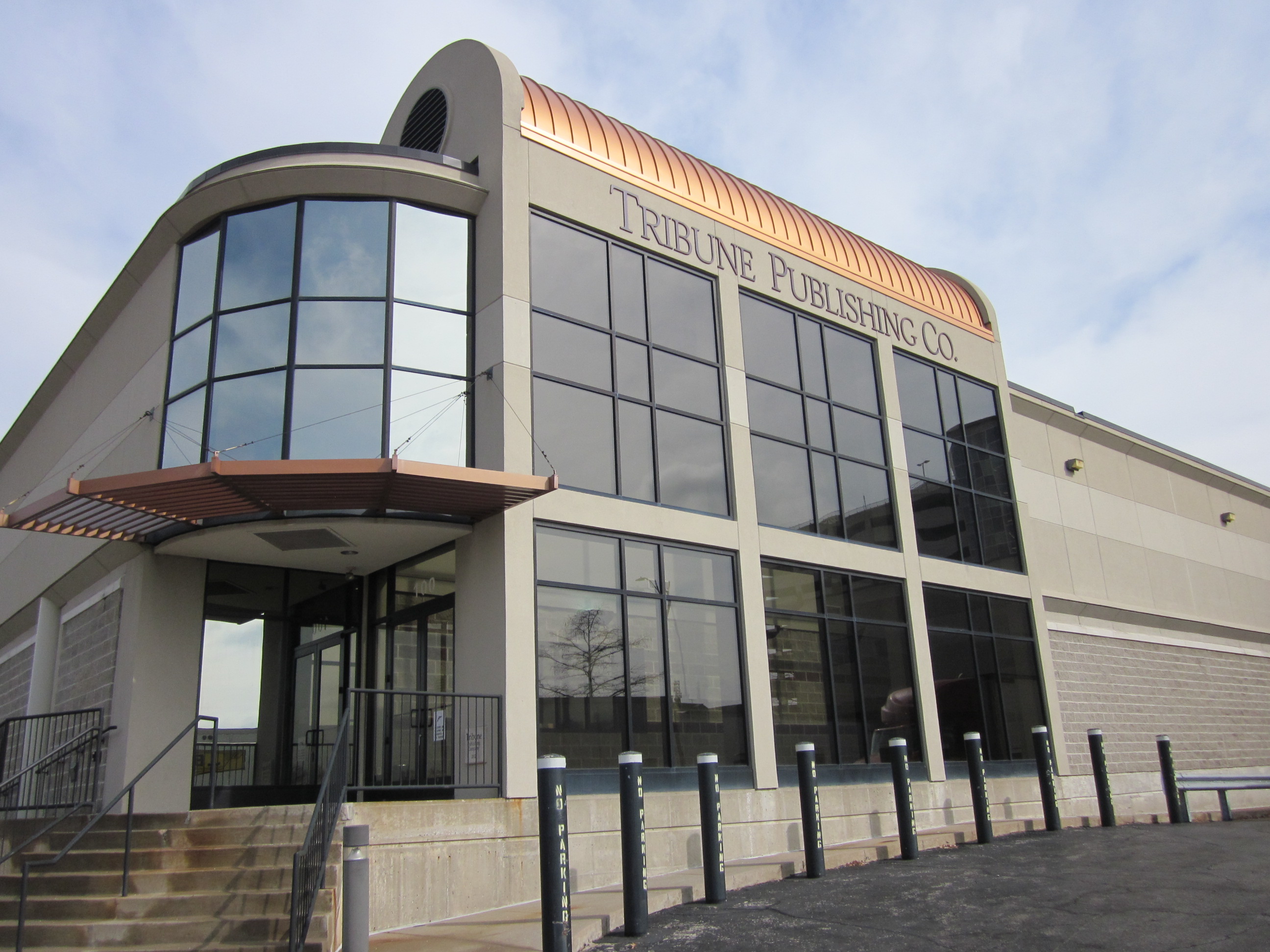 "What we are seeing here is a tragedy–a journalistic and civic tragedy," said George Kennedy, former associate dean of the University of Missouri School of Journalism. "One of the country's best small-sized newspapers has been gutted."
Kennedy is the former managing editor of the Columbia Missourian, the journalism school's teaching newspaper. He knows from experience what developments are going uncovered under the newspaper's new ownership.
"Apparently the operational approach of GateHouse, unlike other publishers, is to strip as much as they can out of the expense side, the journalistic side, and maximize profit, which is almost inevitably a pretty short term approach to things," Kennedy said.
Columbia might feel the Tribune's demise more acutely than other cities, since it hosts the nation's oldest journalism school, and many readers know the value of a local newspaper. Since the GateHouse acquisition, 3,000 daily subscribers and 4,300 on Sunday have quit taking the Tribune.
The sale has cast a shadow over the legacy of the Waters family, which had operated the Tribune since 1905 before selling to GateHouse in October, 2016. After the Tribune's downward spiral became obvious, Kennedy sent an email to Andy Waters, the newspaper's former president and general manager.
"I asked if he had any regrets about selling the Tribune, and he said he didn't," Kennedy said. "That leaves it up to the rest of us to have regrets."
"PRUNED SOME LIMBS"
Waters turned down a reporter's request to be interviewed for this story. "It doesn't help me or the family to pick off the scab," he said. "Hopefully, they will make it work." Waters has a business relationship with GateHouse, since he still owns the buildings that house the Tribune's operations.
Hank Waters III, Andy's father and the 88-year-old former publisher emeritus of the Tribune, still writes a regular opinion column. He declined comment.
"I certainly don't want to participate in a critical second-guessing of GateHouse as steward of a diminished Tribune," Hank Waters wrote in an email. "It would not be seemly in any event, and I'm still writing for the paper and hoping management will be able to make progress after an early season of admittedly poor results."
Charles Westmoreland, the Tribune's managing editor, also declined an interview request. But he directed a reporter to what he has written to the newspaper's readers, attempting to explain the dramatic changes.
"It hasn't been a joyride for us either," Westmoreland wrote a column last Dec. 1.
Shortly after Westmoreland was appointed in May, 2017, 20 staff members were fired. Since then he has been hearing from people who call to cancel. He gets emailed complaints and critical comments through social media. Last fall, a picket appeared on the sidewalk in front of the newspaper's rented headquarters.
"They often blame corporate greed as the cause, and many think cancelling their subscription will set things right," Westmoreland wrote. "It's true we've lost some subscribers in 2017, and for every 100 subscribers we lose there's a $20,000 hole in the budget to fill. So we fill that hole with more cuts, but more subscribers show their disdain of the new changes by cancelling. So we lose another 100 subscribers, and now there's another $20,0000 hole needing filled. The cycle then repeats over and over and over."
When GateHouse bought the Tribune, it was an afternoon paper published seven days a week. It had an unusual in-house, "no jump" style in which stories that began on page one had to be completed there without being continued on an inside page.
Dramatic changes began almost immediately after the newspaper was sold. The entire copy desk was let go, and the newspaper switched to morning delivery. The Tribune's editing and layout functions are now carried out by a GateHouse facility in Austin, Texas, where the copy is processed for many of the chain's 125 papers.
Whole sections of the newspaper were cast away. Local columnists, some of whom were part timers, were discontinued. In an explanation to readers in June 2017, then-publisher Rustan Burton explained what was happening to the newspaper was a lot like pruning dead branches from a tree to make it healthier.
"We understand that you may be unhappy that we pruned some limbs, but we hope you will be glad that we are still here with deep roots," Burton wrote. Six months later, Burton was "pruned" when he was replaced as publisher.
"A GUT PUNCH"
According to a Winter, 2018, account in The American Prospect magazine, "The ruthless miserliness of GateHouse management has two effects: It destroys the newspaper's capacity to do its fundamental job of covering the news, and it makes for miserable employees."
Journalist Jodie Jackson Jr. can attest to both. When he started at the Tribune in 2008, it had ten reporters and eight editors, including the copy desk. When he left last April there were five reporters.
"How can you even begin to quantify the amount of institutional knowledge, connection with the community, and earned trust among readers?" Jackson said. "Gone."
Before the sale, in the spring and summer of 2016, Jackson said there were weekly newsroom meetings among reporters and editors. He said there were requests to get executives to provide an update on the paper.
"There had been layoffs and downsizing in other areas, and we were journalists and inquisitive by nature," Jackson said. "But the requested meetings never happened."
Jackson said in August, 2016, he went into Andy Waters' office and asked if the paper was up for sale.
"I had a couple of offers I was reviewing," Jackson said. "Andy assured me the Tribune would be family owned and independent and not affiliated with some larger publication." Five weeks later, the newspaper's employees were assembled and told GateHouse had acquired the Tribune.
"It was a gut punch," Jackson said. "Those sale negotiations had been going on since March or April of that year. I was obviously disappointed to know that."
Within 24 hours of the announcement, Jackson's apprehension was verified. Unsolicited, six individuals, current or former GateHouse employees, contacted him through social media and email messages.
"Every one of them said 'polish your resume. GateHouse will come in and say everything is fine, and then they will gut the newsroom.' I had been there longer than anyone in the newsroom. I knew I was on life support."
After the section of the newsroom that contained the copy desk was vacated, the lights were no longer turned on in that area. "It became a black hole," Jackson said. "It had an incredibly demoralizing effect on the newsroom, like you were taking one of the organs out of our body."
There were problems when the pages were laid out in Austin. He said the stories that jumped to the inside sometimes appeared on the wrong pages.
Jackson covered Boone County government. He attended a lot of County Commission work sessions, where each department in county government–public works, the auditor, the treasurer–would meet with the three commissioners.
"You sure got a whole lot better understanding of things going on by attending those meetings," Jackson said. "I built an incredible rapport with the folks making the news. That doesn't happen anymore."
At age 53, Jackson left the newspaper of his own accord. He now writes as part of a three-person marketing team for a health care consulting company.
"IT BECAME 'MCPAPER'"
When GateHouse announced the Tribune's acquisition, Jason Taylor, its western division president, said: "We believe in the newspaper, we believe in its people, and we are excited that, by leveraging the national resources of GateHouse Media, we can take this local company to greater heights than ever before."
Many readers say that hasn't happened. After John Darkow, the Tribune's popular editorial cartoonist, was let go along with nineteen other staffers, there was a wave of complaints and cancelations.
"How could they get rid of Darkow?" wondered Roy Fox, who had subscribed since 1991 but cancelled last year. "I considered him a world class editorial cartoonist. That created doubts about the new ownership."
John O'Connor and his wife, Joan, quit the paper along with two of their children who also had subscriptions. "The main reason was they lost touch with the community," John O'Connor said.
The Tribune had carried a local column, "The Power Couple," written by O'Connor's son, Tom, and his wife, Diana Moxon. The column focused on the challenges a couple faced when trying to modify their home to conserve energy.
When GateHouse took over, the company wanted to retain the copyright to the articles, something the couple would not surrender. The paper dropped the column.
"I missed 'The Power Couple'," said Georgia Morehouse, who cancelled her subscription after 53 years. "It lost the feel of a hometown paper. It became 'McPaper'."
Dr. Robert Blake, a retired family physician who had served on the UM Medical School faculty for many years, cancelled his subscription last September.
"The quality had steadily declined after the change in ownership," Blake said. He and his wife, Cokie, were owed a $52 refund. He said he was told they would be reimbursed in a couple of weeks. But the check never came, despite repeated telephone calls.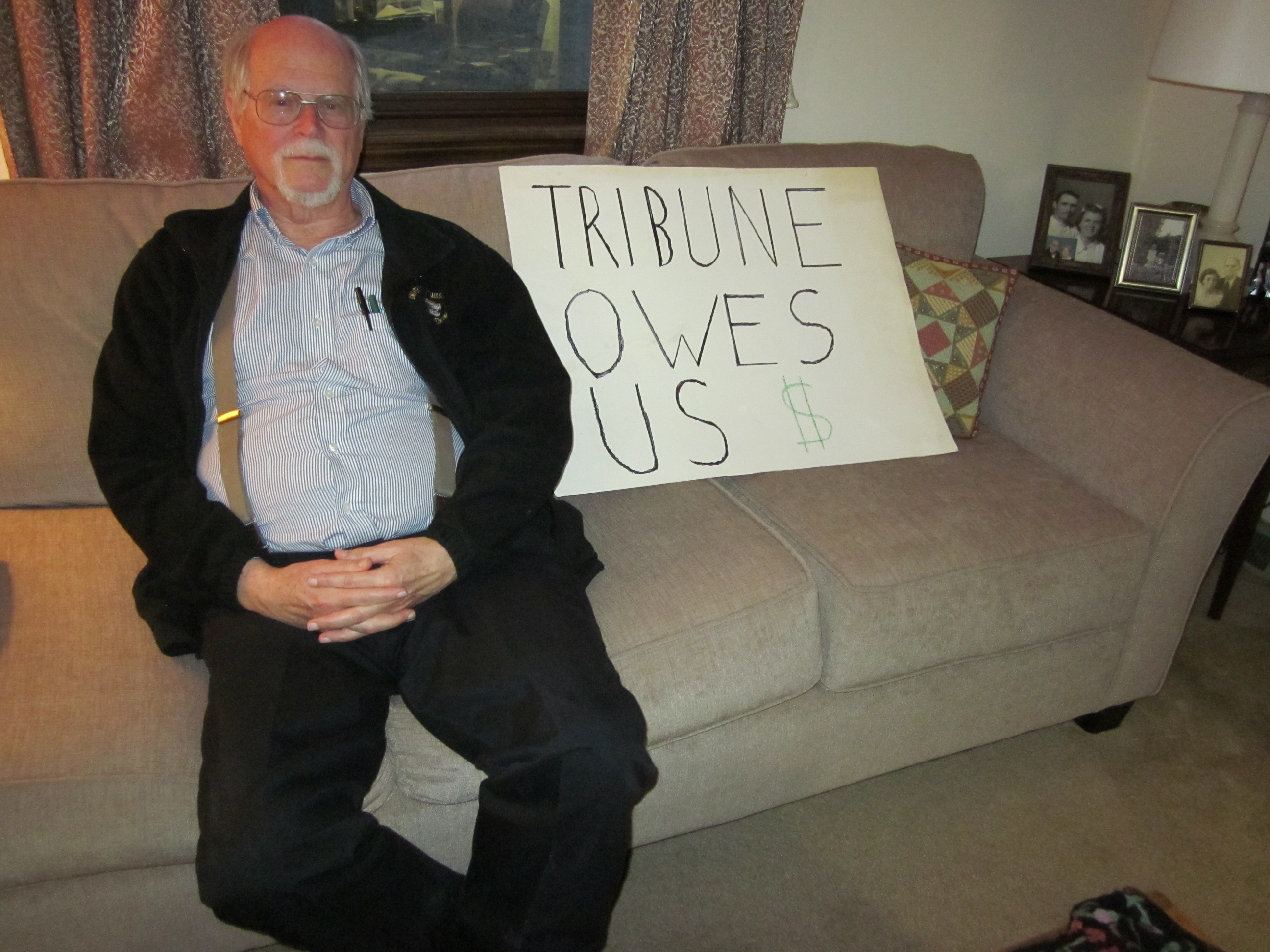 After 10 weeks and no refund, Dr. Blake made up a sign that read "The Tribune Owes Us $" and "Where is our Refund?" He began picketing on the sidewalk in front of the newspaper. "That got their attention," Dr. Blake said. A check for $52 arrived a few days later.
Beth Pike had subscribed to the newspaper since graduating from MU in 1986. She dropped the paper last summer after the mass firing.
"I felt a little guilty at first as I have friends who still work at the Tribune, and they need to stay employed," she wrote in an email. "Plus, my father worked at the Columbia Tribune for 20 years in circulation, so long ties."
Pike said when Burton's message referred to the firings as pruning trees "that just did it for me. I picked up the phone and cancelled my subscription. I also subscribe to the Columbia Missourian, so I don't miss out on my local news, and have adjusted to not reading the Tribune each day."
A TWO-NEWSPAPER TOWN
The Missouri Press Association's newspaper directory for 2016 showed the Tribune's average daily paid circulation was 14,862, and 17,662 on Sunday. According to third quarter numbers for 2017, the Alliance for Audited Media reported the Tribune's average daily circulation had dropped to 11,873, a decrease of 20 percent, while Sunday's was down to 13,368, a drop of 24 percent.
For years the Tribune has promoted itself as a newspaper "run by professionals." The unspoken dig was that the city's other daily newspaper, the Columbia Missourian, was staffed by journalists in training–MU journalism school students–under the direction of faculty editors. The Missourian has a morning edition published five days a week.
It promotes itself as "locally owned." Darkow's editorial cartoons now appear in its pages, and editors are trying to capture the Tribune's lost subscribers. A study conducted late last year and presented to Missourian editors Dec. 7 showed that the Tribune had alienated local readers.
The research, undertaken by an MU journalism class as a capstone project, showed the Missourian benefitted from the connection to the community while its weakness was the turnover among the student reporters. The project was designed to create a marketing plan for how the Missourian could increase subscribers and draw readers to its digital pages.
"Our news product is far superior to the Tribune's on a day-to-day basis," said Scott Swafford, the Missourian's senior city editor. Swafford said the Missourian's circulation, about 1,100, was "puny" but twice what it was a year ago.
Swafford had worked at the Tribune as a reporter and editor from 1990 to 2003, before coming to the Missourian 14 years ago. He teaches journalism classes and supervises reporters covering city and county government.
In an interview, Swafford ticked off the topics the Missourian has tackled such as disclosures about the opioid crisis and untested rape kits. "Our public safety beat has done some good investigative reporting that the Tribune isn't in a position to touch."
In Westmoreland's appeal to readers, written last December, he said, "Columbia will get the newspaper it's willing to pay for. It's that simple. Quality journalism is an investment. And like any investment, you don't always see your return immediately."
Swafford said Westmoreland's approach "is exactly backward.
"To think people are going to subscribe to a newspaper in hopes that someday it will get better is a fallacy," he said. "You've got to put out a product that people want and feel like they need if they are going to stay on top of things."
VACUUMING PROFITS
The Tribune experience can be compared to that of another newspaper, once family-owned, just 30 miles south of Columbia. In 2008, the Weldon family heirs sold the Jefferson City News-Tribune along with two other nearby papers to WEHCO Media, Inc., based in Little Rock, Ark.
The News-Tribune did not go through the turmoil the Columbia paper has encountered. It now has seven full-time and two part-time reporters. According to the Missouri Press Association, the Jefferson City paper has an average daily paid circulation of about 15,000, and Sunday sales of 18,000 in a city with a population of about 43,000.
The difference in the operations of the two papers is the fact that GateHouse Media operates one of them.
"The thing to know is that all of the GateHouse properties continue to turn a profit," said Shannon Duffy, the business representative of the United Media Guild headquartered in St. Louis. "But none of the profit gets put back into the property, the employees or the community. All the profits are vacuumed up and sent up the food chain to the few people at the top of the food chain in midtown Manhattan. There, Michael Reed, the CEO, and other executives, they pay themselves all these nice bonuses. Anytime there is a layoff, they get bonuses for finding efficiencies. It is a business model of extraction."
Local newspaper owners have a stake in their communities. Even professional managers who operated large chains in the past made decisions that placed good journalism high on the agenda. But the private equity newspaper buyers of today focus only on performance.
"Private equity has been gobbling up newspapers across the country and systematically squeezing the life out of them to produce windfall profits, while the papers last," reported the American Prospect. "The cost to democracy is incalculable. Robust civic life depends on good local newspapers. Without informed dialogue that a newspaper enables, the public business is the private province of the local commercial elite, voters are uniformed, and elected officials are unaccountable."
The word in Columbia journalism circles is that the Tribune's managers will eventually settle on a core reporting staff of four. But for now, the only local reporter is veteran Rudi Keller, whose career has been distinguished by significant investigative journalism.
Twenty-five years ago, he reported the major developments in a series of mysterious deaths at the Truman Memorial Veterans Hospital in Columbia. Keller scored a significant beat on Feb. 14, when he reported exclusively that a Russian "troll farm" had aggravated the protests that had taken place on the University of Missouri campus in 2015.
"Russian Twitter trolls pounced on the University of Missouri's woes in 2015, using the same techniques they applied to disrupt the 2016 presidential election, a U.S. Air Force officer wrote in an article published recently in Strategic Studies Quarterly," Keller's story said. Other local and national publications chased Keller's story.
Since the acquisition by GateHouse, Keller goes wherever the big story of the day is breaking. In recent weeks, his byline has appeared over stories about Missouri Gov. Eric Greitens' extramarital affair with his beautician, MU budget cuts, and a dispute over a permit for a large animal farm in neighboring Cooper County.
"Rudi is one of the best reporters in the state," Kennedy said. "But as formidable as Rudi is, I don't think he's capable of covering the full spectrum of what's new and important."
(Terry Ganey is a former reporter for the Associated Press, the St. Louis Post-Dispatch and the Columbia Daily Tribune.)