August 27, 2019
Good News: Star Tribune's 'Inspired' paves way in print
Good news is having a comeback.
Not the old pet in a tree rescue, but deeply reported, nuanced stories people immediately want to tell to friends and family.
The Minneapolis Star Tribune is leading the revival with a weekly, four-page section each Saturday called "Inspired." On Aug. 4, 2018, Gail Rosenblum became the section's editor, her full-time job. She and designer Madalyne Bird are the team responsible for putting out the section.
The response from readers has been unprecedented, Rosenblum said in a recent interview at the newspaper. Beat reporters she cajoled into writing a piece for Inspired have been astounded at the positive feedback.
Since she has no freelance budget, she must first convince editors to provide time for reporters to work on inspirational stories and then, in some cases, convince a "hard-boiled" journalist that the work is worth doing, "not just fluff." These stories also allow news writers to think more closely about craft, not bound by the "inverted pyramid" who-what-when-where-why lead, although those elements are included.
Many of the stories have a social justice angle, most also have a solutions-based focus, and all provide unique information. A recent one is a version of the New York Times' popular Sunday "Vows" feature:

At home on the high seas
Minnesota filmmaker finds his calling – and future spouse – on African Mercy ship

The happy young couple, she an on-board reporter on the hospital ship with dual Swiss and British citizenship and he a videographer, both wanting more meaning to their lives, planning to wed this summer in Cottage Grove, MN.
The large lead photo of that edition is of four young boys running toward the camera on an overgrown path. The caption: "After surgery to repair severely deformed legs, Pierre ran gleefully along a trail in Cameroon with his brother and cousins."
On June 21, a photo of a smiling woman with close-cropped gray hair and a tall young man with his hair in braids smiling into her eyes led the page. This piece was about Susan Gethin, 59, who met Norman Irving, 24, when she volunteered in a program for homeless youth. She was shocked when she later learned this "sweetie" had pled guilty to aggravated robbery and received a six-year prison sentence. Her prison visits help him stay positive. He's now in Red Wing, a facility that allows inmates to go outside to work. Gethin, according to James Walsh's story, "is not blind to the challenges he faces," but she's found a job in construction for him when he's free (November 2020) and continues to hold him accountable as well as provide encouragement and hugs.

Rene Sanchez, editor of the Star Tribune since October 2013, originated the Inspired idea and wanted to expand it to a special section with a designated editor. Rosenblum, who spent most of her career as a feature writer and columnist, told him it was her dream job. She explained her new job to readers in her final column.
After more than a decade of school shootings, slaughters in houses of worship and at entertainment venues, uncivil discourse at the highest levels and hate speech in person and on social media, people are "so grateful for what we're doing," Rosenblum told GJR.
"Readers were telling us one way or the other that they find the news, although they know it's important, exhausting and often depressing," said Sanchez. "We wanted to counter that with substantive good news–not silly or slight items — and we wanted to do it as an addition to our coverage, not in place of any part of our news report."
Public response was immediate and enthusiastic. Reaction from some in the newsroom was less so. But once they try it, even hard news junkies are now fans and she gets ideas from all beats.The theater critic, for example, wrote about a well-known local actor who frequently plays Scrooge in "A Christmas Carol." This story highlighted his volunteer passion for socializing abused and abandoned dogs so they can be adopted.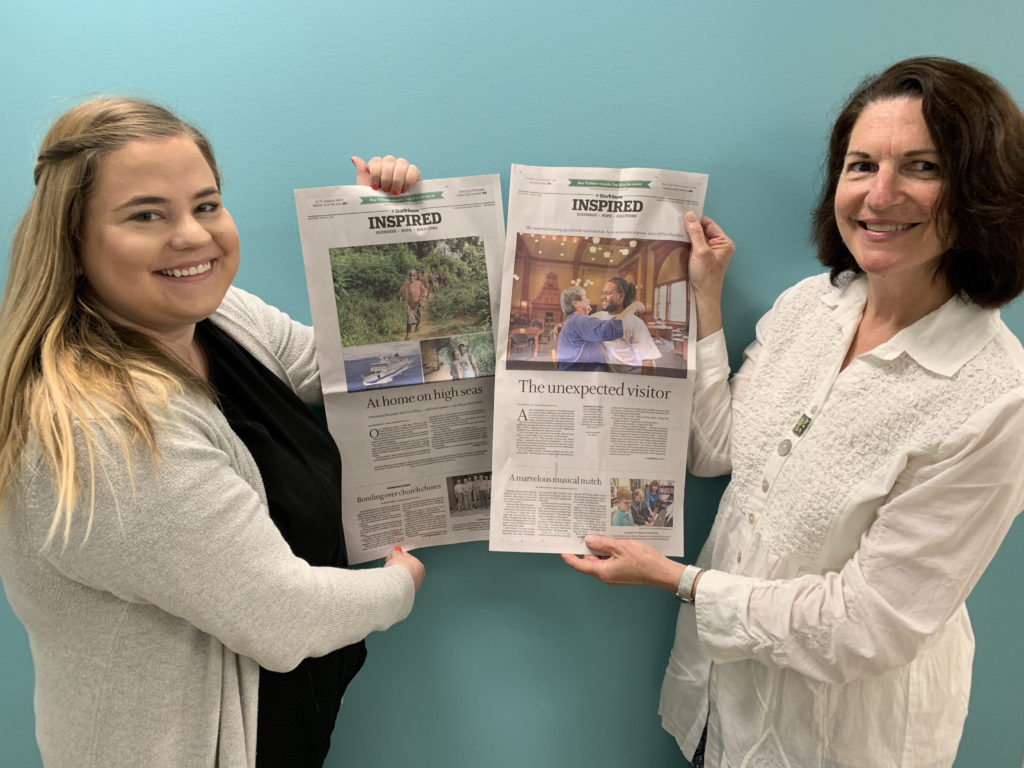 Upside in Philadelphia
On the Ides of March last spring, the Philadelphia Inquirer announced the debut of the Upside, accompanied by a group photo of the journalists involved plus adorable children and dogs in their lives. The impetus came from a reader worried about growing anxiety among teens because of the mayhem in the world. She asked, couldn't you just publish good news one day? Executive Editor Stan Wischnowski wrote: "I have fantastic news for that reader and anyone else exhausted by the daily drumbeat of tough news that dominates our headlines and social media feeds."
To skeptics schooled in traditional values of "what makes news," Rosenblum said, of course impact, prominence and other pillars still count. "We have to report those stories. But these stories are as true."
"We're writing about problem-solvers, deeply complex, vital issues and showing you people who are solving or mitigating" these issues, making a difference, she said.
David Beard, a veteran of AP and metro newspapers who is now a consultant on audience engagement, among other endeavors, acknowledges the longstanding news practice "If it doesn't bleed, it doesn't lead," but insists examples of stories reporting positive human interactions "abound" and are crucial — not only for the psyche but for a more comprehensive look at our world.
The Optimist in Washington

Beard launched The Optimist at the Washington Post in 2014, provided free as an "extra" for some 200,000 existing digital subscribers. These readers became brand ambassadors, re-tweeting and sharing stories from the newsletter. Its impetus came when he realized "we had a lot of villains, not many heroes" in the news report. He champions the investigative efforts of colleagues, but also tells them that the feel-good pieces with an emotional tug give readers a break, so "your audience has more of an appetite for government accountability stories."
He describes the early days of The Optimist as "more straight aspirational" than a similar effort for Mother Jones magazine called Recharge that began as a Twitter hashtag and is now a weekly column he curates. A recent piece on legendary Pink Floyd guitarist David Gilmore's auction of his lifetime collection of instruments and his subsequent donation of $21.5 million to climate change remediation was Recharge's most popular ever – by a factor of eight, as measured by retweets and shares. A crucial element was gaining permission to use a family photo that shows Gilmore and his baby granddaughter gazing into one another's eyes. "Some things are just magic," Beard said.

Mother Jones is named for the labor crusader who called out America's income inequality a century ago and is best known for its investigations and progressive point of view. It received the prestigious Magazine of the Year award in 2017.

Rosenblum was surprised when she learned Mother Jones is on the same wave-length. Reflecting as her one-year anniversary as Inspired editor in the Twin Cities approaches, Rosenblum said, "I've been a journalist since college…I've never heard this kind of response. There is such a hunger out there…""We are getting more readers and their loyalty to this section is incredible," which she knows through calls, chance encounters, hand-written and e-mail notes. "I feel a real obligation to keep doing this."
Occasionally, a story in the section is pure fun. But most of it concerns "heavy issues." The difference is not only reporting terrible situations, but also providing "models of success for lessening those issues' impact."
The story about the once-homeless teen now incarcerated, for example, has themes "of second chances, juvenile justice, big issues of our time," she noted.
Although reporters often tried to provide solutions, deadlines and workloads often precluded it. In this century, when economic concerns coupled with cultural and technological changes demanded attention, early advocates of this approach such as the non-profit Solutions Journalism Network and Yes magazine showed how it could be done. The difference now is that mainstream media are finding that these efforts, a balance, some describe it, builds readership and trust.
"The (financial) commitment is definitely worth it so far," said Sanchez. "Readers keep telling us how much they love this content. Some say it's among the reasons they renew their digital and/or print subscriptions."
Substantive, not pandering

Rosenbaum said advertisers specifically ask to be in the section. The open rate of the newer digital newsletter is high, Sanchez reported.
"When we created Inspired, we talked a lot about the mission," he said. The focus, foremost, was that "it needed to be credible and substantive, not pandering, and that it needs a strong sense of place, something Minnesota readers can embrace."
The other key point: "It's important to focus on people. So many of them, in quiet ways, are doing meaningful, positive things in their community."
Inspired was print-only at its inception. The digital newsletter was added last spring. This fall, the Inspired speaker series begins. Alpine skier Lindsey Vonn, who persevered to win Olympic gold and 82 World Cup victories despite serious injuries, will be the first speaker. She was born in St. Paul and went to high school and college at the University of Missouri. Also booked is celebrated chef José Andrés, the chef who went to hurricane-ravaged Puerto Rico and figured out how to serve more than 3.6 million meals.
These will be ticketed affairs where Rosenblum conducts a Q&A with the guest.
In addition to editing the section, Rosenblum speaks often to community groups.
"If you are not a journalist," she said, "you don't understand how our profession works, that it's the most unusual, the most unlikely, the most horrific that will end up on the front page. If you don't know better, you'll think that's what's happening everywhere. And it's exacerbated by the 24-hour news cycle. So you'll think the world is going to hell."

Moral and profitable
She and Beard both noted that community newspapers used to provide coverage that became known as hyper-local: Little League, honor rolls, charity events, births, deaths, marriages – "90 percent of how people really live," she said. That's largely gone – the hometown newspaper, and, with it, much of the good news.
Newspapers around the country are fighting for economic survival. An emphasis on positive pieces is not a panacea, but Sanchez is optimistic that this initiative attracts readers and revenue. The bottom line is not Rosenblum's direct responsibility, but she said, "in an era of scarce resources, it makes financial sense. It definitely makes moral sense."

Nancy Day is an independent journalist. A graduate of the University of Illinois, Urbana, with an M.A from Stanford, Day was a Nieman Fellow at Harvard and a Fulbright scholar in Russia. After working at AP and metro newspapers, she was an Associate Professor of Journalism at Boston University and served for 11 years as chair of the Journalism Department at Columbia College Chicago. This story was on the cover of the Summer 2019 print issue of Gateway Journalism Review.