July 6, 2021
Loud, shrill and unknown: The strange case of the Gateway Pundit
He has the loudest political voice in the St. Louis area, and arguably the most influential. His web site garners tens of millions of visits every month from all over the country – five to 10 times what stltoday.com attracts. His opinions — on the greatness of Donald Trump, the voting machine shenanigans that robbed him of a second term, the dangers of COVID vaccines, and a dozen other subjects — ricochet across the nation and the world every day, resonating in the ears of his listeners in the alt-right universe like the bell of freedom.
The sound others hear is less appealing. His work, according to a recent Harvard University study, is "in a class of its own, known for 'publishing falsehoods and spreading hoaxes.'"
For all this, you may well have never even heard of him. At most, his pen name – the Gateway Pundit — may sound vaguely familiar.
James H. ("Jim") Hoft – the man behind the moniker — is a major celebrity in right-wing conspiracy circles and works and lives in an iconic St. Louis neighborhood. Yet he operates largely anonymously in his adopted hometown. It is unlikely that many of his own neighbors have any idea who he is.
"I'm a pretty private person," Hoft acknowledged in a recent hour-long telephone interview. "Pretty quiet existence, really."
So who is this man who has achieved such prominence in the right-wing ecosphere? Where did he come from and what is his background in his chosen field? How did he gain such a large following? What are the backgrounds, personal and professional, of some of the people he employs? How does he defend his work against accusations of blatant mendacity? And how well does his business model work?
Gateway Journalism Review has found some answers.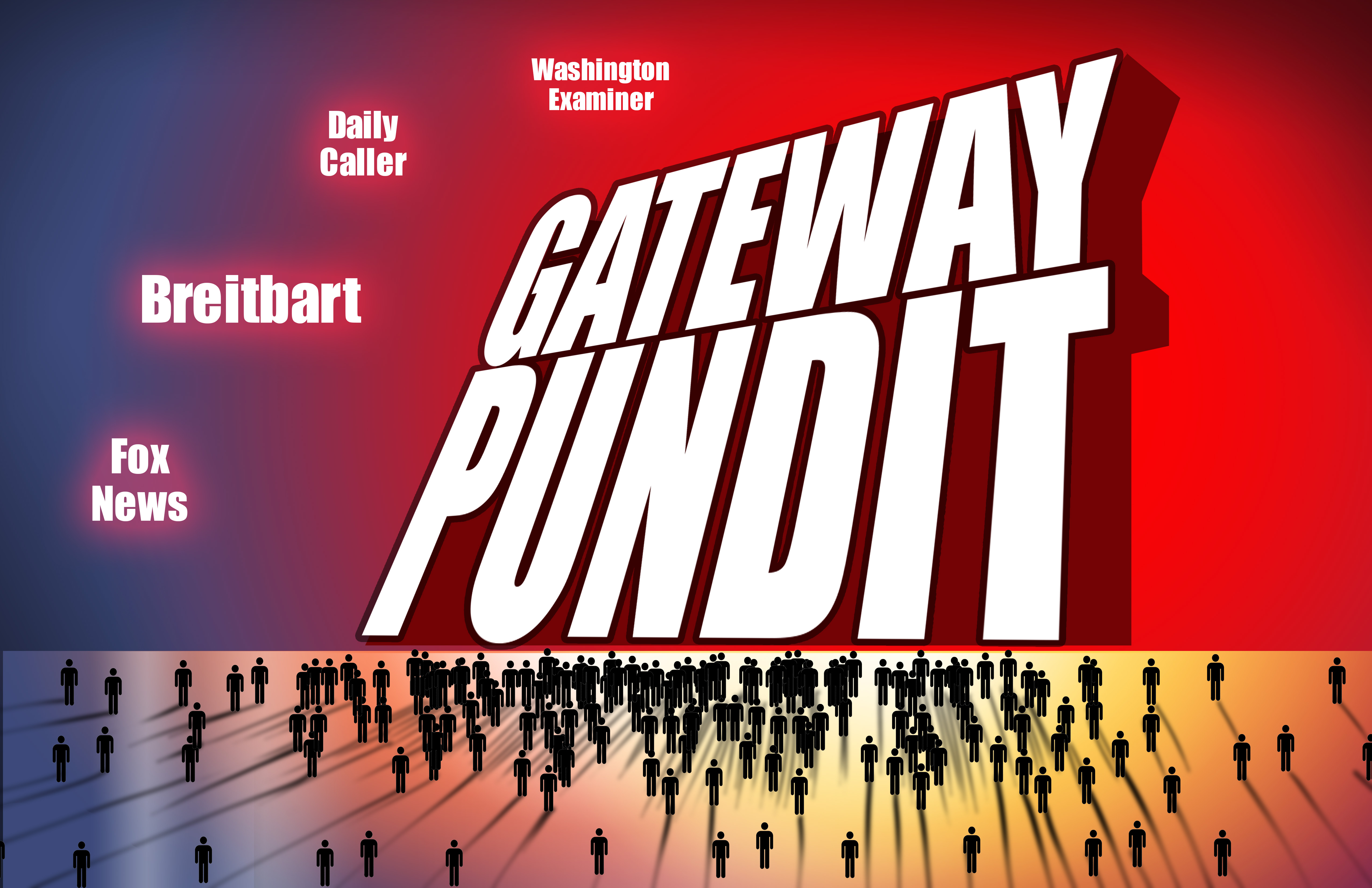 Roots
Jim Hoft, now 59, grew up in Fort Dodge, Iowa, a small town (population 25,000) in northern Iowa whose Midwestern culture Hoft often cites as the source of his worldview. Although Hoft's explanation for his worldview is clearly over-simplified, Fort Dodge was indeed represented in Congress for many years by Steve King, another exponent of extreme right-wing views and one whose white supremacism eventually proved too noisome even for his own party to tolerate.
One of nine children, Hoft grew up in a family that was not especially political and where, he said, views covered "the gamut"; his mother, he said, was a Republican, his father a Democrat. Nonetheless, at least three family members, he said, now work with him in some capacity at the Gateway Pundit.
Among those family members is Hoft's identical twin brother, Joe Hoft. Joe is a prolific, by-lined contributor to the website, with stories such as "EXACT OPPOSITES: Democrats Illegally Blocked Republican Observers from Entering Vote Counting Areas – Republicans Allow the Whole World to View Maricopa Audit" (April 25, 2021) and "HUGE BREAKING EXCLUSIVE: Hunter Biden Has a PornHub Account Where He Uploaded His Personal Porn – Including With Family Member" (Oct. 29, 2020).
For years while contributing these kinds of stories, Joe worked full-time as a Hong Kong-based executive for St. Louis-based Reinsurance Group of America (RGA). He also has written three books, including In God We Trust: Not in Lying Liberal Lunatics, self-published last year.
Earlier, however, in 2017, Joe published Loving, Blessing, and Being Aware of God's Grace, a memoir that offers insight into his — and Jim's — boyhood.
Their mother, Joe writes, was "a saint." But their father was an ill-tempered alcoholic, the owner of a "greasy, dirty place where he made a living working on semi-trucks and trailers needing repairs." The identical twins, who "were required to work for him almost every weekend," began drinking themselves in high school, and in their senior year were kicked off the basketball team. "Shortly after that I remember the basketball team going to the state tournament, and I watched as they received all the glory that I so desperately desired."
Today Joe no longer works for RGA. "Joe came back to work for me within the last year," Jim told me. Where he lives, however, Jim wouldn't say, except to add that it is not in Missouri.
Both Jim and Joe graduated from St. Edmond High School in Fort Dodge in 1980 and both matriculated in the fall of 1981 at Loras College, a small Catholic school in Dubuque, Iowa, three hours to the east on the Mississippi River.
Joe describes what happened next in Love, Blessing, and Being Aware of God's Grace: "… Jim and I moved on to the same college and more drinking, and in a short time my life and Jim's life were messes." A few years later, "my twin [Jim] went through treatment in Mankato, Minnesota." Within the same period, other siblings with alcohol problems, as well as the father, also went through treatment or renounced alcohol, and "In less than two years, active, evil alcoholism was virtually eliminated from our family."
Struggles with alcohol likely explain the fact that Jim Hoft did not graduate from Loras until 1986 and his absence from college yearbooks after his freshman year .
Jim Hoft majored in biology, writing his senior thesis about a form of algae in a Minnesota lake. The two fields in which he has made his mark were no way a part of his studies, he wrote in a letter to his classmates for his 30th high school reunion in 2010. "I've never had any training in politics or journalism, just Sister Victoria in 8th Grade," he noted.
The political environment at Loras at the time offers no explanation for Hoft's later career, two former professors and a former student said. They characterized the school's student body and professors as centrist to liberal. Hoft himself told me that he was "pretty liberal in my 20s" and may have even voted in those days for some Democrats.
Not long after graduating from Loras, Hoft moved to St. Louis, where he had relatives, he told me. There, he wrote his high school classmates, "I found a few different jobs. In my 20's and 30's I did some modeling and acting. I played a cop on "Unsolved Mysteries" twice. I was in an NCAA basketball commercial and was in a John Deere catalog. I worked out and played basketball."
In 2001, he added, he moved his ailing mother down from Iowa to take care of her in a large house he bought and renovated with the help of family and friends. "All nine of us Hoft kids volunteered to take her in but she chose to stay with me," he wrote. Dorothy Hoft lived in St. Louis until her death in 2009.
In his letter to his high school classmates, Hoft made no mention of other work in this period, but he told me he had also begun working in the 1990s in human relations – in training, specifically — "for a top St. Louis manufacturer." Hoft said the job was full-time. He wouldn't identify the employer.
The Little Blog That Caught Fire
In a way he surely could not have anticipated, Hoft's life began to change after the 2004 election. President George W. Bush won a second term, but not before Dan Rather and CBS's "60 Minutes" had reported that during the Vietnam War Bush had received preferential treatment while in the Texas Air National Guard. The report, which aired Sept. 8, inspired immediate skepticism from bloggers and other news organizations, and CBS itself disavowed the story just 12 days later, well before the November election. But Hoft was inspired by the role played by the bloggers and decided to start one himself.
Initially, he said, he simply reposted news stories and commented on them. His only readers, he said with what sounded like amusement, were his mother, his twin brother and one friend.
(But) "After a few years of writing I gained thousands of readers every day," Hoft wrote his high school classmates. "Then I started getting invites and paid trips to different conservative events around the world. I went to Prague in 2007 for a conference with international democracy activists and President Bush. I've met several world leaders and spoken to several senators and representatives. I've been a guest at the UN, went to Israel for a week with Andrew Breitbart, attended national conventions and conferences."
Plugs from right-wing figures like Michelle Malkin, Glenn Reynolds, and the Drudge Report helped along the way. So did citations of his stories on Fox News and exposure on the short-lived on-demand television network RightNetwork, which actor Kelsey Grammer operated in 2010 and 2011.
And so did Hoft's contribution to the takedown of Van Jones, who in 2009 was forced to resign from a position as special adviser to President Barack Obama for "green jobs, enterprise and innovation." Jones had already been under attack from Glenn Beck and others when Hoft scored a coup by reporting that he had signed a 2004 petition calling for investigations into whether the Bush administration had allowed the Sept. 11 attacks so they could be a pretext for war in the Middle East. Jones said the petition had not actually reflected his views, but the report proved a tipping point. Jones, who is now a commentator on CNN, resigned and Hoft won a shout-out on Fox News from Bill Kristol.
Meanwhile, Hoft was also raising his profile by appearing at Tea Party events. In 2010 he served as the emcee for a Tea Party gathering in Clayton, Mo., which also featured Dana Loesch, another St. Louis area figure headed for a national profile. Another scheduled speaker, John Burns, later began practicing law in St. Louis, and now represents Hoft in defamation suits involving him as either a defendant or a plaintiff, the latter including a case filed against St. Louis Mayor Tishaura Jones.
By 2012, Hoft told me, "I was making more money online than at my (human relations) work so I stepped away" to focus full-time on the Gateway Pundit. The money came – and still comes — from advertising on the website. More on that later.
But in 2013, according to Hoft, the Gateway Pundit almost came to an abrupt end. After developing a bacterial infection in his bloodstream, he suffered five strokes, lost the vision in his left eye, and developed a hole the size of a dime in his heart, he told Larry Kudlow on CNBC. But doctors at Saint Louis University saved his life, he said, and Steve Bannon, then at Breitbart News, stewarded the Gateway Pundit until Hoft recuperated.
By the very next year, there was tangible evidence of Hoft's success. The erstwhile male model and actor and training professional, whose previous addresses, according to on-line records, had been far more modest, paid $485,000 for a four-bedroom, 1.5 story home in the upscale St. Louis suburb of Ladue.
But even greater success would appear to have come two years later, when the presidential campaign of Donald J. Trump shot electrified the right-wing.
Hitting the Bigtime
Between May 1, 2015 and Nov. 7, 2016, the Gateway Pundit was one of the most popular websites on the right, a study by Harvard University's Berkman Klein Center for Internet and Society found. Among websites trafficked by Trump followers, the study said, the Gateway Pundit garnered the third most-shared stories on Facebook – behind Breitbart and Conservative Tribune but ahead of Fox News. On Twitter it was fifth. In both cases Trump followers shared it far more than they did stories from mainstream news outlets.
The study identified Hoft's site as one of seven sources that receive "substantially more attention on social media than they receive inlinks from open web media," an indication of hyper-partisanship. (An inlink is a hyperlink to a webpage – in this case, Gateway Pundit.com — from an external website.) And among the seven, the study said, "Gateway Pundit is in a class of its own, known for 'publishing falsehoods and spreading hoaxes.'"
To fully appreciate the popularity of the Gateway Pundit on social media during the 2016 election, however, consider this: Among all media sources, not just right-wing ones, it ranked 12th in number of shares on Facebook and 18th on Twitter. On Facebook, it outranked Fox News (14), Daily Kos (16), ABC News (20) and The New Yorker (21). On Twitter, it surpassed MSNBC (19), NBC News 20), The Wall Street Journal (21), USA Today (22), and Reuters (28). These rankings come from Network Propaganda: Manipulation, Disinformation and Radicalization in American Politics, a book published in 2018 by Oxford University Press.
Some headlines from the Gateway Pundit in 2016 show some of the themes Hoft was driving, not to mention his talent for appealing to his readers' viscera:
"Obama Changes Law: Allows Immigrants with Blistering STDs and Leprosy into US" (Feb. 23, 2016)
"Trump Was Right: At Least Nine American Members of ISIS Were Immigrants to US" (May 17, 2016)
"Julian Assange Suggests Seth Rich – Who Was MURDERED in DC – Was Wikileaks DC Source" (August 9, 2016)
"Droves of African Migrants Amass at Mexican Border Waiting US Asylum Under Secret Obama Pact" (Sept. 8, 2016)
"BREAKING: 71% OF Doctors Say Hillary Health Concerns Serious, Possibly Disqualifying!" (Sept. 8, 2016)
According to Network Propaganda: Manipulation, Disinformation and Radicalization in American Politics, Hoft played a particularly large role in the 2016 campaign with the Seth Rich story. Rich, as some readers will remember,was an employee of the Democratic National Committee (DNC) who was murdered by an unknown assailant in 2016. The authorities suspected he had been the victim of an attempted robbery, but Hoft, Fox News and others pushed a conspiracy theory: Rich had been killed because of his alleged part in providing WikiLeaks with emails that had been stolen from the DNC and damaged the campaign of Trump's rival, Hillary Clinton. The U.S. intelligence community saw Russian hackers behind those leaks; in 2018 special counsel Robert Mueller indicted 12 Russians for them. But Hoft's stories implicating the Democrats won wide circulation on Facebook.
Fox News later retracted its story about the Rich murder and in October 2020 reached a seven-figure settlement with the dead man's family, which had accused the network of outrageous defamation. But as recently as this past April, Joe Hoft and The Gateway Pundit were still gnawing on the Seth Rich conspiracy.
In any event, the Gateway Pundit's coverage of the 2016 campaign brought it to a new peak. Traffic boomed to 1 million page views per day, according to Politico. And Trump, who had made a practice of tweeting Gateway Pundit during the campaign, rewarded the publication for its support with a plum that outraged many in the mainstream and even some in the conservative media. The Trump Administration gave White House press credentials to the Gateway Pundit's Washington correspondent, Lucian Baxter Wintrich IV.
Then in his 20s, Wintrich had been Lucian Einhorn until he changed his name at age 18. For a White House correspondent, his credentials were decidedly unorthodox. He had no experience in journalism. He had, however, spearheaded a "Twinks4Trump" photo exhibit at the Republican National Convention. "Twink," Wikipedia reports, is "gay slang for a young man in his late teens to early twenties … whose traits may include general physical attractiveness … and a youthful appearance that may belie an older chronological age." Wintrich himself fits that description, and his own Instagram page is packed with photos of scantily clad young men. One doesn't need to be a sleuth to find an Internet photo of Wintrich himself exposing significant posterior cleavage, while adorned only in a MAGA hat.
Wintrich's career as White House Correspondent, however, proved brief. He parted ways with the Gateway Pundit after less than two years, shortly after he had reportedly appeared on a podcast hosted by a white supremacist who had marched in the "Unite the Right" rally at Charlottesville, Va. in 2017. Hoft said the two events were unrelated. In any case, the podcast appearance followed one by Wintrich in 2017 at the University of Connecticut, where he gave a speech entitled "It's Okay to Be White," which led to a campus disturbance. And he was also still working for The Gateway Pundit when he wrongly reported, shortly after the Parkland, Fla. school massacre, that the shooter was a registered Democrat. Wintrich retracted that assertion in an updated Gateway Pundit story a few hours later, but he went on to write stories that helped spread the debunked conspiracy theory that the protesting students had been "crisis actors." And in a Tweet he called the students "little pricks."
Months before Wintrich's departure, the Gateway Pundit had hired a Washington correspondent, Cassandra Fairbanks, whose robust display of her own anatomical endowments on the Internet makes Wintrich's self-exposure look modest. In Fairbanks' professional background were stories she had posted shortly before the 2016 election such as "Internet Is On Fire With Speculation that Podesta Emails Contain Code For Child Sex." Network Propaganda accords her an important role in seeding the theory that Hillary Clinton was involved in a satanic pedophilia ring, pizza included.
Fairbanks wrote those stories while serving as a correspondent for Sputnik News Sputnik is a Russian state-owned news agency whose "fundamental purpose," The New York Times has written, is "disinformation."
Sputnik News and the Gateway Pundit have both been among the most popular sources for a Russian propaganda Twitter network aimed at American audiences, the German Marshall Fund of the United States found in 2017.
"Of course, we have no connection to the Russians nor have we ever had any contact with Russian officials," Hoft told USA Today in responding to the 2017 report.
Nonetheless, the authors of Network Propaganda argue, sites like that of the Gateway Pundit "often serve as pathways for Russian propaganda, (and) witting, unwitting, or witless matters a great deal less than the fact of being such a conduit."
Truth, Falsehoods and 'Conspiracy, blah, blah, blah'
The Trump years were evidently good to Hoft, as they were to many media outlets. Traffic to his website continued growing every year, he told me, as he claimed it has since he founded the site.
This growth is the best evidence one can offer, Hoft said, that he is committed to these words from the "About (Us)" section of the Gateway Pundit site:
"All our content should be true. No value is more important than this.
"This does not preclude the use of opinion — opinion is vital to political and cultural commentary. But all opinions expressed must be supported by truth."
"I'd say the best proof I have that we're a truthful organization … is that our numbers increase year after year after year and exponentially," he said. Many "trashy, hoaxy websites out there that put up garbage," he continued, "and people catch on, they don't like to be lied to and they don't come back. Our strongest testament to our trustworthiness is the fact that we have an audience that … at one point this year we were one of the top 100 websites in the entire country with our traffic."
Others, of course, would quarrel with Hoft's explanation for his website's growth. Among those with quarrels:
Without being specific, Hoft acknowledged having settled one or more of the cases against him out of court, but he noted that defendants sometimes settle not because of guilt but to avoid costs. He remains under "tremendous legal pressure," he told me.ing, but the Vangheluwes said they received death threats and had to flee their home. Along with 19 other defendants, they sued Jim Hoft personally in Federal Court for defamation.
Some media watchdogs also accuse the Gateway Pundit of hideously inaccurate reporting. In 2010, Media Matters for America, a left-leaning media watchdog, published "Jim Hoft: Dumbest Man on the Internet?" Despite all the "stiff competition" in the right-wing media sphere, the story said:
"Jim Hoft (aka Gateway Pundit) stands out as uniquely incompetent. Hoft runs with (or spawns) almost every inane story that bubbles up in the conservative blogosphere, has proven that he has absolutely no vetting process for the sources he cites, and apparently has a hard time with basic reading comprehension. (But even though) Hoft embarrasses himself on a near-daily basis and has shown time and again that he is either willfully dishonest or staggeringly inept, he has managed to carve out a role as one of the most-read, most respected writers in the conservative blogosphere."
In 2017 Media Matters followed up with 20-Plus Times Jim Hoft and the Gateway Pundit Were Absurdly Wrong." In 2020, NewsGuard, a company that rates journalistic credibility, reported that the Gateway Pundit "regularly features false reports, conspiracy theories and unfounded allegations, with no distinction made between opinions and actual news reports." And there is more. Much more.
When I confronted Hoft with these kinds of attacks, he seemed eager to respond.
"I strongly believe our record is much, much stronger than The New York Times and the Washington Post, and so it's comical that they say those things about us," he said.
As evidence, Hoft cited four stories where, he asserted, he had beaten most mainstream outlets:
The Jussie Smollet case: In 2019, Smollet, an African-American actor, said he had been the victim of an attempted lynching by Trump supporters because of his opposition to the President. Numerous parties initially expressed sympathy – one of them being President Trump himself, although Hoft did not mention that. The Gateway Pundit, Hoft said, was skeptical of the story from the start. It later fell apart.
The Covington Catholic High School incident: Also in 2019, video and news coverage of a confrontation between a white high school boy wearing a MAGA hat and a Native American in Washington, D.C. initially prompted allegations of harassment by the student. Hoft said his coverage had been immediately skeptical. As more evidence emerged, it turned out that skepticism had been warranted; the Washington Post, among other outlets that had led the coverage, acknowledged this. The young man sued CNN and the Washington Post and settled out of court with both. "That was a huge story we were correct with," Hoft said.
The Mueller investigation — "We reported that honestly and truthfully for three or four years," Hoft said. "The mainstream media ran with this hoax, and I believe it was out of their liberalism, to try to ruin this President, Donald Trump." Sample headlines from the Gateway Pundit's Mueller coverage include:
"Confirmed: Mueller Committed Perjury – Lied Under Oath About Pursuing FBI Directorship In Meeting With Trump";
'Flashback: Dirty Cop Mueller Singled Out by Mother of Sexually Abused Child for Ignoring Calls for Help"; and
"The Reason Democrats Are All Behind Mueller Witch Hunt Is Likely Hidden in the IG's Clinton Email Report and It Will Make You Sick."
The Matt Gaetz sexual misconduct story – "I would say we have mutual respect," Hoft told me of Gaetz in early April. "He's a very outspoken Republican. … I tend to side with Matt Gaetz on that one. Now, I could be wrong about that, but anyway, that's what Matt told us, and his people."
"Conspiracy, blah, blah, blah," Hoft added, referring to the allegations he often faces. "We can't defend ourselves in those circles, we don't have a way to do that, unless we go to lawsuits, which we've started to do, or at least go the route of … they write anything they can … it's very upsetting but that's life, that's what it's like for a lot of conservatives today."
Hoft's mention of a more aggressive position on suits is apparently a reference to two he has filed in recent months in St. Louis County Court. One is against Dean Miller, a distinguished reporter and editor who debunked a Gateway Pundit piece about Hunter Biden. Another accuses Tishaura Jones, now the Mayor of St. Louis, and activist Umar Lee, of libel in connection with a rally last summer around the statue of St. Louis in Forest Park. Burns is the lawyer for Hoft in both cases, and is representing him along with Randy Corporon, a Denver-based lawyer and, according to CNN, the host of conspiracy-mongering radio show, in a third case – this one in which Hoft is the defendant — filed last December in Denver. More on this last case later.
A Siege Mentality in a Shoestring Operation
The weary concern expressed in Hoft's comment about what life is "like for a lot of conservatives today" appears to be accompanied by a larger sense of embattlement. "I am a prime target of the radical left, so it always concerns me to give too much information about my private life," he told me. This is why, he explained, he would not say where he goes to church; or who the "top 25 manufacturer" was where he used to work; and why he asked that his address not be revealed.
The sense of beleaguerment is perhaps reinforced by the way Hoft operates. The publication he started by himself only about 16 years ago is still a kind of shoestring, bunker operation. Hoft, the sole owner, is the only employee in St. Louis. In addition to Fairbanks and his brother Joe, other members of the work force include:
Christina Laila, associate editor, who shares pre-publication story-review duties with Hoft, and who describes herself, on her barely used Instagram page, as "Defender of Christendom."
Ben Wetmore, a former associate of James O'Keefe, a maker of secretly recorded and selectively edited videos used to misrepresent and damage organizations like Association of Community Organizations for Reform Now (ACORN) and National Public Radio. The Gateway Pundit was promoting O'Keefe's latest efforts as recently as late fall.
Mike LaChance, another Breitbart veteran, who is based in Boston and who recently Tweeted that the climate crisis is "Complete propaganda."
Hoft said he spends 16 hours a day working with these and other contributors. Writers compose their own headlines although Hoft and Laila "may tweak them here or there." Hoft acknowledged a degree of pride in his skill with headlines. "Yeah, I think so," he said, when asked whether he was proud of his talent in that area. "Most people like our headlines."
Hoft clearly has a certain flair. Headlines like "Evidence Mounts that BLM Works With Demons" (Sept. 15, 2020) are no doubt catnip to many.
In any case, judging from this part of a story mentioned earlier in this piece in The New Yorker, fact-checking is not exactly a significant part of the process:
Before Hoft left for the airport, I told him that he should expect to hear from a member of The New Yorker's fact-checking staff. "Oh yeah, just like at the Gateway Pundit," Hoft said. 'We've got a huge department of full-time fact-checkers." He laughed so hard that he nearly spilled his lemonade.
He works out of his house, Hoft reluctantly acknowledged – reluctantly, he said, because of his security concerns. In 2019 he sold his home in Ladue and purchased a 7,500 square foot property at an elite city address, which the GJR agreed not to disclose. The $1,350,000 he paid for that new house was more than twice what he had reaped from the sale of his Ladue home – another indication, perhaps, of the Gateway Pundit's success as a business.
Hoft lives in the new home, he said, with his husband, Jezreel Morano, 29, a native of the Philippines whom he met while on vacation in 2016, according to this Ladue News engagement article. Hoft first publicly came out as gay after the Orlando gay nightclub massacre of 2016, which, he argued, showed that only the Republican Party would defend gays against Muslim terrorists.
Leading the Way on the Election Fraud Narrative
In the 2020 Presidential campaign, Hoft distinguished himself even among other right-wing sites for his prolific falsehoods in support of President Trump's re-election, and then his insistence that he had indeed won the election.
In January, 2021, the German Marshall Fund of the United States, a nonpartisan think tank based in Washington, D.-C., published a study of the ways users of social media had engaged "with deceptive sites that masquerade as journalism." The study distinguished between two kinds of deceptive sites: "manipulators" and "false content producers." "Manipulators" were defined as sites that don't "gather and present information responsibly," but also don't "repeatedly publish false content." "False content producers," which are worse, were said to "repeatedly publish(ed) content that is provably false." The study labeled Breitbart as a "manipulator," the Gateway Pundit as a "false content producer." The study measured shares on Twitter by "verified account users," which constitute a subset of Twitter users that includes many of the most-followed accounts driving Twitter conversations. Shares by verified accounts of content from deceptive sites reached "an all-time high in the fourth quarter of 2020," the study found, and "shares of content from False Content Producers" drove a disproportionate portion of the growth. Then the study singled out Hoft for a disproportionate share of that growth. "The Gateway Pundit was particularly dominant and has seen a ninefold increase in verified account shares of its content since the first quarter of 2019. Nine of its 10 most popular articles included disinformation about voter fraud." The study contained a Newsguard graph illustrating the point.
In the fourth quarter of 2020, the Gateway Pundit got 7.2 million shares on Twitter verified accounts – more than three and one-half times more than the second most-shared false content producer, thefederalist.com. And for context, it shows that the Washington Post, NBC News and NPR — leading reputable sites with perfect NewsGuard ratings — were getting far fewer shares.
The report also noted that much of the increase in False Content Producer verified account shares "occurred after the election. False Content Producers slightly outpaced their third quarter average in the run-up to the election, but their verified account shares skyrocketed in the weeks after."
That was certainly true for the Gateway Pundit. Hoft had championed the rigged election conspiracy theory throughout the runup to the election – see, for example, this analysis by the Election Integrity Partnership. But after Trump lost the election, Hoft doubled down with his narrative. Some selected headlines, pointing to the wide range of accusations:
Nov. 8. 2020
Complete List of Suspected Fraud Issues in 2020 Election Sorted by State with Recommended Actions on How to Address
BREAKING: Arizona's Legislative Leaders Call For Audit of Maricopa County Dominion Election Software and Equipment
I Saw Voter Fraud!" – Michigan Election Observer Was Witness to Fraud but Was Kicked Out of TCF When He Started Recording the Fraud (Video)
Fully Exposed–The Dominion Plot to Defraud the American Voters and President Trump
Dec. 30, 2020
RAFFENSPERGER GETS CAUGHT: Georgia Ballots Were Printed DIFFERENTLY for GOP Areas vs. DEM Areas — Election Was Rigged!D
Feb. 5. 2021
Exclusive: The TCF Center Election Fraud – Newly Discovered Video Shows Late Night Deliveries of Tens of Thousands of Illegal Ballots 8 Hours After Deadline
Given all this, it's not surprising that Hoft was in Washington, D.C. Jan. 6, in attendance at President Trump's speech. But he left, he said, before the insurrection at the Capitol, because it was "very, very, cold,"(temperatures were in the high 30s and low 40s, according to AccuWeather records) and because once he heard that Vice President Mike Pence wasn't going to overturn the election results, there was no point in remaining.
The violence that followed, Hoft said, was "outrageous;" "a mistake;" and uncharacteristic – "I've never seen conservatives act like that in my life." As for who committed it, "I do believe that some violence was Antifa," but "I'm not the person who is going to tell you they did all the damage there. I don't believe that."
Asked what he thought about Mo. Sen. Josh Hawley's questioning of the election results, Hoft, unsurprisingly, said "I think he did the right thing." But he professed ignorance of Hawley's fist-pump to protestors shortly before the insurrection "I don't even know what that's about, I'm sorry. He did a fist-bump? I'm not even aware of that."
Association is only association, but it might also be noted that Wintrich, the Gateway Pundit's erstwhile White House correspondent, is friends with and has worked closely with Ali Alexander (see here and here), who is a key figure in Stop the Steal, one of the sponsors of the Jan. 6 protest.
Hoft's continuing promotion of stories alleging election fraud got him suspended from Twitter Feb. 6. When I asked him whether he still thinks Trump won the election, he paused a few seconds, then said, "I do think Trump won the election. …I believe it was stolen from him when they locked the doors."
When I asked why it was that no court had upheld any of the fraud charges, he replied, "I think that's a great question. I think it's a travesty."
As he said these things, Hoft sounded sincere. Someone who has known him for many years and does not share his worldview, who asked not to be identified, told me he thinks Hoft is sincere.
Fighting Off Big Tech
In addition to legal pressures, Hoft said, he also faces "headwinds" from Big Tech.
After his tremendous success on Facebook in the runup to the 2016 election, Hoft told Congress in 2018, Facebook changed its algorithms so the Gateway Pundit and other conservative sites would receive less exposure.
Since then, things have only grown worse, Hoft told me. "We were getting hit from a lot of different directions in 2017 and 2018 and then in 2020 we started seeing our Twitter account suspended every now and then and Twitter did remove our account in early February. So we are battling with the Tech giants all the time. It's not really much of a battle. They're winning."
In February of this year, Hoft began fund-raising off this alleged persecution. He posted:
Behind the scenes, there's a battle for survival of The Gateway Pundit. For 15 years, we've been fighting Big Tech and Leftists who want to shut us down. They've censored us on social media. They've defamed us in the media. They've restricted the advertising that pays our bills. And yet, we soldier on. We're putting up more articles than ever. We're digging deeper into corruption and fraud. We're continuing to fight.
Many of you have asked how to help, and we finally have a way: You can now subscribe to The Gateway Pundit. In return for a small monthly payment [$7.99 a month], you'll get the site ad-free* (that means Google and other Big Tech advertisers will no longer get those dollars). And if you really want to help, you can bump up your subscription [to $15.99 a month] and get a special Gateway Pundit mug and other perks … "
But when I talked to him, Hoft did not sound alarmed about his financial situation. He had not had to reduce his work force, he said, and his traffic is still growing year to year.
Hoft appears to have reason to be sanguine. His site's performance in 2020 was simply spectacular. While traffic at the top 100 U.S. news and media sites grew by 24 percent year-over-year in 2020, his traffic shot up 109 percent to 309.8 million visitors. And although his traffic since has fallen by about half from its election peak, it was still running at more than one million visits a day, according to SimilarWeb.com. That led SimilarWeb.com to rank it 52nd among all U.S. news and media sites. Chicagotribune.com ranked 69th. Stltoday.com ranked 181st. (The top five, according to SimilarWeb.com, are Yahoo.com, CNN.com, MSN.com, NYTimes.com, and Foxnews.com.)
Moreover, most of Hoft's big audience now comes to him directly – in other words, people seek him out instead of having to be referred to him. SimilarWeb's analysis shows that this past March, 74.3 percent of visits to thegatewaypundit.com came from people who went directly to the site, while only 7.8 percent found their way there through browser searches and 4.47 percent from social media, including Facebook, Twitter and YouTube.
All this means that Hoft's site can now generate plenty of revenue from advertising without help from social media, an advertising executive said.
The executive said the advertising works as follows. Advertisers pay middlemen called "programmatic advertisers" to place their ads on digital media. Some of these advertisers may have no idea where their ads show up. In any event, the programmatic advertiser's software – the whole process is highly automated – then determines what websites offer the best targets for which ads. It then places those ads on the appropriate sites. Hoft, whose investment in this process is zero, collects more or less revenue from the programmatic advertiser depending on the volume of traffic to his site – the overall "circulation" — and the volume of clicks on specific ads. The same factors determine how much the programmatic advertiser can collect from the advertisers. Google, whose data helps inform the programmatic advertiser's choices, also gets a cut.
A few programmatic advertisers refused to put ads on his site, Hoft told me, but he found another that would. And on a recent April day, the site featured what the ad executive called "a ton" of advertising. "Rambo, The World's Toughest EBike," had a spread across the top of the landing page; a few minutes later, that spread was replaced by an ad for Chrono 24, a wristwatch marketer. Other ads, on the landing page and within articles, promoted "Ka'Chava," a nutrition drink; Sunnyside Savings, a solar energy company; My Pillow, the company founded and run by Trump supporter Michael Lindell; Zolucky, a women's clothing retailer; Tower Records, a music company; and many more, including one, perhaps incongruously, for the International Rescue Committee.
Life, it appears, is still good for the Gateway Pundit.

Paul Wagman is a former Post-Dispatch reporter and FleishmanHillard executive who is now an independent writer and communications consultant.