by Terry Ganey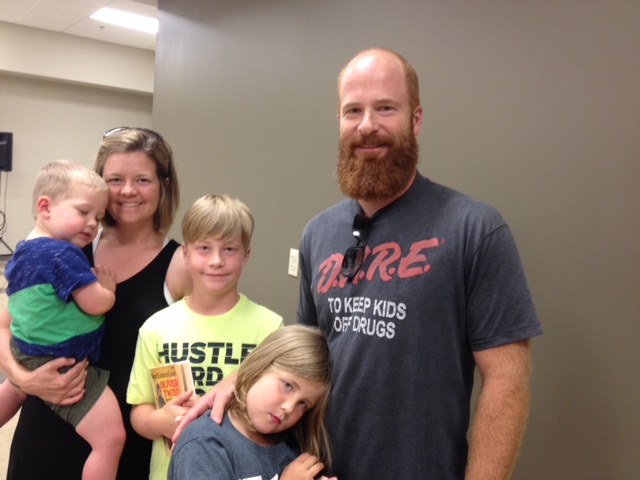 TIPTON, Mo.—Sen. Claire McCaskill held 10 town hall meetings across Missouri last week, fielding hundreds of questions about issues like health care, sanctions against Russia, and the sharing of voters' information.
But it was at a forum in Tipton, a small town in the middle of the state, where McCaskill was asked about something other than congressional policy.
Shawn Meintz, a high school teacher from Kirksville, wondered what the senator would suggest teaching young people, 17 and 18-years-old.
The question prompted one of the longest responses McCaskill would give at the forum.
"Teach young people where they should go to find facts," McCaskill replied. She said people today go to certain television networks to find affirmation, rather than information.  She said 15 percent of her constituents watch FOX News to get affirmation for their right-wing beliefs, while another group on the other side watches MSNBC to get their own assurance that they are right.
"The rest of the state is watching 'Dancing with the Stars,' and can't stand either side," McCaskill said.
McCaskill told Meintz that students need to know where to go to find fact-based journalism.
"They need to learn that there are no editors on social media like there are at newspapers. During the political campaign, hundreds of Russians created Facebook news feeds and people were repeating them as if they were true.
"One of the challenges we have in America today is simply learning what are the facts," McCaskill added. "The notion that everything is fake news is not good for democracy."
Meintz teachers U.S. government to 12th graders, and newspapers to 11th and 12th graders.  He also teaches an advanced placement class in world history.
On the day of McCaskill's forum in Tipton, Meintz was just ending a vacation with his family at Lake of the Ozarks.  On their way back to their home in Kirksville they stopped by the senator's hour-long town hall session.  Meintz was accompanied by his wife, Angela, and their three children: Jackson, 10, Kennedy, 6 and Pierce, 2.
Asked what he thought about McCaskill's response, Meintz said, "I wish I had recorded it.  It was good.  I'm going to talk more in class about where to go to get real news.  She's right.  There's too much misinformation out there and public schools can address that."
Terry Ganey covered the Missouri Legislature for 35 years for the Associated Press, the St. Louis Post-Dispatch and the Columbia Daily Tribune. He is the former St. Louis editor of the Journalism Review.  He is also the author of "Innocent Blood, a true story of obsession and serial murder," and co-author of "Under the Influence" about the Anheuser-Busch dynasty and "Pretty Ladylike," McCaskill's memoir.