Some news media are smarting from the late night passage of a groundbreaking Illinois criminal justice bill last month that left them without a chance to report on the substance of sweeping legislation that is now before the governor awaiting his signature. Police have launched a media campaign claiming the "dark of night" legislation endangers citizens. But members of the Black Caucus and civil rights activists who pushed for the passage of the bill said the criticisms are misleading.

The 764-page omnibus bill that packaged several other measures passed the Illinois Senate around 4 a.m. on Jan. 12, the last day of a lame duck session. The House approved the measure later that morning.

The bill would mandate the use of body cameras, implement strict use of force laws, eliminate the sworn affidavit currently required to make a complaint against an officer, reinvent the state's law enforcement certification process and end gerrymandering that excludes prisoners.

Jeff Egbert, publisher and co-owner of the Pinckneyville Press in southern Illinois, said his newsroom of three people didn't do a lot of coverage of the bill because of how it passed.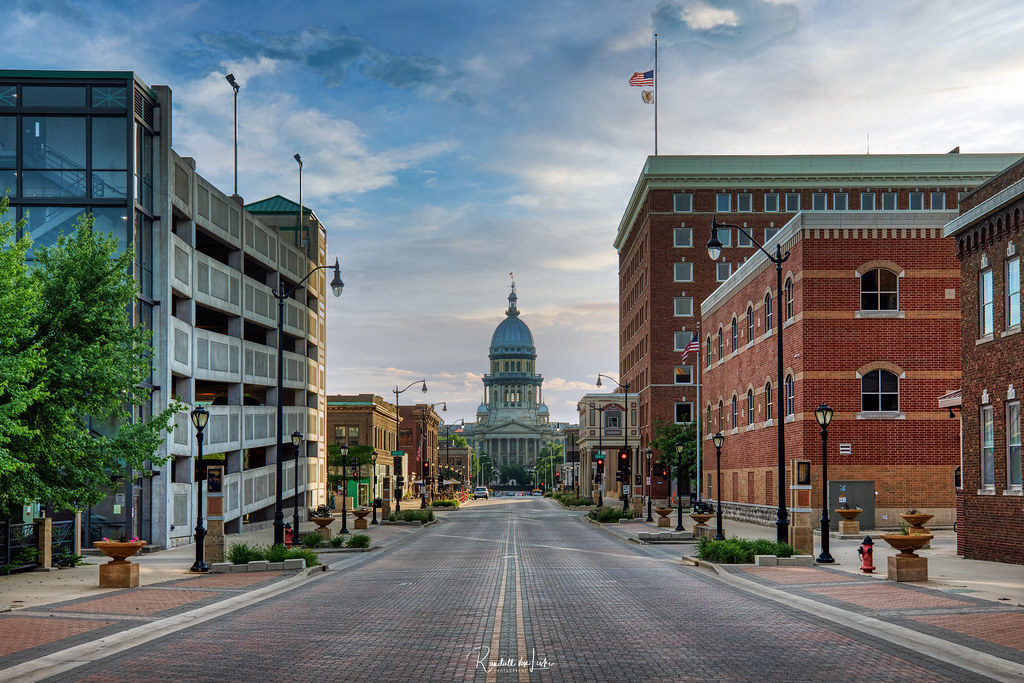 "You know we are a weekly newspaper, and it fell sort of in between our deadlines and again in the middle of the night," Egbert said.

Egbert said he can guarantee passing the bill at this hour negatively impacted other small town papers like his own.

"Some of us may and some of us may not have web presences you know and you know some of us may rely on our Facebook pages, or on Twitter feeds or whatever to be able to get critical information out you know in between our deadlines," Egbert said. "It's still a situation where, how many of us have reporters at the statehouse and we simply don't. We are not, we are in a position where we can barely get enough staff to cover what we have to do in our own communities and that's a situation where I think a lot of people in Illinois didn't realize what had happened until it was done and over."

Egbert said because his publication can't spare the resources to have reporters at the state capitol reporting on the legislature full-time, he has to rely on the Capitol News Service with the Illinois Press Association. He said he isn't against police reform and is up to journalists to work to weed out bad cops, but the way the legislature passed the bill in the middle of the night, was wrong.

"They can say all day long all of this stuff was going on, and maybe that was on us as journalists that we weren't on top of that. But as you know in your role a lot of times we're playing whack a mole and while we are working and focused on something over here, six other things are happening and we basically have to triage and prioritize what stories we're going to do," Egbert said.

In an editorial, the Chicago Tribune criticized the process by which the bill passed and urged Illinois Gov. JB Pritzker not to sign it, calling it "rushed" and "a slap to transparency."

Raymon Troncoso, a reporter for Capitol News Illinois, said he was one of the only reporters focusing on the reform bill when it passed on the last day of the lame duck session. Overall, he said there were just a handful of journalists reporting on the entire session.

"Newspapers can't afford to send someone full time to Springfield to cover everything that's going on in the State House. You know they barely have the resources to cover what's going on in their communities," Troncoso said.

Most of the news organizations that were at the State House during the lame duck session were focused on covering the race to replace House Speaker Mike Madigan and the session as a whole, he said.

"I don't think people really had the resources unless you're a really big paper like the Tribune or the Chicago Sun-Times to devote looking at individual pieces of legislation in the night," Troncoso said. "I think a lot of people covered it afterward."

Sen. Kimberly Lightford, the leader of the Black Caucus, said the Caucus intentionally left the media out of the process before passing the bill.

"We had to leave the media out of it because we needed to control our own narrative, which is very important because if we would have let loose earlier and let the media start talking about what it is we were working on, then it would have gotten too far out of our control in terms of what knew we needed for our community," Lightford said in an interview.

Reformers say the late night passage resulted in part from their willingness to compromise with law enforcement. And the elimination of cash bail does not free dangerous prisoners, as police claim.

Illinois Sen. Jason Plummer who opposed the bill, wrote on Facebook the night it was passed, noting that legislators received the bill at 3:04 a.m., and debate started at 4:01 a.m. "Who could've possibly read and reviewed this bill in less than an hour?" he wrote in the post. "This issue deserves a thorough and serious discussion. Sadly, it was instead jammed through the legislature during the early morning hours of this lame duck session.

"This is not how our system of government is supposed to work. These types of shenanigans do not lead to a healthy democracy and, in this instance, they make our law enforcement personnel, our families, and our communities less safe."

The Illinois Law Enforcement Coalition, made up of the Illinois Fraternal Order of Police State Lodge, FOP Labor Council, FOP Chicago Lodge 7, Illinois Sheriffs' Association and the Illinois Association of Chiefs of Police, issued a statement criticizing the late night passage of the legislation. "We had been working in good faith with the Attorney General on a bill that would make great strides to modernize law enforcement, but that legislation was dumped into this monster bill and the result is a betrayal of the public trust that gives many more advantages to criminals than the police. It ties the hands of police officers while pursuing suspects and making arrests, and allows criminals to run free while out on bail."

The leaders of the Black Caucus, including Lightford, Sen. Elgie Sims and Rep. Justin Slaughter said this narrative is false.

Lightford said they began holding subject matter hearings about the bill in September and spent over 30 hours bringing in experts and researchers to discuss the things that came out in the legislation.

"There were recommendations from advocacy groups and civil right activist groups, and groups that have been just working in the space of law enforcement," Lightford said "And actually there were some recommendations from the law enforcement side of it as well. They had a lot of input."

Sims said even before the subject matter hearings, they were participating in marches and protests and having conversations with their colleagues. He said the first committee hearing was Sept. 1 and the bill was introduced on Jan. 5, 126 days of ongoing conversations and negotiations.

"Even after the bill was introduced I continued to negotiate," Sims said in an interview. "There's another narrative that's been created that this bill was introduced or passed in the dead of night, well it was passed in the middle of the night because we continued to negotiate. And even though we continued to negotiate, if we were negotiating this bill, the goal line kept getting moved."

Ultimately it came to a point where Sims said he and Leader Lightford decided to pull the trigger and call the bill to a vote.

"It's harmful to say that this process was rushed, or that it excluded the opinions of law enforcement intentionally because that's not so," Lightford said. "We listened, we negotiated with police groups, and they won quite a few key concessions. So you can't sit at the table and negotiate and win concessions and then say you were not part of any negotiations of the process. So I cannot comprehend how they can complain at all that they were shut out when their lobbyists were getting things changed on their behalf."

According to polling data from the ACLU, nine out of 10 Illinois voters were strongly supportive last fall of legislative efforts to hold police accountable for misconduct.

Opponents of the bill, including Republican House Leader Rep. Jim Durkin, said its passage will put public safety at risk by eliminating cash bail.

"The elimination of cash bail basically says that we respect the honor system for violent criminals and gang members," Durkin said in a press conference about the bill.

Durkin said the Democrats who worked on this bill and advocates have said over and over again that this bill was fully vetted and everyone was aware of what was in the bill, but that's not accurate.

"Over the past summer and fall leading up to the lame duck session, advocates only revealed talking points, bullet points, but not the actual language," Durkin said. "All we heard about were concepts. The first time we saw the bill in its final form was at the 11th hour of a lame duck session, at the end of a lame duck session."

Durkin said the new bill is especially troubling for victims of violent crime because it can compel victims to testify at bond hearings.Rape victims of all ages, domestic violence victims, family members of a murdered loved one are all considered complaining witnesses, he said.

"A defendant must appear before a judge within 72 hours of arrest for a bond hearing and often that arrest of the attacker happens not only days but hours or minutes after the offense," Durkin said. "So imagine this, a bond hearing is ordered for a person who has been charged with rape and the court orders that rape victim to appear at that bond hearing which could have been hours or days after the attack to stand in front of the judge and also within a few feet of her attacker. This is not how we should treat victims of crime in Illinois. It is morally wrong and it also is in direct conflict with the rights of crime victims and witnesses under our Illinois constitution."

Amanda Pyron, who serves as the executive director of The Network: Advocating Against Domestic Violence, said the bill actually protects survivors.

"Safety looks like listening to survivors during a bond hearing. It looks like listening to survivors when they have a difficult interaction with local law enforcement and this bill absolutely does not in any way give extensive rights that go to cause harm in our communities, it protects survivors. It gives survivors the opportunity to meet with the state's attorney to get an order of protection at a bond hearing," Pyron said at a town hall about the bill.

Lightford said the Black Caucus created a transformative piece of legislation and they didn't need anyone's permission to do it.

"The thing here that I witness is that you know they want us to allow them to tell us it's ok when it's our communities that have received poor treatment for generations," Lightford said. "This is nothing new, and we've waited far too long for meaningful change to happen and we know that uplifting Black and marginalized communities will ultimately benefit the entire state and any opposition is nothing more than a desperate attempt to halt the progress and continue the legacy of systemic racism and oppression in this year and beyond and we aren't willing to settle for that."

Kallie Cox is the editor-in-chief of The Daily Egyptian, the student newspaper of Southern Illinois University Carbondale and can be reached at Kcox@dailyegyptian.com or on Twitter @KallieECox. This story is part of a project on police accountability funded by the Pulitzer Center on Crisis Reporting.