As strikes and work stoppages led by faculty, graduate students, and other academic staff become increasingly frequent on college campuses across the United States, student journalists often find themselves at the forefront of unfolding events reporting, writing, and disseminating news to their audiences.
Last month faculty unions at three public universities in Illinois went on strike. Union members were on the picket line at Governors State University for five days, at Chicago State University for 10 days and at Eastern Illinois University for six days. Earlier in the year, faculty at University of Illinois Chicago went on strike for a week.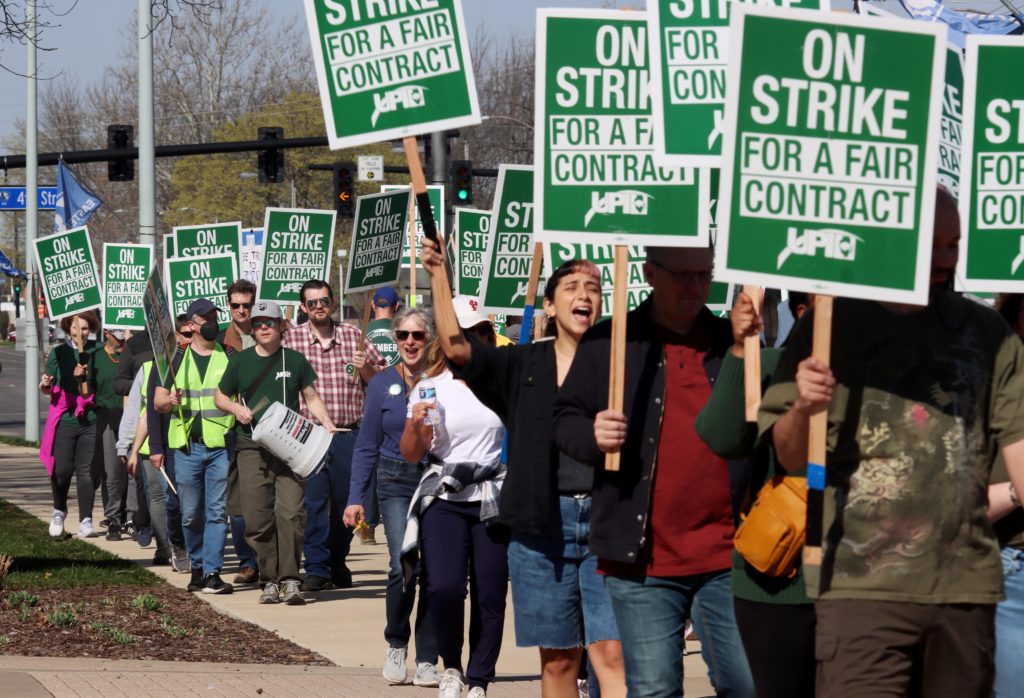 Covering campus unrest as student journalists, however, puts them in a unique situation.
The student journalists are students whose education is deeply impacted by campus strikes, but they are also journalists whose conduct and work are held up against professional standard of ethics. The duality of their position and the resulting conflict of interest make it almost impossible for student journalists to be detached observers who cover strike stories objectively and ethically.
Recent academic studies reveal that there is growing support among Americans for journalists to become more involved with ongoing social issues in the form of engaged journalism or advocacy journalism, thus suggesting that the traditional sense of objectivity might become an obsolete concept. Hearing aspiring journalists who covered university faculty strikes in April recall how they navigated this ethical dilemma sheds light on this discussion and shows that despite shifts in public opinion, they still follow long-held values and practices of traditional journalism.
Ashanti Thomas, assistant photo editor of The Daily Eastern News, clearly understood where her sense of dilemma stemmed from while she covered the six-day faculty strike at Eastern Illinois University. "I recognized many professors walking in the picket line," she said, "These were the professors I took classes from. They mattered to me because they impacted my life."
For Madelyn Kidd, editor-in-chief of the paper, knowing the details of ongoing, unsuccessful negotiations between Eastern's administration and the faculty union posed as a potential challenge. "I've covered the negotiation for the past year and knew more about what's going on than other students did. I couldn't help but having my own views on the strike," she said.
Some student journalists worked as academic support staff on campus, making them directly involved with the strike. Brian Delk, head news editor of The Daily Targum at Rutgers University, works as a tutor at the campus writing center. "I was on strike and didn't host tutoring sessions, so it was hard not to show solidarity with the union members."
The imbalance in the amount of information and quotes that the administration and the faculty unions provided to student journalists and in the level of availability of each party to answer journalists' questions were another source of potentially unbalanced stories. While the faculty unions were easily accessible to student journalists, both The Daily Eastern News and The Daily Targum journalists experienced lack of responses from the administration especially at the beginning of the strikes.
Student Journalists Exhibit Unwavering Focus on Responsibility and Objectivity
Even though student journalists formed their own views about campus strikes and strike participants, they said that it did not hinder them from producing the coverage with professional integrity. The most fundamental element in this process was a clear understanding of their role as student journalists. Both Uriel Isaacs, associate news editor of The Daily Targum, and Cam'ron Hardy, news editor of The Daily Eastern News, saw informing students as their priority. "There was a lot of confusion among students that we needed to clarify," Isaacs said. Hardy also considered "helping students understand what's going on" to be most important in his reporting.
Traditional journalistic values of fairness and objectivity served as philosophical backbones for student journalists who covered campus strikes at Eastern Illinois University and Rutgers University in April. They repeatedly brought up the concepts such as objectivity, accuracy, and bias when recalling their work during the strike. "I knew that I had to be neutral and get both sides," Hardy said, "If I get partial (views), I would be violating the code of conduct as a journalist." Arishita Gupta, news assignment editor of The Daily Targum, echoed this belief. "As a writer, I tried to bring people's voice to the public front as objectively as I could," she said. Rob Le Cates, photo editor at The Daily Eastern News, was also clear about having to put away his views. "I was there to record what's going on," he said.
In addition to ensuring their stories include perspectives from all parties involved, student journalists took measures to remain ethical in their news gathering process. When a professor invited them to attend a student rally to support the strike, when strike organizers offered them to take buttons and pins, or when an interviewee articulated a point that they felt particularly sympathetic toward, student journalists recalled that they declined offers or withheld themselves from showing any agreement. Kidd said that when she observed the picket line, she even created "physical distance" between the line and herself to make sure that no one mistook her as a strike participant.
Student journalists such as Kidd appeared to be adhering to lessons of objectivity and balanced reporting that they learned in class and student media outlets, according to faculty advisors. Tim Drachlis, faculty editorial advisor at The Daily Eastern News emphasized the importance of classes, newsroom culture, and leadership in shaping student journalists' sense of ethics, echoing the findings of a survey of 214 college journalists published in the Journal of Media Ethics. "I never doubted that they won't be able to separate their personal views from what they cover," Joe Gisondi, director of the student publications at Eastern Illinois University, said. "These are the things that we instill in them all the time in classes and the newsroom."
Calls for Ethics Policies
In an editorial published by The Daily Targum journalists, student reporters called for establishing ethics guidelines. They believed that journalistic organizations must create clear ethics policies in order to "balance journalistic standards with the individual rights of journalists as citizens."
As more and more Americans take it to the street to redress their concerns on a variety of issues, journalists will cover protests and strikes more frequently. Naturally, journalists are likely to develop their own opinions because these issues undoubtedly affect their own lives. Thus, the distinction between their roles as citizens and as journalists will become a critical part of doing their jobs effectively while also defending their own personal interests. When they were put to a test in April, student journalists in Illinois and New Jersey strove to attain traditional journalistic values through their reporting. It is now for journalism educators and the industry to foster them to become more effective at it.
Ensung Kim is a professor at Eastern Illinois University, where she teaches journalism. Her research areas include the impact of technology on the journalism industry and education.