During a webinar about his book sponsored by Washington University Oct. 1, Walter Johnson, the Harvard professor who wrote "Broken Heart of America: St. Louis and the Violent History of the United States, " was asked by William Freivogel, publisher of the Gateway Journalism Review, to comment on the review GJR has published about his book in September. Johnson's response was witheringly dismissive.
"Honestly, I'm not particularly inclined to engage that," Johnson said. Although the review did identify "some empirical errors … that can be quite easily fixed in the paperback," it lacked "integrity as an intellectual engagement."
Specifically, Johnson said, the piece created "some innuendo … that I am unsympathetic to the well-intended efforts of white people like Abraham Lincoln or like the city of Kirkwood, which said that after they had fined Cookie Thornton $20,000 for picayune traffic tickets and what you might call created offenses, that if he would not talk, if he would not critique the city of Kirkwood, which is to say that if he would give up his Constitutional right to free speech, they would generously forgive him the fines."
The review also revealed "a tone of paternalism," Johnson said, because it suggested "that maybe we shouldn't accept the testimony of people like William Wells Brown or Lucy Delaney – slave people in St. Louis – that slavery in St. Louis was particularly bad. …because local tradition in St. Louis has it that St. Louis was very mild. And I want to say, whose tradition?
"It just didn't seem to me to be particularly intellectually compelling and I think I've … already said more about it than it actually deserves," he concluded.
***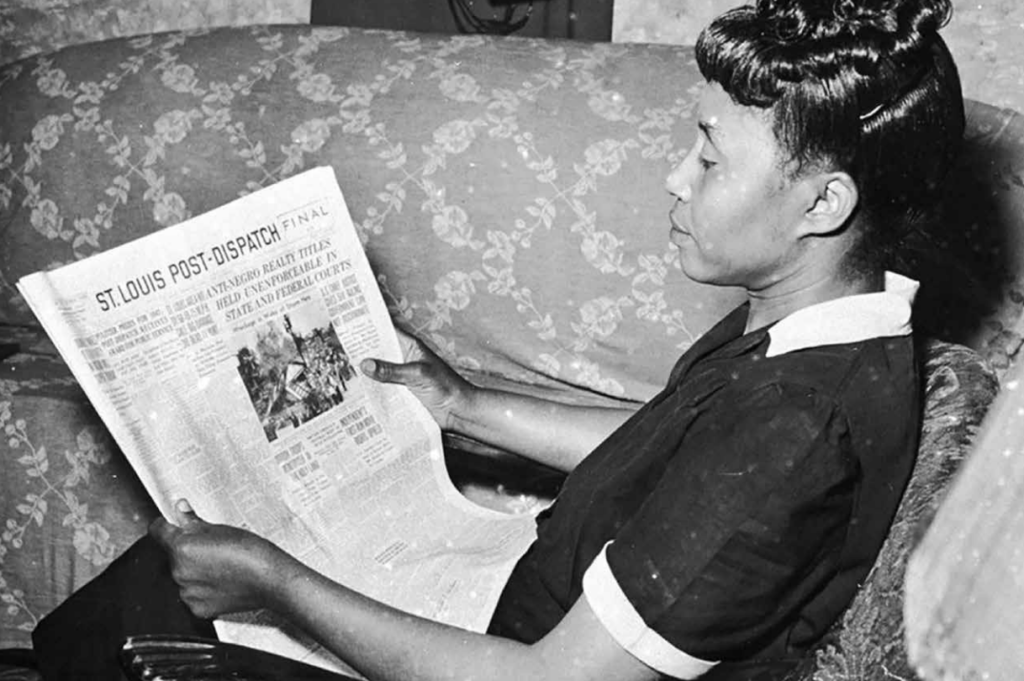 To respond to these comments in a slightly different from that in which they were made:
Charles "Cookie" Thornton and the city of Kirkwood – Johnson's latest comments only buttress the impression he created in Broken Heart that Thornton was some sort of righteous martyr, a man who "went to war," in the words of Thornton's brother, against the injustices inflicted on him by the city's persecution. The reality, as depicted in the reporting in St. Louis Magazine that Johnson himself cites admiringly, is less romantic.
Thornton simply ignored the city's parking and trash dumping and other ordinances for years – "Cookie was wrong all the time," in the words of one Meacham Park resident. For years he made robust use of his First Amendment rights, including at city council meetings, where "he brayed and heehawed to illustrate his claim that Mayor Mike Swoboda was a jackass." To which the council responded in this way: "Determined to remain polite, they set up a blue velvet rope and egg timer, controlling Cookie as best they could. [Then] In 2006 he started letting his body go limp at meetings so that he'd have to be removed."
What Thornton really wanted, St. Louis Magazine reported, was for the city to publicly state that it had intentionally wronged him and pay him heaps of money – sometimes, he said, $1 million, sometimes $5 million, sometimes $25 million. After rejecting the city's offer to forgive all the fines – 100 percent – if he would just stop defying its ordinances, Thornton chose to exercise more of his Constitutional rights. He sued Kirkwood –first in St. Louis County Court, where he lost twice, the second time on appeal, and then in federal court, where he lost again. A week after the federal court loss he committed the Kirkwood city hall massacre.
Johnson, it should be noted, doesn't dismiss or argue away the information in the foregoing two paragraphs. He simply omits almost all of it. He then accuses this reviewer of "innuendo" for suggesting he should have at least mentioned it.
Slavery – Johnson distorts what the review said.
Contrary to what he said in the Webinar, the review did not argue "that maybe we shouldn't accept the testimony of people like William Wells Brown or Lucy Delaney – enslaved people in St. Louis – that slavery in St. Louis was particularly bad. … because local tradition in St. Louis has it that St. Louis was very mild."
Instead, it made two other points.
First, it questioned how Johnson could possibly assert, as he does on page 91 of Broken Heart, that slavery was "uniquely violent" in St. Louis. It questioned how anyone could make a statement of that nature with such confidence, given that slavery was an institution that marked the lives of millions of people and stretched across thousands of square miles for more than two centuries.
Second, it contended that Johnson should not have simply ignored testimonies to the contrary – testimonies that slavery in St. Louis was actually relatively mild — especially given that there is data to back them up. The review noted with implicit approval that J. Neal Primm, in his authoritative history of St. Louis, "Lion of the Valley," had presented evidence on both sides of this issue before reaching a conclusion.
So who exactly is being "paternalistic"? The critic who asks to be informed that there are conflicting points of view, and who asks for a measured judgment of them? Or Johnson — who picks only the information that fits his narrative and keeps his readers in the dark about the rest?
"Some empirical errors" — Perhaps only someone with the security of a tenured professorship could so blithely dismiss the kinds of errors the review identified. "Empirical errors" is one description; "whoppers" might be another, especially for those, such as when Monsanto was founded, that Google can find in a microsecond. And the point in identifying them was not only to set the record straight, but also to suggest that perhaps in writing Broken Heart, Johnson put his narrative before the facts, and that the process of putting this book together might have had some holes.
In any event, given Johnson's pronounced willingness to correct the errors identified in the GJR piece, perhaps he would like to learn of two more that other readers have brought to my attention since the piece was originally published. They are not whoppers, but they may be of interest to people with a deep curiosity about St. Louis.
Shelley vs. Kraemer – In one of the most famous race-related cases ever to come out of St. Louis, the U.S. Supreme Court ruled in 1948 that restrictive covenants mandating racial housing segregation could not be legally enforced. The ruling was a victory for the family of J.D. and Ethel Shelley, a Black couple who had purchased a home at 4600 Labadie Avenue in 1945 but had then been sued by a white couple living on the block, Louis and Fern Kraemer, for ignoring the covenant.
In Johnson's account, the court victory enabled the Shelleys to move in at last to the property they had bought three years earlier. "Having felled one of the principal legal supports of residential segregation, the Shelleys were able to move into the house on Labadie," Johnson writes.
In fact, however, when the Court ruled in their favor in 1948, the Shelleys had already been living in the house on Labadie for three years. So I learned from Clara Germani, a senior editor at the Christian Science Monitor who published a narrative history of the Shelley family in 2019 for her Washington University master's thesis in American Culture Studies.
Johnson's mistake may seem minor, Germani wrote to me in an email whose use here she approved, but it fits into a pattern of small – yet cumulatively damaging – erasures of facts about their experience that the Shelley family has unfortunately encountered for decades. She documented that experience through family oral history and published accounts from the time of their landmark case.
"An important part of the Shelley story is what they endured during the time their case went through three courts," she wrote me. "They indeed bought and moved into the house – unaware of a covenant that was quite obscured in the city records – and they suffered more than three years of abuse from their community, including graffiti on their home, bricks thrown through windows, and some great worry about their kids walking in the neighborhood (which, in fact, was not all white — but mixed, racially)."
Again, the fact that the Shelleys were in the house all this time by no means qualifies as a major error. Nor can Johnson be faulted for not knowing about a master's thesis published only about a year before his book. Nonetheless, it is worth noting that it takes only a few minutes of research in primary sources to get the story straight. The St. Louis Post-Dispatch archives – available online — contain a photograph of Mrs. Shelley reading the front-page story about her and her husband's Supreme Court victory in the May 4, 1948 paper. Mrs. Shelley is shown in an armchair in what appears to be her living room. The newspaper gives her address as "4600 Labadie."
That same day, the St. Louis Star-Times was, if anything, more explicit. The last sentence of its front-page story read: "The Shelleys lived at the Labadie ave. address throughout the litigation."
Gateway Arch – When the ground to build the Gateway Arch was cleared in 1939, Johnson says, "Two hundred apartment buildings and houses were among the four hundred or so buildings that were torn down …, almost all of them occupied by renters, many of them Black. So, too, the cluster of bars, coffeehouses, and squats that had once been known as the 'Greenwich Village of the West,' the places where the poets and the radicals had met and conspired during the years of the Depression. It was almost as if Mayor Dickmann were revenging himself upon on [sic] the Black-communist-bohemian alliance that had so often demonstrated outside (and sometimes inside) his office in the 1930s."
Robert J. Moore Jr. is the retired historian of the Jefferson National Expansion Memorial and author of a history of the Arch, "Gateway Arch: An Architectural Dream." I asked him about the foregoing passage. He gave me permission to quote his reply, through email, as follows:
"I would say that there most certainly were Black renters living on the Arch grounds," he wrote. "But all evidence points to the fact that it was a mixed-race area of the city, as it had been going all the way back to Colonial times. Existing evidence does not support the notion that the district was an African American enclave."
"Historians," Moore continued, "seem to be trying to say these days that the area was a place where people could get cheap apartments and so a lot of poor people were living there with nowhere else to go. That wasn't true, according to the city directories from the period — nearly every person listed had a profession and they seemed to be working class people, not poor or needy people.
"I would add that the population of the district was in decline throughout the 1930s. In the beginning of the '30s there was still a school at the Old Cathedral, but it closed in 1934 for lack of pupils. My research showed that by 1937 the population of the Arch grounds was just 168, and that includes the priests at the Old Cathedral, the Bohemians in Little Bohemia, and that mix of working-class people I mentioned earlier. I'm not sure how many people were forced out by 1939 due to the memorial, but I would say 168 at most."
Moore had no comment on Johnson's statement that it was "almost as if Mayor Dickmann were revenging himself" on the "Black-community-bohemian alliance" that had bedeviled him. But I will offer one myself.
In that sentence we see snark (an accusation of vindictiveness) built on a hypothesis ("almost as if") about a defenseless dead man that is itself built on what Moore is saying is an exaggeration, at least as it concerns the Black population of the Arch grounds.
This is the kind of writing that further inclines one to view Broken Heart as polemic as much as history.
Lacking "integrity as an intellectual engagement" – I'm not sure of Johnson's meaning here, but perhaps he was saying that the GJR piece doesn't address his overarching points about racial capitalism driving the history of St. Louis from the beginning – that the review nips at the edges of his book without fully engaging its themes.
If that is the meaning, I would answer as follows:
In the original piece, and here again, I stipulate that it is undeniable that racism has poisoned the history of the United States from the beginning, and that St. Louis has played a key role in that history. In criticizing Johnson's book, I am in no way seeking to apologize for or whitewash our tragic local history.
I also said that I am not a scholar but a former reporter, so I approached the book as a journalist and fact-checker. Journalists are taught that errors, whether large or small, are lethal to their credibility. They are taught that even a small mistake indicates a lack of care or understanding that can reflect on their overall effort. And journalists, after all, are only writing "the first draft of history." Broken Heart is many, many drafts down that road.
Journalists are also taught that although no one is fully objective, they have an obligation to represent more than their own point of view and not to present only the information that fits their own belief system.
This isn't to say that journalists and historians don't have a right to adopt a point of view. They obviously do, and that's what news analysis and commentary are for in journalism, and what informs great works of history.
But persuasion does not reside in simply asserting a point of view and omitting inconvenient information. Persuasion arises from giving a full picture and then making a strong argument for a particular point of view. In this regard too, Broken Heart is a disappointment.
Paul Wagman ( wagmanp@outlook.com ) is a former St. Louis Post-Dispatch reporter and FleishmanHillard executive. He is now an independent writer, editor, and public relations counselor.